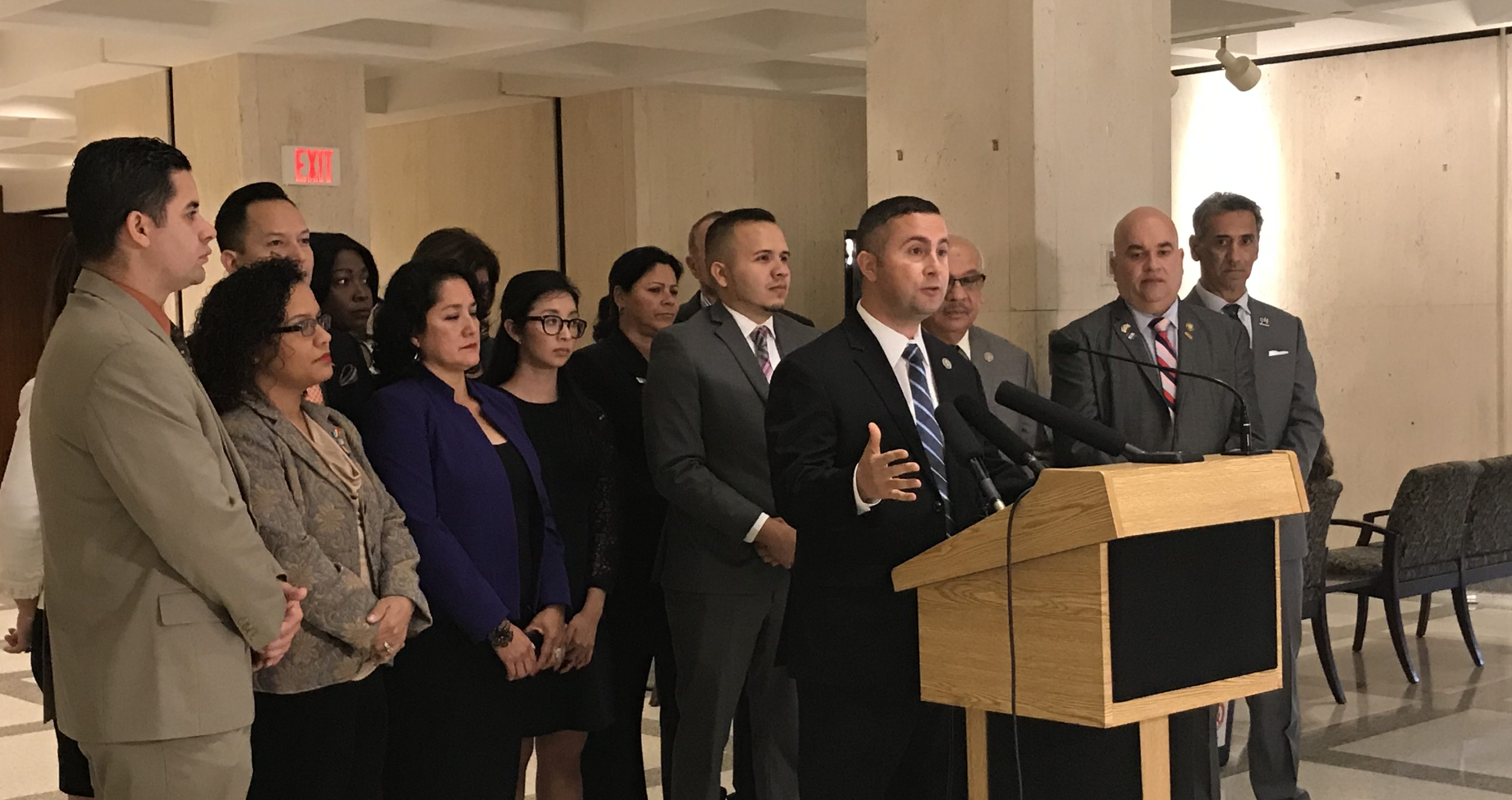 After contentious weeks at the U.S. Capitol, Congressman Darren Soto has turned his attention toward Tallahassee, where he believes legislators face "big challenges" and should seize the opportunity to unite on major issues facing the state.
The Orlando-area Democrat gave his take on the state's Session on Monday during a press conference with several Hispanic Democratic state lawmakers.
Soto told Florida Politics that his time in Tallahassee will be spent advocating on "issues that are critical for not only the Hispanic community, but all Floridians." He said he hopes his experience as both a state senator and representative will lend him credibility as he attempts to guide legislators through "key issues that may get caught in the noise right now."
According to Soto, there are a number of hurdles ahead in the wakes of hurricanes Irma and Maria. He suggested state legislators should model the Session with Congress in mind.
"With these major challenges, [Congress] saw a historic budget, where Democrats and Republicans came together in Washington to pass real solutions," Soto said. "Tallahassee needs to take a page from that book and work together on issues that unite us, rather than divide us."
Soto ran through line items on the newly approved federal spending bill that are expected to aid institutions and individuals affected by the hurricanes.
Some of those remedial allocations include $2.7 billion for schools and $2.3 billion for Florida citrus. Both spends are being praised by Florida politicians.
Soto, who has been a consistent voice on addressing the disaster in Puerto Rico, also indicated he was happy with the $2 billion secured for rebuilding power systems on the island and the $4.9 billion in Medicaid funding heading to Puerto Rico and the Virgin Islands.
But with the midway point of Session behind lawmakers, Soto's main message on Monday was that there needs to be bipartisan support at the state level in order to follow through on aid from Washington. 
Soto gave the example of the Sadowski Trust Fund, which sets aside funding for affordable housing but has historically had dollars swept out of it. Several state lawmakers claim Florida faces a housing crisis as a result of years of sweeps to the fund. Many also expect the crisis to be exacerbated by the influx of Puerto Ricans displaced by Hurricane Maria.
Budget proposals from the House and Governor this year suggest sweeping dollars from the Sadowski Trust — though much less than in previous years — and a proposal from the Senate suggests fully funding the trust.
Soto said the intake of Puerto Rican migrants has led to a "tipping point" in the state's affordable housing crisis and that it will be "one of the biggest issues" facing the state. He implored the House to take the Senate's position.
Soto also brought up the issue of sanctuary cities, which has grabbed attention after the House ushered a bill that would penalize local officials who engage in sanctuary city practices. House Speaker Richard Corcoran and Tallahassee Mayor Andrew Gillum will debate the issue Tuesday night.
But no local ordinances in the state have formally adopted sanctuary city policies, and Soto said talk of the issue only leads to divisiveness.
"Nothing characterizes the senseless division that we face here than this non-debate over non-issue sanctuary cities," Soto said. He said the House bill was a "solution in search of a problem."
"We are a state of diversity, of immigrants. This is our strongest attribute," Soto said. "And this debate only poisons the well."