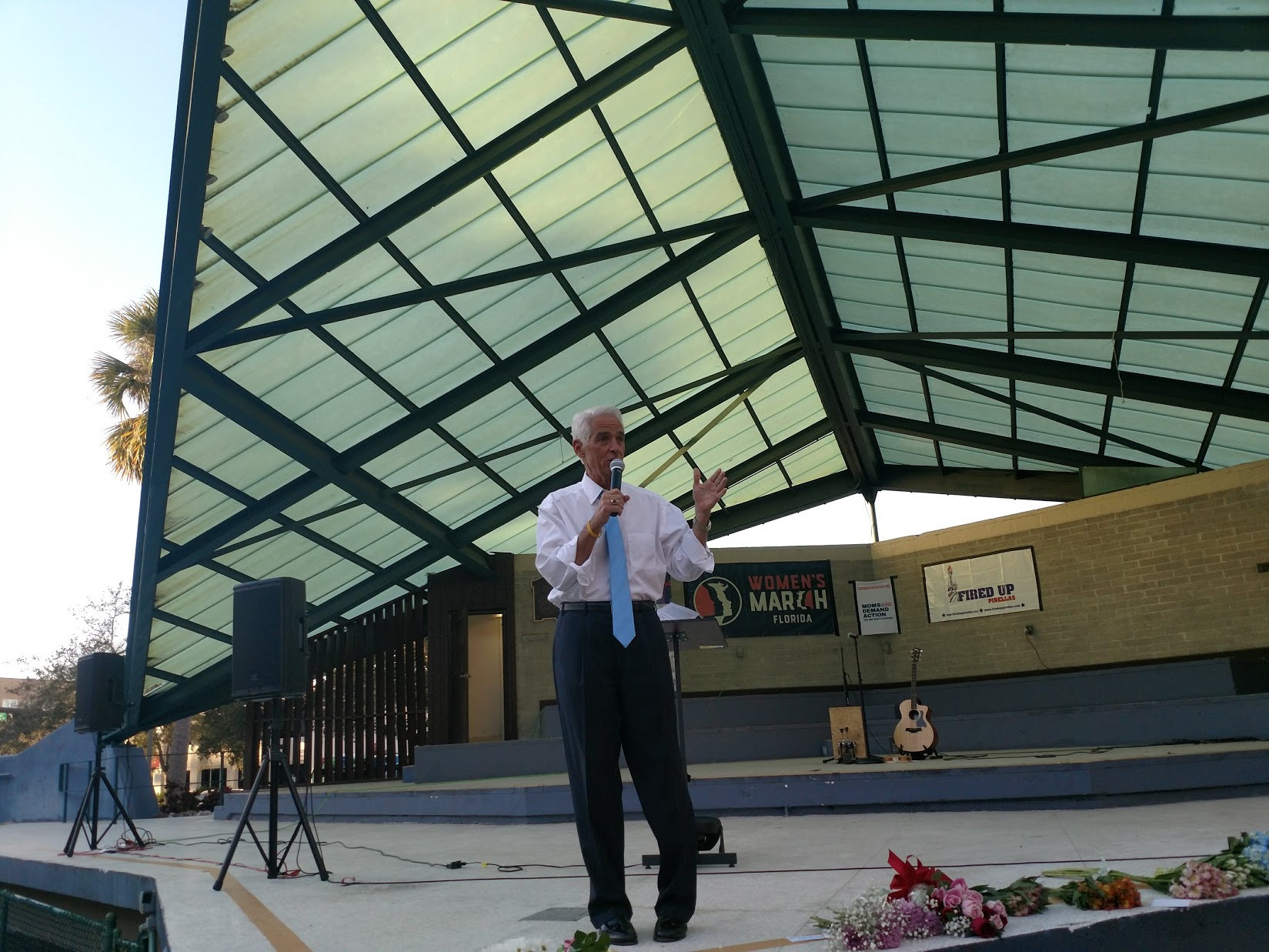 Charlie Crist hopes things will be different this time around.
Before a public appearance at Williams Park Saturday, the St. Petersburg Democrat said he was still unconvinced the Republican-led Congress will support gun control legislation, even after 17 people were massacred last week at Marjory Stoneman Douglas High School in Parkland.
Several hundred people gathered in downtown St. Pete for a vigil to remember the victims of the shooting.
"It's different because those students have been speaking out about it," Crist said, "very strongly and passionately from the heart."
Crist, joined by other Pinellas Democrats, wanted to convey the message that the hurt and anger people are feeling over this latest tragedy must be transformed into political action at the polls this November.
St. Petersburg Councilwoman Darden Rice said it was the power of gun control groups like Moms Demand Action that helped defeat former New Hampshire Republican Sen. Kelly Ayotte in her bid for re-election in 2016.
Ayotte paid a political price for voting against the 2013 bill that would have expanded gun background checks. Ayotte ultimately lost to Democrat Maggie Hassan by just 716 votes.
"Let me tell you, those groups were total 'badasses' and they stood up to the gun lobby," Rice said to cheers. "And that's what we have to do, again and again. It's a lot of work. We gotta stick to it. We can't snap our fingers and have something happen overnight right after a tragedy."
Pinellas County School Board Chair Rene Flowers explicitly called out Republicans and rallied for more Democrats elected in November.
"Put (Marco) Rubio out of office!" she shouted as the audience continued to cheer. (However, it is something not likely to happen anytime soon — Rubio doesn't come up for re-election until 2022.)

"Do not shuffle, shake and jive to hide behind the Second Amendment, " she added. "If you want to protect your home, that's fine, but there is no place to want to kill a deer, a coon or a possum with that kind of weapon fare. It's not being used to eat!
Flowers then referenced Tuesday's special election in Sarasota County, where she knocked on doors and made phone calls to help Democrat Margaret Good, who defeated Republican James Buchanan by seven points in a traditionally GOP-leaning district.
"We can do it!" she shouted.
In his brief remarks to the audience, Crist also referred to Good's victory, as well as other recent elections in Florida that saw Rick Kriseman get re-elected mayor of St. Pete and his 2014 running mate Annette Taddeo win a special election state Senate seat in Miami-Dade County last year.
"Another red to blue," he said referring to the Democrat taking over a seat formerly held by a Republican. "You see the trend. It's coming, but only if we stay engaged."
Crist told the crowd that he supports "comprehensive and significant " background checks, a ban on all assault weapons and measures to keep schools safer.
"Now is the time. And I hope and pray that we can get some of these things passed, quickly, like yesterday. I'm an optimist, but I am somewhat pessimistic about the leadership in Congress, and how could you not be?  What have they done? How many does it take? When is enough enough?"
One Florida Republican lawmaker who said Sunday he would support such bills is Miami U.S. Rep. Carlos Curbelo, considered one of the most vulnerable Republican members of Congress in the nation as he fights for re-election in Florida's 26th Congressional District.
"What we need is congressional leaders, specifically in my party, to allow some of these bills to come to the floor for debate," Curbelo told Martha Raddatz on ABC's This Week. "There are a lot of Republicans who are prepared to support reasonable, common-sense gun safety laws, new laws, stronger laws that protect rights for responsible citizens, people who are responsible gun owners, but will prevent those who want to do harm to innocent people from obtaining these weapons."
Rice said the time for activists who want to see gun control laws change is to get active right now. "Congress is where the work ends, it's not where it begins. It begins here. It begins now, and we stick to it."