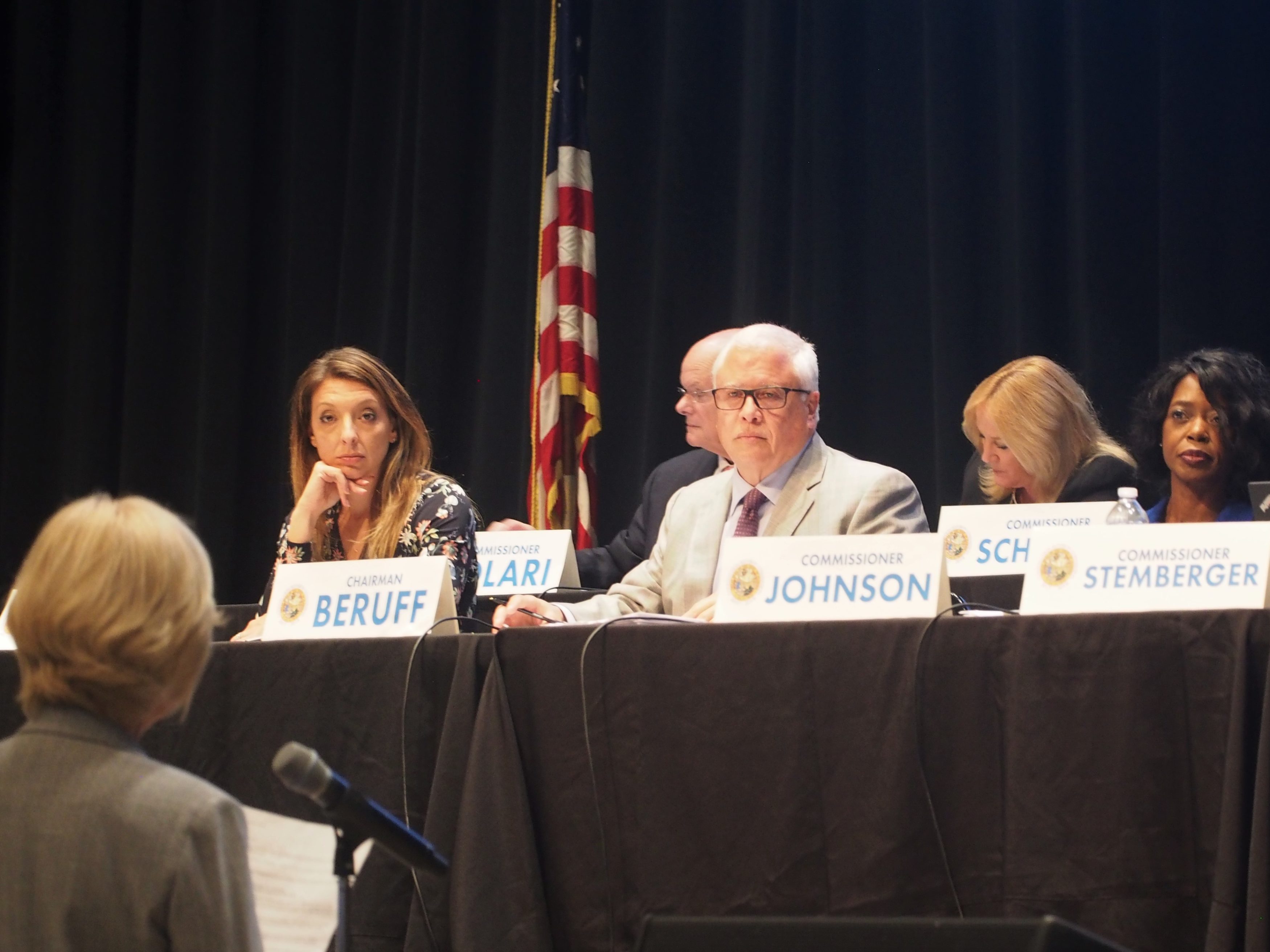 Guns, greyhounds, and privacy.
Two of the three most commonly- and passionately-discussed topics at Monday's first public hearing for the Florida Constitution Revision Commission's proposed amendments weren't even among the 37 active propositions.
Yet dozens of speakers at the Maxwell C. King Center in Melbourne Monday spoke of their desire to see a Florida Constitution amendment banning assault weapons, a proposal that initially irked Chairman Carlos Beruff when League ofWomen Voters of Florida President Pamela Goodman first urged its consideration. But Beruff recovered, and expressed more tolerance and patience listening to numerous successors to Goodman on the topic.
Many of those speakers, and many others, also urged the commission to keep dead a proposal from Commissioner John Stemberger that would revise the state's privacy guarantee in a way many of the speakers said was a clear attack on women's rights to chose abortion.
Stemberger is president and general counsel of the anti-abortion group Florida Family Policy Center. He listened quietly and did not address the opposition to his Proposal 22, which was voted down by the commission's judicial committee, but still could be revised by the full commission.
Since neither was on the agenda, none of the more than 220 registered speakers spoke in favor of assault weapons nor Proposal 22 on Monday, and the 15 commissioners who attended, with a few rare exceptions, just listened and said nothing.
That was not the case with greyhounds, subject of Proposal 67 from state Sen. Tom Lee of Thonotosassa. Dozens of speakers, including children, spoke about the horrors they had heard about or seen involving the lives of racing greyhound dogs, and they urged the commission to put the proposal on the ballot.
"It's shameful that our state provides strong anti-cruelty laws other dogs, but allows greyhound racing dogs to suffer and die," said Janet Winikoff, director of education for the Humane Society of Vero Beach, and a board member of the Florida Associations of Animal Welfare Associations.
Numerous representatives of the industry dispute the claims of dog abuse, contending that, as businessmen, they could not possibly succeed if they did not take good care of the dogs, and arguing that thousands of jobs were on the line.
"We have to fight to save these people's jobs, including mine," said Frank McCarron, owner of Seminole Animal Supply.
The high stakes led to high levels of animosity, with shouts of "Lies!" against one speaker, and exchanges of insults as speakers passed each other heading to and from the microphones.
There was that level of passion for a handful of other issues, including the upstart effort to get an assault weapon ban into the constitution, and to protect the privacy rights.
Also drawing powerful emotional support was Proposition 96, which would bring so-called "Marsy's Law" provisions into Florida to protect the victims of crime, with, among other things, notifications of when their attackers are released from jail or prison. Several victims of violent crime, including women stalked and haunted in later years by their attackers, pleaded for its support.
Proposal 88 to offer "bills of rights" to nursing home residents got mixed responses, as did proposals to address local elections, Proposals 13 and 43, and a handful of more specifically-targeted proposals dealing with items ranging from the hiring of security in courtrooms to Bar Association membership requirements.
Much of the audience took on a progressive political attitude, salted in part by a large press conference held prior to the meeting, involving the League of Women Voters, the National Organization of Women, and Planned Parenthood, among others, who all then went inside and signed up to speak.
The strongest oppositions came to such things as Proposition 4 to allow for state funding of religious schools, decried as a proposition that would tear down of the state's wall between church and state; and the strongest support came for such things as Proposition 91, banning oil and gas drilling off the Florida coast.