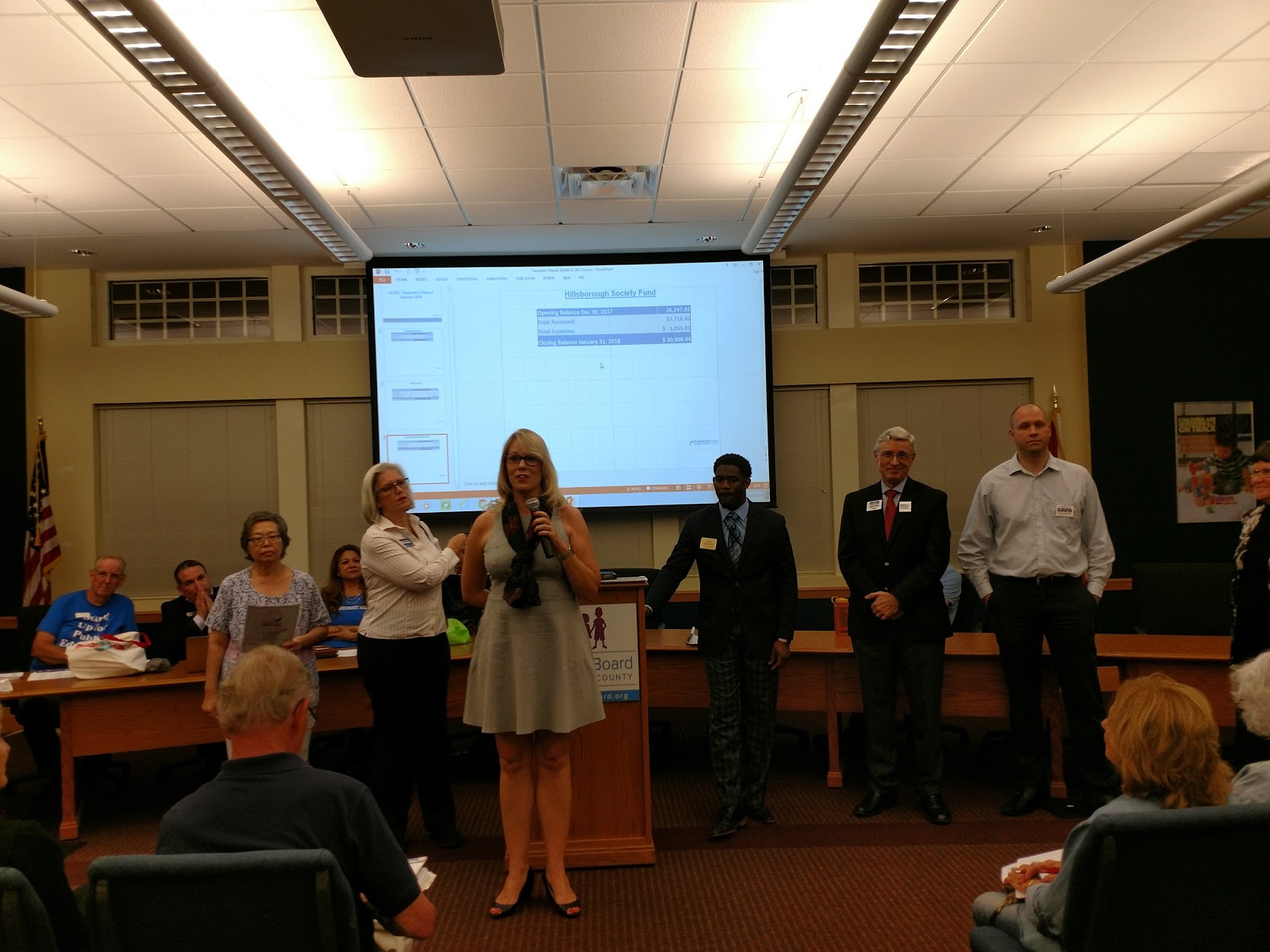 When Democrat Heather Kenyon Stahl entered the House District 47 race last month, seeking the seat currently held by Republican Jamie Grant, her emphasis was on education, transportation and health care.
While those issues remain at the forefront of her campaign, another subject emerged — gun control — which few Democrats hoping to make it to the Legislature talked about just a week ago.
Now, guns have become a major part of Stahl's platform.
"It wasn't a part of my platform but is now the absolute number one thing priority of my campaign," Stahl said to cheers at the Hillsborough County Democratic Executive Committee meeting in Ybor City Monday night.
"We have four children that are all in the public school systems in Hillsborough and Pasco counties, and I am devastated at what guns have done for our children," she told the crowd. "I never want to hear another parent come home and have to hear the words that their child is no longer alive. That is no longer acceptable, so that's going to be a big thing in this campaign because my opponents are running the race to see who can be the most not only 'red' but gun friendly and NRA friendly."
The issue of gun control has catapulted nationally and in Florida following the latest gun shooting massacre, this time the Broward County city of Parkland on Feb. 14, when 17 people were killed and another 14 wounded at Marjorie Stoneman Douglas High School.
Terry Power, an Oldsmar-based certified financial planner, is challenging Grant in the HD 47 Republican primary. Grant received an "A" rating from the NRA when he began his House career in 2010.
"This isn't about taking away people's constitutional rights," Stahl said in a statement Monday night. "This is about common-sense measures like background checks and raising the age of those that can purchase AR-15's. I want to ensure guns stay out of the hands of those who shouldn't have those weapons in the first place."
On Monday, incoming Senate President Bill Galvano, a Bradenton Republican, said his chamber is preparing a package that would include raising the age to purchase any firearm to 21, creating a waiting period for purchasing any type of firearm, banning bump stocks that can allow semi-automatic guns to spray bullets quickly and creating gun-violence restraining orders.
Stahl also faced a primary opponent, special needs teacher Christopher Smutko, who has since withdrawn from the race and is now backing Stahl.
"The needs of the hardworking families in our district and the state should always come before personal ambitions," said Smutko in the statement from the Stahl campaign. "C.S. Lewis once noted that, 'True humility is not thinking less of yourself; it is thinking of yourself less.' It is in that spirit that I have decided to end my campaign and support Heather Stahl to represent District 64 in the Florida House of Representatives.
"Ms. Stahl has an extensive record of success in driving growth and innovation in the Tampa Bay area and I believe she is the best person for the job."
Stahl is the former CEO of the Tampa Bay Technology Forum, and currently works in sales training.
House District 64 covers parts of northeastern Pinellas and northwest Hillsborough County.