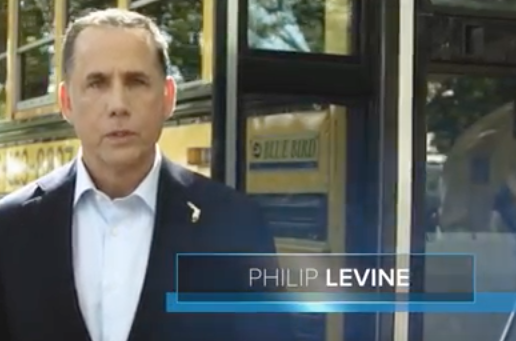 Before all of the 17 funerals are even held for victims of last Wednesday's school massacre in Parkland, Democratic gubernatorial candidate Philip Levine has launched a new television commercial promising to pursue a ban of assault weapons and declaring the shooting at Stonewall Douglas High School "a wakeup call we can't ignore."
Levine's political committee All About Florida announced Tuesday it is putting $725,000 behind airing the commercial "We Will" in 10 media markets across Florida, unabashedly calling the ad "a direct response to the Marjory Douglas Stoneman shooting, and an urgent appeal from Mayor Levine for common-sense gun reform in the state of Florida."
The commercial begins with Levine standing next to a school bus, and stating, "When we send our children off to school, we want to know they're safe. But here in Florida, despite 14 school shootings in 8 years, we still have some of the weakest gun laws in the nation. And the tragedy at Stoneman Douglas High is a wakeup call we can't ignore.
"We need reasonable gun regulations, better background checks, and a permanent ban on assault rifles," he continues. "And if the legislature won't do it, we will."
Levine is battling with former U.S. Rep. Gwen Graham of Tallahassee, Tallahassee Mayor Andrew Gillum, and Winter Park businessman Chris King in seeking the Aug. 28 Democratic primary nomination to run for governor. All four have made strong statements about seeking to ban assault rifles and assure background checks on all gun purchases, before and since the Parkland tragedy.
Leading Republicans are Florida Agriculture Commissioner Adam Putnam of Bartow and U.S. Rep. Ron DeSantis of Ponte Vedra Beach.