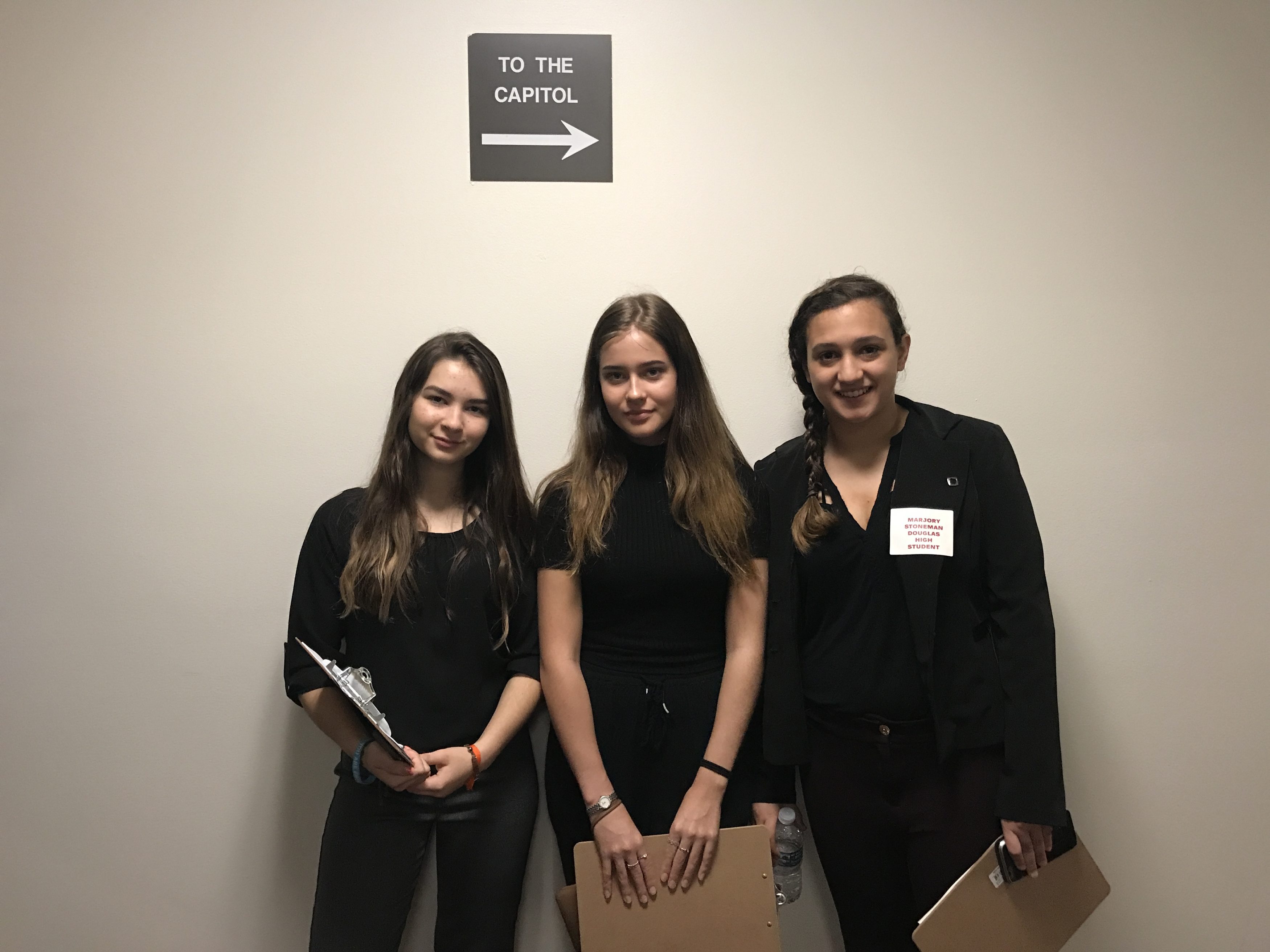 Clad in black, students who survived the Marjory Stoneman Douglas High School shooting walked the halls of the Florida Capitol on Tuesday, going in and out of lawmakers' offices asking them to pass gun control measures.
Each held a clipboard with their itinerary for the day and had a somber look on their face, still incredulous that bullets didn't hit them — and that 15 of their classmates and two of their teachers were dead.
Because they survived, they say it is their duty to speak on behalf of those who did not.
Emily Smith, an 18-year-old senior at the high school, said she came to Tallahassee despite wanting to be with her family in the wake of yet another mass casualty incident in her life.
Smith was in Boston when bombs detonated at the marathon in 2013 and her father survived the Fort Lauderdale International Airport shooting last year. Last week, when Nikolas Cruz opened fire at her campus and killed 17 people, Smith was on her way to school.
She said a traffic delay may have saved her life.
"I've grown up watching it and I'm tired of nothing being done, and if I can be part of this and I can do something about it then there is no reason why I shouldn't be here," Smith said.
Rachel Catania, a sophomore at the high school who also is in Tallahassee this week, said her teacher pulled her inside a classroom when the shooting was active.
She hid in a corner for three hours, watching text messages from her mother flood into her cell phone, which was without service.
"She kept asking if I was OK, but I couldn't answer," Catania said.

These are some of the moments that have made these teenagers turn their grief into activism at the Legislature. Students say they are mostly in support of gun control measures.
Some of the bills the students support may not gain enough momentum to pass the Republican-controlled Legislature this session. With less than three weeks left in session, proposals made by Republicans that would boost mental health funding at schools and bolster campus security are getting support from leadership in both chambers.
House Democrats on Tuesday still tried to make some noise on the floor with a parliamentary move to rescue an assault rifle ban filed by Orlando Democrat Carlos G. Smith.
Democratic Leader-designate Kionne McGhee evoked a House rule to pull the bill (HB 219) out of the committee process, where it hasn't been heard, in hopes of bringing it directly to the floor for debate and a vote.
The motion failed.
"I wasn't surprised, but it was disheartening to watch 73 of those names on the board turn red," said Sheryl Acquarola, a 16-year-old student from Parkland.
"It was overwhelming, but it is good because now their names are on the record and now we know who to vote out of office."