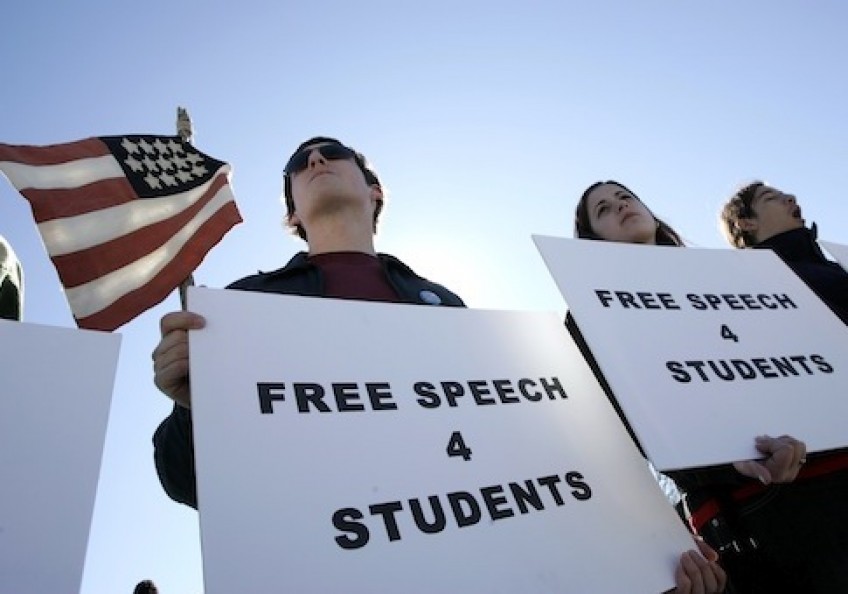 The Senate Judiciary Committee narrowly avoided killing a campus "free speech" bill, opting to instead temporarily postpone it after the roll had been called despite objections the move was not procedurally sound.
SB 1234, sponsored by Ocala Republican Sen. Dennis Baxley, would erase dedicated "free speech zones" on college campuses, instead opening entire campuses to free speech.
That's about the only provision all speakers and committee members agreed was worthwhile.
The bill also includes a provision to require student government groups to prove they aren't attempting to stamp out free speech if they don't foot the bill for certain speakers and would allow students, faculty or staff of public universities to be sued directly if they cause a "material or substantial disruption" to scheduled events.
Prior versions of the bill placed liability for such disruption on universities, despite much of it falling under the purview of free speech on its own.
Baxley intimated that the American Civil Liberties Union would support the bill after the amendment was adopted, a claim the ACLU flatly denied later in the hearing.
The additional requirements for student governments faced the most scrutiny from committee members.
"We're asking for the student governments to give a written declaration as a of why they did or didn't fund a group?" Republican Sen. Rene Garcia asked. "These are elected leaders at their schools, at least they're usually elected. Are we required to give an explanation of why we fund or defund an agency?"
But it was the "disruption" provisions that were blasted during public comment.
Several students representing the Florida Student Power Network spoke out against the bill, and a few gravitated to the effect such legislation would have had during white supremacist Richard Spencer's visit to the University of Florida.
His September visit was marked by UF students shouting down the provocateur as he spoke on campus about his vision for transforming the country into a "white ethno state."
Under SB 1234, opponents say those who drowned out Spencer's speech with their own could find themselves party to a civil suit.
"It's a fake solution to a fake problem," said Dream Defender Philip Agnew. "This free expression bill ensures free speech isn't free. It will cost you, maybe in the thousands. The choice is clear: free speech or fee speech."
When the committee wrapped debate, the four Democrats on the 10-member panel were joined by Garcia and fellow South Florida Republican Sen. Anitere Flores in voting against the bill.
The bill was initially marked favorable, but Garcia challenged the vote count leading committee chair Sen. Greg Steube to mark the bill temporarily postponed.