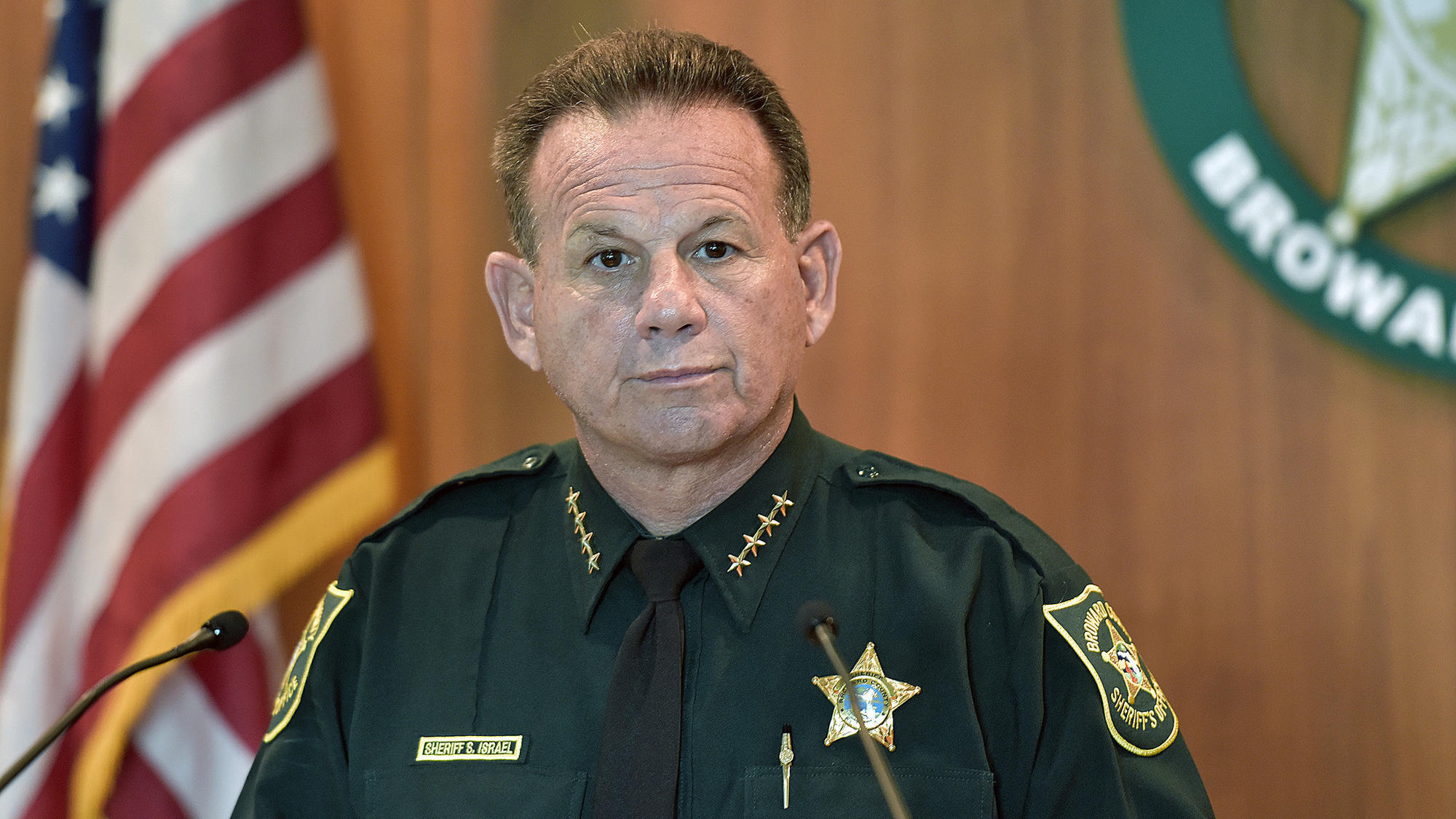 Republican Bill Hager, the chairman of the appropriations committee in the Florida House which will be asked to budget as much as $500 million to bolster the state's school safety programs, gun laws and mental-health initiatives, is calling on Gov. Rick Scott to remove Broward County Sheriff Scott Israel.
Israel is under intense scrutiny after Coral Springs police officers who responded to the shooting at Marjory Stoneman Douglas High School say several Broward sheriff's deputies waited outside rather than rush in as the killer was gunning down students.
The allegations emerged a day after veteran Broward deputy Scot Peterson for failing to enter the school during the Valentine's Day shooting.
The Sun-Sentinel reported that according to police sources at least three Broward deputies, including Peterson, waited outside. The Broward Sheriff's Office said Friday it is investigating the Coral Springs officer's claims.
"An investigation into the incomprehensible action of these deputies … will do nothing to bring back the 17 victims," said Hager, in a release accompanying his letter to Gov. Scott. "The Sheriff was or should have been aware of the thread Cruz presented to his community and chose to ignore it."
The FBI has admitted it failed to investigate similar claims, and Florida child welfare agency looked into concerns about Cruz, but concluded he wasn't a risk to himself or others. Two additional Broward deputies are also under investigation over whether they mishandled warnings about Cruz in the months leading up to the shooting.
"Sadly, he was not the only one that ignore it. DCF, Broward County Schools, the FBI and the BSO all had pivotal information but failed to act appropriately and failed to communicate appropriately."
Israel issued a response in a letter to Gov. Scott that the sheriff's office released to the news media late Saturday.
Israel's letter responded individually to three points that Hager made. They included how his deputies responded to the shooting and the number of calls his office received from the home where the shooting suspect lived.
"Only one law enforcement officer was ever on the campus — at any time — during the attack," Israel writes, "Deputy Scot Peterson." He noted that Peterson had "received the training, but clearly did not follow the protocols."
The Sheriff als0 pushes back on accusations over the visits Broward County deputies had made to school shooter Nikolas Cruz's home.
Israel wrote: " BSO had a total of 23 calls for service involving Nikolas Cruz or his family … 18 of those involved Nikolas directly (the others involved his brother). Of the 18, nearly all but two involved routine calls from the mother relating to parenting issues (her sons were fighting; her son was banging pool equipment against the house; etc). BSO released the entire list of specifics of each call for service, and none were arrestable offenses."
"It is patently obvious that Hager has zero comprehension of law enforcement," Israel added, referencing additional problems with the mass shooting at the Fort Lauderdale Airport last year.
"The 'problems' Rep. Hager referenced were the areas BSO itself identified in our own internal After‐Action Report as needing improvement," Israel's letter continued. "And, in the interests of full public transparency, BSO widely shared copies of the report. As an aside, Hager also failed to note that BSO apprehended the killer in the FLL airport attack within 80 seconds of the first shot being fired."
In his letter, Israel said he "would urge Rep. Hager to publicly apologize for helping to (spread) this false gossip and misinformation."
Hager is also proposing that certain dollars currently scheduled for appropriation for the BO be redirected to the Florida Department of Law Enforcement "in order to initiate a pilot program in Broward County that will integrate and analyze data from various law enforcement, course, state agencies, and school districts to better assess risk and keep our citizens safe."
Here is Hager's letter to Scott:
Bill Hager letter to Rick Scott calling for Scott Israel resignation by Peter Schorsch on Scribd
And here is Isreal's rebuttal:
—
Material from The Associated Press, CNN, and Fox News was used in this report.