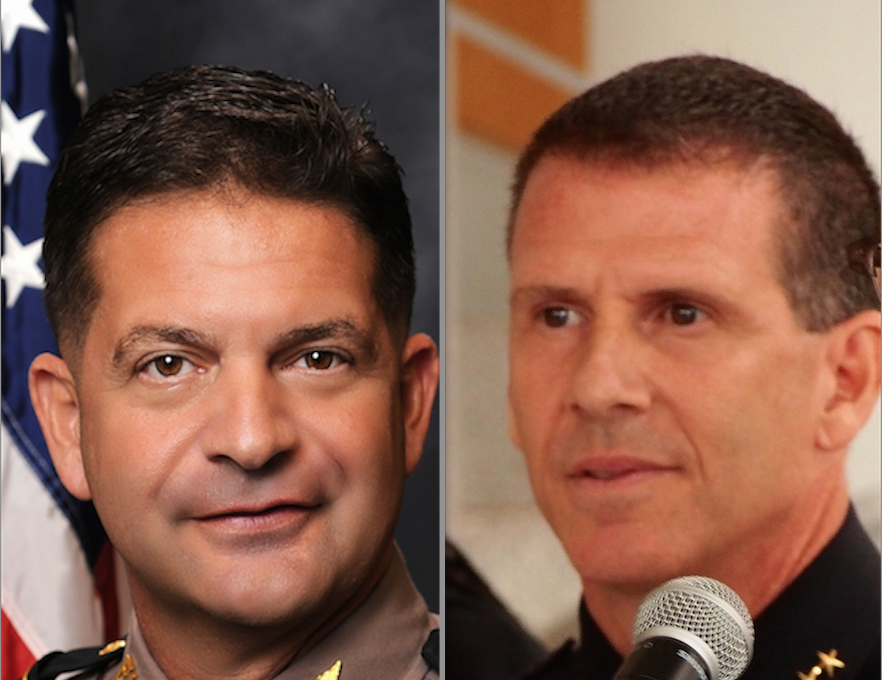 Orange County voters might not have the choice to vote for a Democrat for the position of sheriff this year even though it is a partisan office and Democrats dominate the county's voter rolls.
There are two registered Democrats, Orlando Police Chief John Mina and retired Florida Highway Patrol Maj. Jose "Joe" Lopez, running for sheriff in Orange County. But neither will appear on November's ballot as a Democrat. Mina already is running as an independent, and Lopez would have to change to independent status to stay in the race this year.
They both used to be Republicans. And they both switched and joined the Democratic Party last year — too late to be able to qualify to run this year as Democrats.
Officially, the office doesn't come up again for re-election until 2020, so both Mina and Lopez would be OK if that's when the election took place. Demings, who was just re-elected in 2016, is running for Orange County mayor this year. He is expected to stay in that race [for which he's the early favorite] and therefore submit his resignation by June 8, to take effect in December. That would open up his sheriff's office to special elections this year for a two-year term, with partisan primaries set for August 28 and a general election for Nov. 6.
Florida law says a candidate has to wait 365 days to run as a partisan after joining a party.
Mina switched his party affiliation on Sept. 1, 2017, becoming a Democrat four days too late to be able to run in the 2018 Democratic primary. Two weeks ago, he filed to run for sheriff as an independent candidate.
Lopez switched his party affiliation on Dec. 19, 2017, becoming a Democrat months too late to run under the party. Nonetheless, on Feb. 1 he filed to run for sheriff as a Democrat. He would have to switch to independent status by the June qualifying period to be on a ballot this year, Orange County Supervisor of Elections Bill Cowles said.
Lopez said on Monday he was considering an independent run. But he also held out the prospect that Demings might change his mind. So, Lopez said he is considering not officially revising his status unless and until he officially has to, and that would not be until Demings submits his resignation.
That's not a problem for the third candidate in the contest. Retired Orange County Sheriff's Capt. Thomas Stroup has been a Republican at least since 1994, which is how far back the county's electronic records go.
If any other Republicans enter the race, there would be an August 28 primary, and Stroup would be in it. If not, or if he wins such a primary, he can appear on the Nov. 6 ballot as a Republican.
Meanwhile, if any other Democrats decide to get into the race, they could grab the Democrats' track onto a November ballot that also could feature Republican Stroup and independents Mina and Lopez.
Normally, Democrats can expect a huge advantage in Orange County. Party members currently hold all county constitutional offices: sheriff, supervisor of elections, clerk of courts, tax collector, comptroller and property appraiser. Forty-two percent of the county's voters are registered as Democrats, and 27 percent as Republicans. Independent voters make up 31 percent of the Orange County electorate.