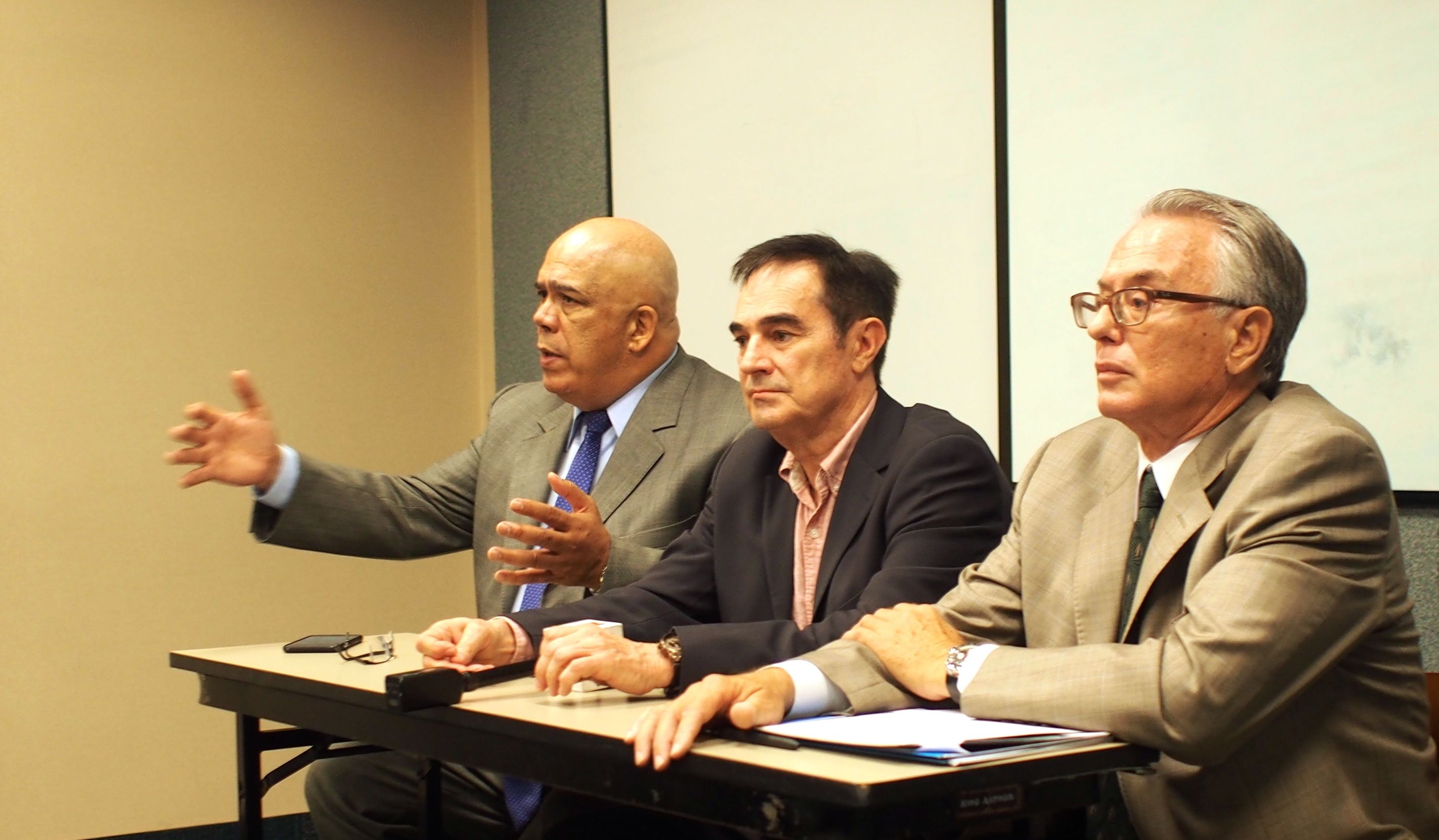 Venezuelan exile leaders meeting in Orlando Tuesday declared an international humanitarian intervention must occur in Venezuela soon or, they warned, their country would be "lost forever" to "gangsters" starving the people while working with drug cartels, Hezbollah, Iran, China, and Russia.
"People are starving," said Carlos Molina Tamayo, a former Venezuelan Navy admiral in exile in Spain from the Venezuelan governments for much of the past 19 years of dictators Hugo Chávez and Nicolás Maduro. "Socialism is not working in Venezuela."
He, former Venezuelan Army general Julio Rodriguez, now of Miami, and Venezuelan political opposition leader Jean Pierre Chovet, now of West Palm Beach, gathered in Orlando Tuesday to do more than just denounce socialism in their home country. The trio said they are part of a network of leaders in exile pushing internationally now to build support for international humanitarian intervention, even if that intervention has to be armed, which they said they believe it will have to be.
"We are a small group. We are spreading the word for the rescue of Venezuelan democracy, we call Venezuela libre, we are bonding, making synergy with all the groups of Venezuelans in the world, in order to combine to sensitize the Democratic countries in the world to help us to return Venezuelan democracy," Molina Tamayo said.
They came to Orlando because the Central Florida region is home to an estimated 140,000 Venezuelan exiles and Venezuelan-Americans, said local Venezuelan activist and Orlando radio talk show host William Diaz.
Molina Tamayo and Rodriguez charged that much of the economy propping up Maduro's government now is drug money laundered through government-owned oil companies, and that the regime has become totally corrupt. They said it has welcomed in the Palestinian Hezbollah, as well as elements from Iran and drug cartels from Colombia, all of whom Molina Tamayo declared are "highjacking" the country. China and Russia are negotiating for military bases there as well, he said.
So Molina Tamayo and Chovet said there is a window of about six months before they feared a humanitarian intervention would no longer be possible. Chovet said they were part of a group of exile leaders, including an exiled Venezuelan supreme court, with desire to return with nine different action plans to restore democracy and stabilize the economy.
They urged Americans to not put any faith in Maduro's announced elections, saying there is no true opposition to his regime, because anyone opposing what Maduro is doing is either in jail or in exile.
"We don't believe in negotiations. We don't believe in dialogue with them. We don't believe in any election he can propose," Chovet said. "The new alternative is humanitarian help, assistance, because we need a lot of help in many ways. Health. Food. Investments. And the protection of our people."
Molina Tamayo predicted a humanitarian intervention would lead to a collapse of the Maduro regime.
They praised Florida Gov. Rick Scott's executive order banning any business doing business with the state of Florida from also doing business with Venezuelan companies, and said that sanction and other economic sanctions from the United States, Europe, other Latin American countries, and elsewhere were having affect.
But, "The sanctions haven been doing a great job but they are not enough," Molina Tamayo said.