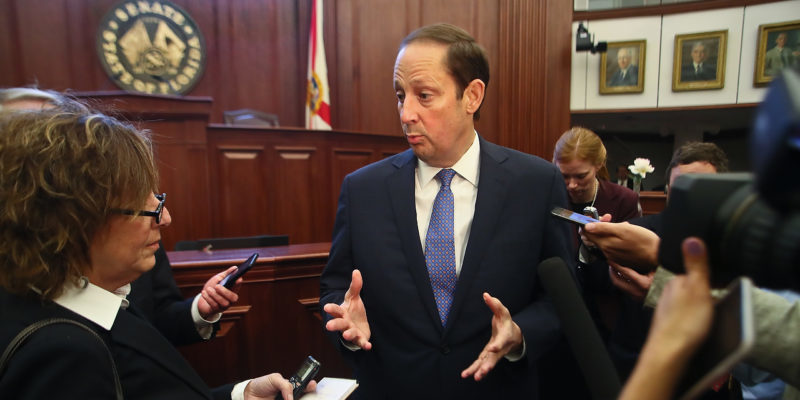 Senate President Joe Negron was either confused Saturday or had a temporary case of amnesia, but whatever the problem one thing was immediately clear.
Negron simply forgot who really controls that chamber of the Florida Legislature.
Guess what? It ain't him.
And it's sure not the Republican Party.
Nope. After the vote to quickly reverse a measure that would have installed modest limits on the purchase of AR-15 assault-style rifles, we were reminded again that the National Rifle Association is in charge of any public policy concerning firearms.
On that issue, Negron is basically the titular head of the NRA-controlled Senate.
You can bet your last nickel he quickly figured that out after he declared an amendment to establish a two-year moratorium on the sale of those weapons had passed on a voice vote.
Tweets went out announcing the news. Those who favor gun control were overjoyed. Those who embrace the no-limits version of the Second Amendment were stunned.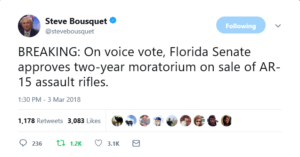 But wait!
Was Negron actually going to risk the wrath of the NRA by believing his lying ears? Of course not. There is a reasonable explanation though.
Perhaps he mistook the increasing volume of voices demanding sensible changes to the gun laws in this state for the drone of those who parrot the NRA mantra of more guns, more guns, more guns and more guns.
Ah, the crisis was averted when Fleming Island Republican Rob Bradley jumped in with a motion to say hey, let's rethink that vote, OK? A bit later, the ban was defeated.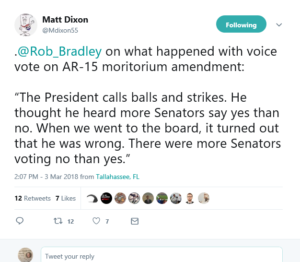 Whew! That was close!
This would actually be funny if the stakes weren't so high. Floridians will never look at guns the same after the slaughter at Marjory Stoneman Douglas High School in Parkland.
The GOP response has basically been to argue schools would be safer if teachers had guns in the classroom as the first line of defense.
In the face of such poisoned logic, opponents have no hope of winning the argument for sensible limits on gun ownership.
If 17 murder victims at a state high school doesn't convince Republicans that maybe they need to look at this issue from another angle, nothing will. The only hope opponents have for changing the rules is to change the lawmakers.
The only way to do that is at the ballot box. Democrat Gwen Graham, who is running for governor, was quick to pounce with a tweet promising if she wins to veto any bill that puts more guns in schools.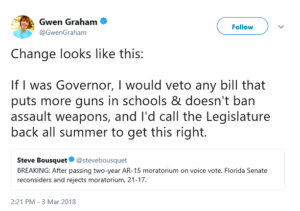 For Democrats, the ballot box has proven to be an elusive challenge. Except for a brief period in 2010 when then-Gov. Charlie Crist left the GOP to become an independent, Republicans have controlled both houses and the governor's mansion since 1999.
With no political balance in Tallahassee, Republicans have boldly moved to approve many NRA-backed provisions to expand gun availability and the rights of users.
The NRA has adamantly opposed most attempts to restrict sales and availability, even a recent proposal by Gov. Rick Scott to raise the minimum age to buy an assault-style weapon to 21 from its current 18.
NRA Grand Dame Marion Hammer has called that an attack on the Second Amendment.
So really, the surprise Saturday was that Negron apparently forgot to check with her before declaring that amendment on assault weapons had passed.
Anyway, all is back in order now in Tallahassee and the NRA-controlled Senate of the Gunshine State.
The threatened breach of sanity has been averted.