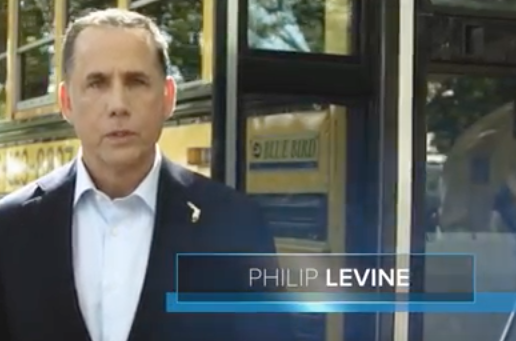 Expressing frustration with what the Florida Legislature is doing with guns and schools, Democratic gubernatorial candidate Philip Levine is placing another nearly $2 million buy for statewide TV commercials this month, his campaign announced Monday.
The commercials will continue for a while with his "We Will" spot that launched in late February on a $750,000 statewide-buy, declaring the Feb. 14 massacre at Marjory Stoneman Douglas High School "a wakeup call we can't ignore." By mid-March that likely will be replaced by a new TV commercial, his campaign indicated.
Levine is running against former U.S. Rep. Gwen Graham, Tallahassee Mayor Andrew Gillum, and businessman Chris King for the Aug. 28 Democratic primary nomination. He is the only Democrat to air TV commercials yet, and his buys already have gone over $4 million prior to March. The leading Republicans are Florida Agriculture Commissioner Adam Putnam and U.S. Rep. Ron DeSantis.
The latest TV buy will be split between Levine's independent political committee "All About Florida" and his official Levine for Governor campaign. All About Florida will be spending $630,000 to continue running "We Will" through about March 11, while the official campaign will spend about $1.3 million on TV commercials for the rest of the month. All the commercials will run statewide, in either English or Spanish, depending upon the stations.
"As the Republican Legislature continues their political double talk on legislation, Mayor Philip Levine has made it clear that the time is now to enact sensible gun safety reforms that take Florida from having the weakest gun safety laws in the nation to the strongest," declared a statement released by campaign consultant Christian Ulvert. "The Mayor opposes efforts to arm teachers with weapons and reaffirms the public's call for an assault weapons ban, raising the age to 21 for gun purchases, and universal background checks, in addition to closing any loopholes."
In the current "We Will" commercial Levine expresses his goals of "reasonable gun regulations, better background checks, and a permanent ban on assault rifles."
The commercial begins with Levine standing next to a school bus saying, "When we send our children off to school, we want to know they're safe. But here in Florida, despite 14 school shootings in 8 years, we still have some of the weakest gun laws in the nation. And the tragedy at Stoneman Douglas High is a wakeup call we can't ignore.