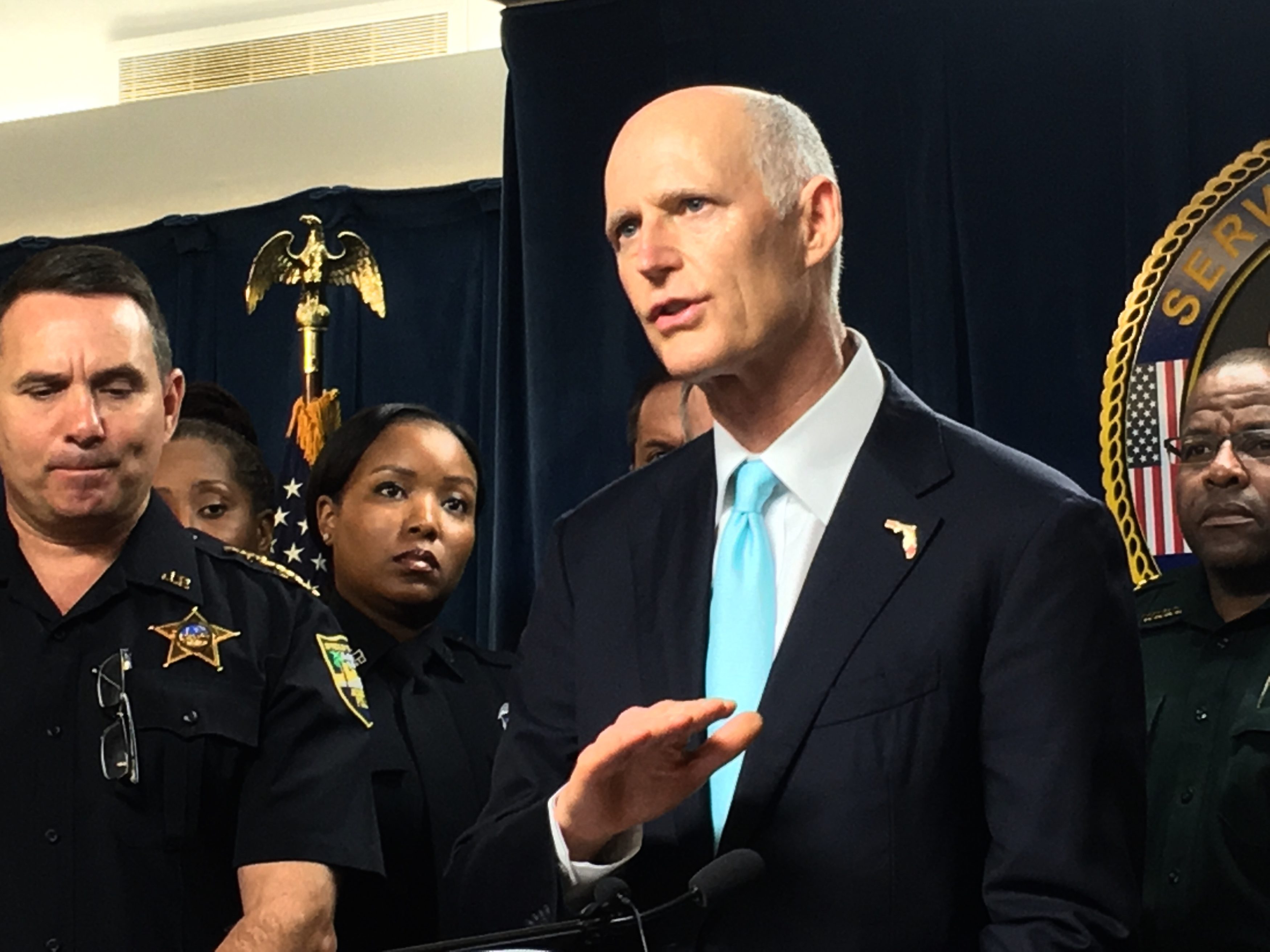 As the House debated the post-Parkland bill Wednesday, Gov. Rick Scott refused to commit to signing it.
"As you know, the bill is still being debated. When the bill makes it to my desk, I'm going to do what they don't seem to be doing in Washington. I'm going to review the bill line by line," Scott told reporters following a Cabinet meeting.
"The group that I'm going to be talking to — the group that I care about the most because it has impacted them so much — is the families," he said.
Would he sign the bill (SB 7026) as it now exists?
"They're still debating it. I'm going to take my time and read the bill," said Scott, a Naples Republican.
He did allow this much: "I've been clear. I don't believe that we should be arming teachers.
"I think we ought to be increasing our law enforcement presence. I want a law enforcement presence at all of our schools, so that's what I'm going to focus on. What the Senate did two days ago was a step in the right direction. But, again, I'm going to read the bill."
On Tuesday, the Republican-controlled House defeated a series of amendments, including one on a "guardian program" that would train and arm school staff, excluding full-time classroom teachers. The chamber took up the measure on final passage Wednesday.
The legislation is in response to the deaths of 17 teenagers and adults at Marjory Stoneman Douglas High School in Parkland, Broward County.
Earlier, during the Cabinet meeting, Scott called upon the fathers of two teenagers killed at Parkland — Ryan Petty, who lost his daughter, Alaina, 14; and Andrew Pollack, who lost his daughter, Meadow, 18.
The men have been lobbying the Legislature this week.
"A lot of them were very receptive yesterday," Pollack told reporters afterward, saying they're willing to put politics aside.
"By looking today at the votes, you're going to know which politicians have another agenda than taking care of their communities and our children," he said.
"They're not concerned about mental illness in the schools. They're not concerned about giving the police the right to be able to Baker Act somebody and take away their weapons. They have other agendas. We'll have to ask them what it is."
Added Petty: "Our ask is that the Florida House come together as the families have, and pass this legislation."