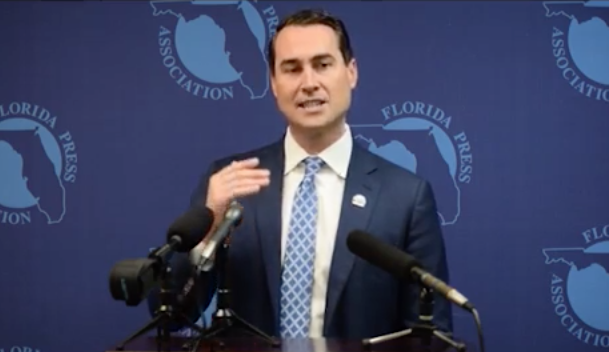 Saying the Democratic Party needs a gubernatorial nominee with the passion to be "transformational" in addressing gun legislation, Chris King on Wednesday went after poll-leader Gwen Graham, contending that when she was in Congress she "never supported an assault weapons ban."
Speaking in Tallahassee Wednesday, King said the party needs "a champion for gun safety and for a ban on weapons of war."
"Gwen Graham, who is a good person, but in my view has not demonstrated a record that is passionate about eliminating weapons of war from our streets. In Congress, Congresswoman Graham never supported an assault weapons ban," King told reporters.
Graham's campaign disputed King's assertion that she lacks passion to pursue an assault weapons ban, saying she had been on the front lines pushing for gun reform, including in Orlando and in Washington following the June 12, 2016, massacre at Orlando's Pulse nightclub. She dismissed King's affront as a "small attack."
"These attacks are predictable, but sad. Democrats attacking fellow Democrats won't do anything to solve the mass-shooting crisis," she said in a written statement. "That's a choice my opponents are making — all I can tell you is, it was a lot harder beating an NRA-endorsed Republican congressman  [U.S. Rep. Steve Southerland] and nearly $300,000 in NRA money spent against me than dealing with these small attacks from fellow Democrats."
King and Graham also are competing with Tallahassee Mayor Andrew Gillum and former Miami Beach Mayor Philip Levine for the Aug. 28 Democratic primary. All four have come out with strong positions seeking bans on assault weapons. King mentioned neither Gillum nor Levine, though he did say the Democratic field was full of tough candidates.
King contended that the call of students and families touched by the massacre at Marjory Stoneman High School in Parkland included a call for addressing assault weapons, and that the legislation that has emerged has fallen far short. He said the state needs a Democratic governor, "and we have had them in the past, we have had Democratic governors from LeRoy Collins to Lawton Chiles," who "created a political climate around issues they felt strongly about." (In those historical references, King may have implicitly included but didn't specifically mention Gov. Bob Graham, Gwen Graham's father.)
"This was a massive incident of gun violence. And our one-party state government … has not even been willing to debate, to debate, the discussion on banning the sale of weapons of war in the state of Florida. I feel so strongly about this issue, and I would be a governor that, if I could not do this legislatively, I would work to use the bully pulpit to do it through the amendment process," King said.
"I believe the next governor of Florida has to be transformational, and has to be transformational on the issue of gun safety. They have to have an appetite, an energy, a passion for this because this is a tough issue," King said. "This is going to be a hard change to make in the state of Florida. The forces against us are tough. But I believe I'm that candidate."
He then went after Graham, saying that several major mass shootings occurred while Graham was in Congress, including the San Bernardino shooting of 2015. King said that 151 House Democrats sponsored or cosponsored a bill to ban assault weapons, and that another 24 Democrats joined after the Pulse massacre. [In fact, House Resolution 4269, the "Assault Weapons Ban of 2015," had a total of 149 cosponsors, all Democrats, including the 24 who signed on in the two weeks immediately following the Pulse mass murder.]
"As far as I can tell, Congresswoman Graham, when she was serving there, never added her name as a cosponsor," King said.
She didn't.
However, her campaign contended she has had a long record, otherwise, of pushing for gun law reforms, including regulation of armor-piercing bullets; that she had, two weeks after the Pulse massacre, come to Orlando where she called for taking weapons of war off our streets; and had, last summer, become the first candidate for governor to release a full plan for gun safety, including banning large-capacity magazines and assault weapons.