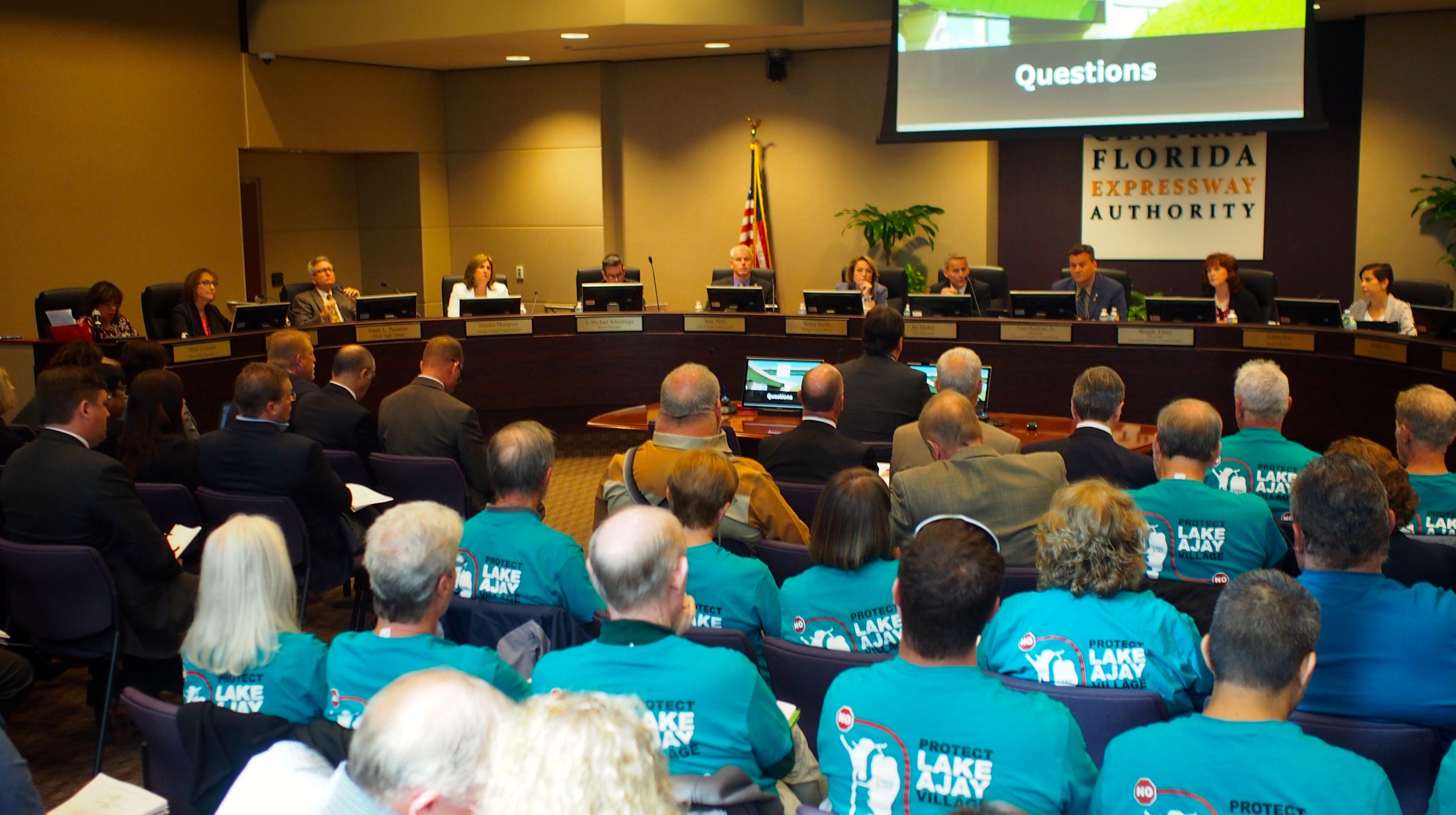 In a move with long-range ramifications for huge developments in Central Florida, road networks linking to the Space Coast, and promises assumed in the state's nature preservation efforts, the Central Florida Expressway Authority Thursday moved ahead with a study of how best to push a new road through or around the state's Split Oak Forest Wildlife and Environmental Area.
The expressway authority's board heard dozens of impassioned speakers ranging from leading environmental activists and affected homeowners to former Orange County Chair Linda Chapin and current Orange County Commissioner Emily Bonilla. They highlighted the needs and drawbacks of a road that one day is likely to be key to a huge new transportation network serving tens or even hundreds of thousands of future homes – and the prospect that a beloved and highly sensitive environmental area might be breached, and the state's preservation pledge broken, to build that first road.
The area of southeast Orange County and northeast Osceola County already is being prepped for the first project, Sunbridge, of what is expected to be several decades worth of developments that would turn much of the Mormon Church's Central Florida holdings, the 300,000-acre Deseret Ranch, into a huge new community by the end of the 21st century. Just about the entire area is vacant ranch land now, but it's going to need roads.
That development, and already emerging longterm growth and traffic pressures in that region and on the Space Coast, led the Florida Legislature last year to expand the expressway authority to include Brevard County to the east, pegging the authority as the player to provide roads merging Central Florida to the Space Coast.
The first major road moving in from the west would be the planned extension of the Osceola Parkway from where it now ends south of Lake Nona, to head west and south well into the Deseret Ranch area, to link up with the Sunbridge Parkway coming in from the north, to serve the Sunbridge development now underway. Yet the Osceola Parkway extension has a limited corridor and difficult options. They could require it to either go through Split Oak, a nature preserve created under Florida's Preservation 2000 program of the 1990s, or through existing neighborhoods, forcing eminent domain takings of mostly large, estate-style exurban homes.
On Thursday the board voted unanimously to approve a project development and environment study on the various alternative alignments, including the apparent favorite 1A, which would run the road through Split Oak, and also options that would go through neighboring housing areas, most notably the Lake Ajay Village. As a new board member whose home district has much to gain but not much at risk in the Split Oak controversy, Brevard County Commissioner Jim Barfield made the motion.
Chapin, the godmother of much of the longterm growth planning done in Orange County and of the Split Oak preservation deal, from her tenure as county chair in the 1990s, warned the board that it might be setting a precedent, certainly for Central Florida and possibly for all of Florida. She warned members against allowing developers to play "Let's Make a Deal" with public lands in exchange for growth, and cautioned that if they go the route of carving up a nature preserve for legitimate public interest, they better make sure they get a really good deal from developers.
Sunbridge developer Tavistock Development Co. Vice President Clint Beaty in fact offered to continue talks with everyone as long as necessary, and urged the board to hit the pause button if it felt necessary.
But the board was ready to move forward.
"With the growth coming, that's the big elephant in the room. Nobody up here is going to stop the growth that is coming," said Expressway Authority Board Chairman Fred Hawkins Jr., chair of the Osceola County Board of Commissioners.
"I think we are at a moment in time where there is general agreement that we need this road for a variety of reasons that were put forward," said Orlando Mayor Buddy Dyer, another board member. "If in fact we need this, there is no reason to put it off five years or ten years when we're going to be probably more restricted or limited in our options to actually accomplish it."
Still, Dyer and others wanted to know more about the legal power the expressway authority might have with the Split Oak conservation charter.
They apparently soon may find out, because environmental activists wanting to stop the road from going through Split Oak are not only wondering the same thing, they're preparing to go to court to find out.
Valerie Anderson, president of Friends of Split Oak Forest, Inc. and Chuck O'Neal, president of Speak Up Wekiva, Inc., said Thursday they intend to sue. They hope and intend to pursue the action all the way to the Florida Supreme Court to answer the question of whether state preservation covenants are in perpetuity, or can be, as O'Neal derided, tossed aside anytime a local government wants to build a new road.
"If you can put roads through the most protected conservation lands that there are in the state of Florida, those conservations mean nothing," Anderson said.
The environmental community is united in its love of Split Oak but not united in its opposition to the plan. Charles Lee, director of advocacy for the Audubon Florida's Central Florida Policy Office, urged the board to aggressively pursue options to get Tavistock and others to piece together 1,500 acres of mitigation land, including some critical uplands, to swap for the affected portion of Split Oak
Board member Brenda Carey, a Seminole County commissioner, and Atlee Mercer, chair of the Osceola County Expressway Authority, which originated the Osceola Parkway extension plan and other road network plans before handing them off two years ago to the Central Florida Expressway Authority, insisted that roads can be built to minimize impact on environmentally sensitive lands, on long, high bridges with carefully engineered drainage, and that this could and should be done at Split Oak.
Mercer a former Osceola County commissioner, reminded the board that it was looking at plans for a whole network of new roads out of Osceola County heading northeast and east, preparing for the Deseret growth and essentially for a longterm merger of the Orlando-Kissimmee metropolitan area and the Space Coast of Brevard County.
"These roads haves been talked about for almost 30 years. We had a plan. We vetted it entirely. We passed it at our board. We passed it on to you. You chose to revisit it. That's OK. I get it. But don't lose site of that plan," Mercer said. "I'm here to say that this road, this connection, is critical to the long-term health of Central Florida and the East Coast. And it needs to be constructed because it is an integral part of that southern beltway."
But why here? the supporters of Split Oak demanded.
"Just because you can doesn't make it right, especially when it's been made very clear that you shouldn't," said longtime environmental activist Gretchen Robinson of Orlando. "Split Oak Forest is the canary in the coal mine, ladies and gentlemen. As Split Oak Forest goes, so go all conservation lands in Florida, and so goes the public trust. The public trust works like this: we the public entrust you a governing entity with taking care of something precious and vulnerable and irreplaceable."