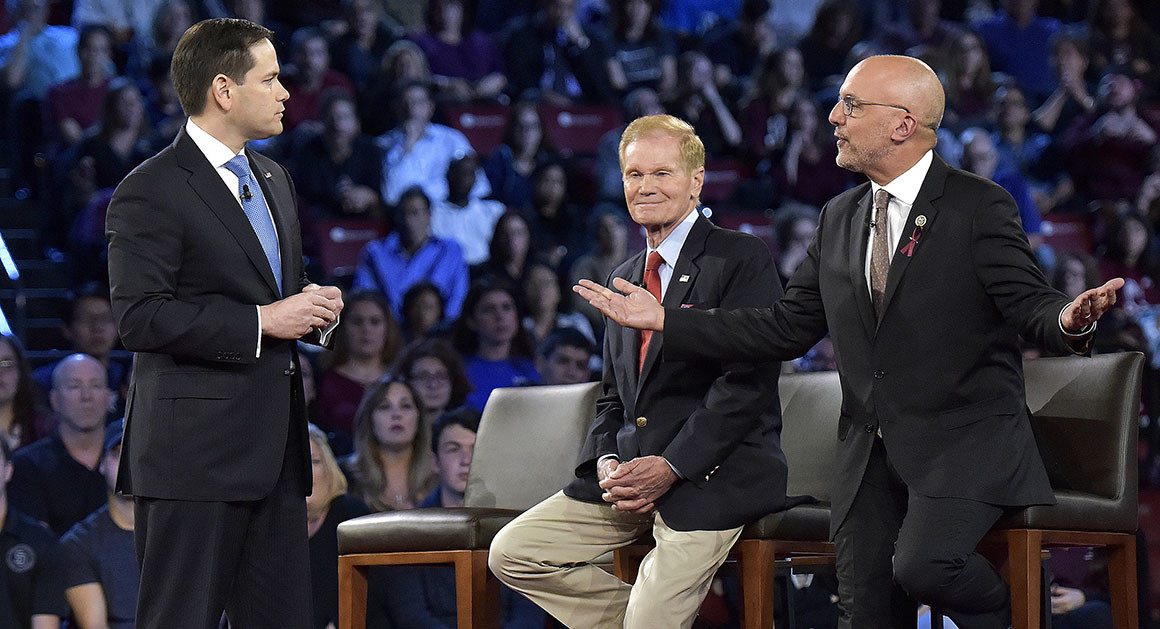 Washington D.C.'s mayor and representative to Congress, joined by Democratic U.S. Rep. Ted Deutch from Florida, called Florida's Republican U.S. Sen. Marco Rubio a hypocrite Tuesday because of his proposal to repeal gun laws in the District of Columbia while offering support for tighter gun laws in Florida.
Deutch, of Boca Raton whose district includes Parkland; U.S. Rep. Eleanor Holmes Norton, a Democrat from D.C.; Washington Mayor Muriel Bowser; and Coalition to Stop Gun Violence Executive Director Josh Horwitz contended in a telephone press conference Tuesday that Rubio's Senate Bill 162, which would revoke all municipal gun laws in Washington, would fly in the face of statements he made about tighter gun restrictions following the Feb. 14 massacre at Marjory Stoneman Douglas High School in Parkland.
Bowser accused Rubio of hypocrisy. Deutch said of his colleague, with whom he stood at a post-Parkland town hall meeting attended by thousands of area residents in February, "It's not courageous to say one thing and then to do another. It's phony."
Norton declared, "We want Sen. Rubio to withdraw his bill that would repeal all gun laws in the District of Columbia. We're not going to let him take his stand as a senator who is trying to do something about gun violence and then systematically in every Congress put in a bill, the most extreme bill, that would wipe out gun laws in a district not his own!"
Rubio is not going to withdraw it, contending that the District of Columbia is under federal law, and he believes Congress, not the district council, should be left to address gun laws there.
"Senator Rubio's bill will not be withdrawn," a spokeswoman in Rubio's office said in a statement. "The District of Columbia is a federal jurisdiction and this bill simply aligns D.C. firearms regulations with federal law. If federal law is changed, it would apply to D.C. as well."
His bill also is not going anywhere, unless something unexpected happens.
Rubio first introduced it in 2015, and again last year. It has not received a single co-sponsor. Nor has it been heard by a single committee.
Rubio's office said the bill grew from concern that he felt upon learning about the plight of an office employee, who wanted to bring two legally acquired handguns to D.C. to protect herself following a shooting near her building, only to find a very cumbersome regulatory process.
Norton accused Rubio of sponsoring the bill to upgrade and keep a good rating he received from the National Rifle Association after he first introduced it. She argued his continuing sponsorship, without ever getting a cosponsor or any movement, suggests his motive is only to have his name on the bill, saying it shows "a great deal of cynicism."
"In order to keep that rating, it seems to me, is what he does is he keeps putting it in, knowing full well we'll be able to stop it," Norton said.
Deutch ripped into Rubio for listening to Parkland residents and responding with sympathy for requests for such things as a minimum age limit of 21 for the purchase of firearms, something D.C. already has, while promoting a bill that would remove such an age limit and other restrictions in Washington.
"The question is not is there some greater urgency to moving this bill now," Deutch said. "The question is: why is it, a month after the Stoneman Douglas shooting, there is no urgency to move forward on any of the meaningful steps to help curb gun violence in our communities? That is the question, frankly, that Sen. Rubio ought to be asked as well."