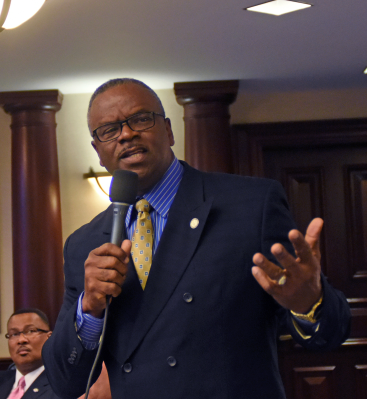 In the midst of an emotional last week of Session, a tearful state Rep. Larry Lee Jr. told his colleagues in the Florida House in a 40-minute speech that he would not seek re-election.
Six days later, he is reconsidering that decision.
He is rethinking things because he says his phone has not stopped ringing. And now, his mother has recommended to "close his ears" to those talking to him, search for solitude and figure out what to do.
Lee told Florida Politics he was not in the "best frame of mind" when he decided to pull the plug on his political career last week.
The Port St. Lucie Democrat was emotional and frustrated with the legislative process in the wake of the Parkland school massacre that left 17 dead and several wounded. Lee was one of the lawmakers who wanted to vote down the controversial gun and school safety measure and have Gov. Rick Scott call for a special session to resolve the issue.
He told colleagues he was resigning on the day the House would vote on the contentious proposal.
"That morning it all culminated," Lee said. "It took those kids from Parkland to push me. I felt like we let them down. Some of our members said we should give them something, but I wanted to give them more."
Two days before he made the public decision on the House floor, House Speaker Richard Corcoran called him into his office and asked him to take some time to consider not leaving his post.
Corcoran also gave him homework: to read the Book of Romans and the Bible verse John 8:32, which reads: "Then you will know the truth, and the truth will set you free." But Lee never did his homework.
"I was afraid that it might touch me and that I might want to stay," said Lee, a religious man.
He then took a couple of days to mull it over, and with a "heavy heart" he sent a letter to Corcoran and told colleagues it was time for him to leave. A move he said lifted "tremendous weight off his shoulders."
Lee has served in the Legislature since 2012 and admits that he has never wanted to be a politician, and even says he was naive to believe he could spark change from Tallahassee. But here he is, debating whether he should stay in the game.
He expects to reach a final decision in a couple of weeks, but admits that he has read the verse Corcoran asked him to read and he "still does not know the truth."