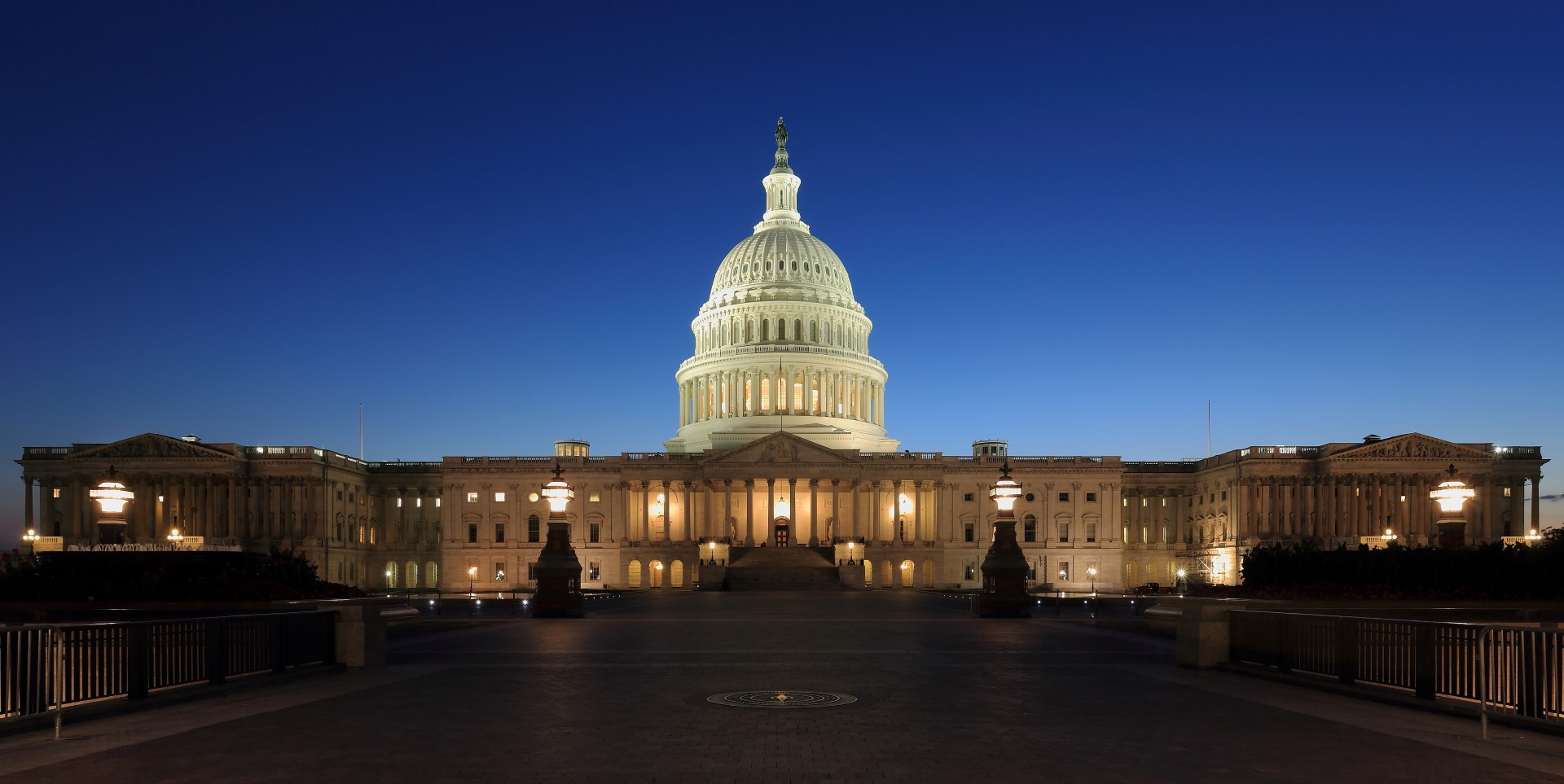 King's legacy; there for all to see
This week marked the 50th anniversary of the assassination of the Rev. Dr. Martin Luther King, Jr. Those remembering that tragic Thursday evening recall the shock or rage that enveloped the nation.
Many delegation members issued statements on Wednesday's tragic anniversary. Miami Gardens Democrat Frederica Wilson said, "Fifty years ago, some people thought he was moving too fast. Imagine where we'd be today if he had listened. Thank goodness he didn't."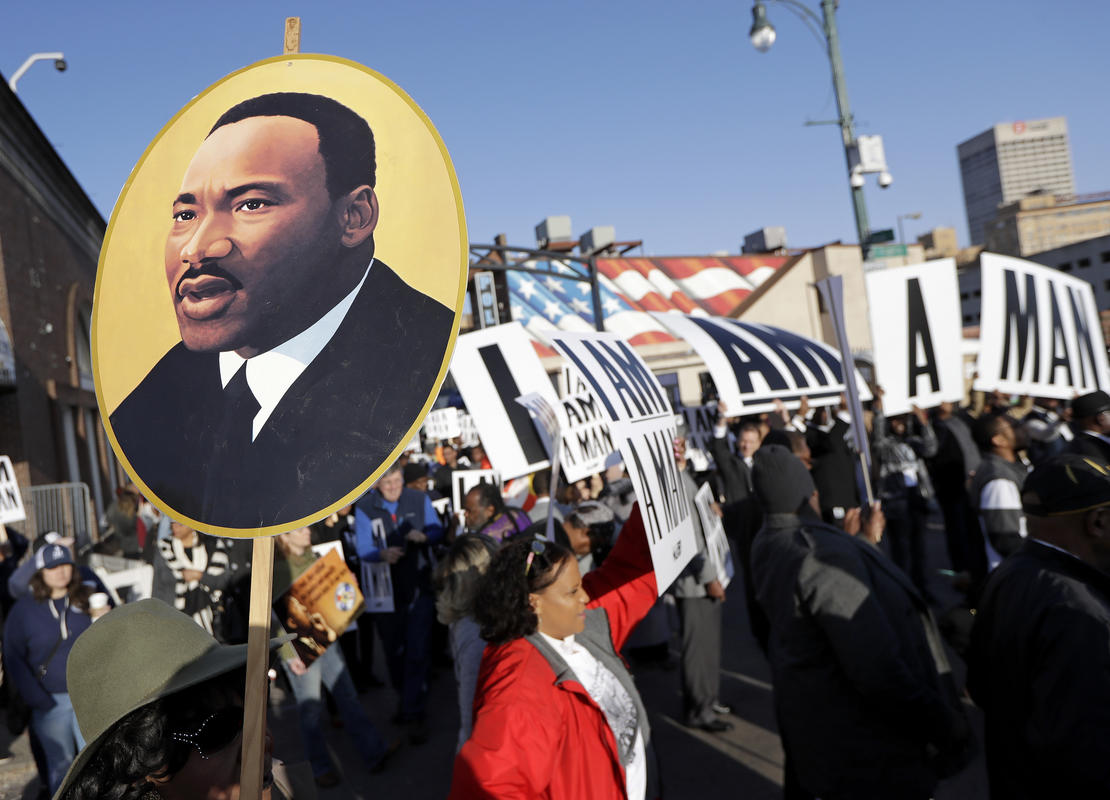 Democratic Rep. Alcee Hastings of Delray Beach said, "We honor his memory and his impact, and we continue his noble work in pursuit of a more equal nation."
Democratic Rep. Al Lawson of Tallahassee, who referred to King as a "mentor," said, "May the great dream of Martin Luther King Jr continue to inspire us in making this world ever more tolerant and peaceful. The dream lives on."
First-term Orlando Democrat Val Demings said: "Today, I urge my fellow Americans to honor Dr. King's legacy. Continue to 'rise up with greater readiness.' Continue to speak out, to march, and to organize, and always remember Dr. King's lesson that nonviolent direct action is the only path to true justice."
All four of these African-American members of Congress represent the type of change most Americans now support. In 1968, the Florida delegation consisted of two white male Senators and 12 white male House members.
Today, the delegation consists of a white Senator and a Hispanic Senator. The 27 members of the House delegation includes four African-Americans, four Hispanics, and a Vietnamese-American.
For those doing the math, 9 of the 15 seats added since 1968, or 60 percent, are now held by minorities. Women now represent about 25 percent of the delegation, a number that is almost certain to continue climbing.
While all Democratic members of the delegation offered comments, only a few Republicans provided public comments. In a proclamation, President Donald Trump said: "It is not government that will achieve Dr. King's ideals, but rather the people of this great country who will see to it that our Nation represents all that is good and true, and embodies unity, peace, and justice."
Republican Rep. Ileana Ros-Lehtinen of Miami said: "50 years ago today, we lost a man who dreamed of justice. Dr. King's words and actions will forever be immortalized and will continue to inspire generations of Americans to come."
Rep. Tom Rooney of Okeechobee said: "King was an incredible leader for justice and today we reflect on his message of hope and peace for the world."
After this fall's election, the delegation will look different from it does today. For example, both of these two Republicans are leaving Congress.
Whatever happens, the Florida delegation will forever look different from it did when King was marching for nonviolent change. He deserves enormous credit for that fact.
Nelson, Rubio seek hearing on continuing problems in Puerto Rico
With portions of Puerto Rico still without power more than six months after Hurricane Maria, Florida's Senators joined with five of their colleagues calling for a Senate committee to look into ongoing problems.
The Senators requested an oversight hearing be conducted by the Senate Energy and Natural Resources Committee chaired by Alaska Republican Lisa Murkowski. In a letter to Murkowski and Ranking Member Maria Cantwell, a Washington Democrat, the group pointed to their concern with a plan by the Army Corps of Engineers to reduce their presence before power is fully restored.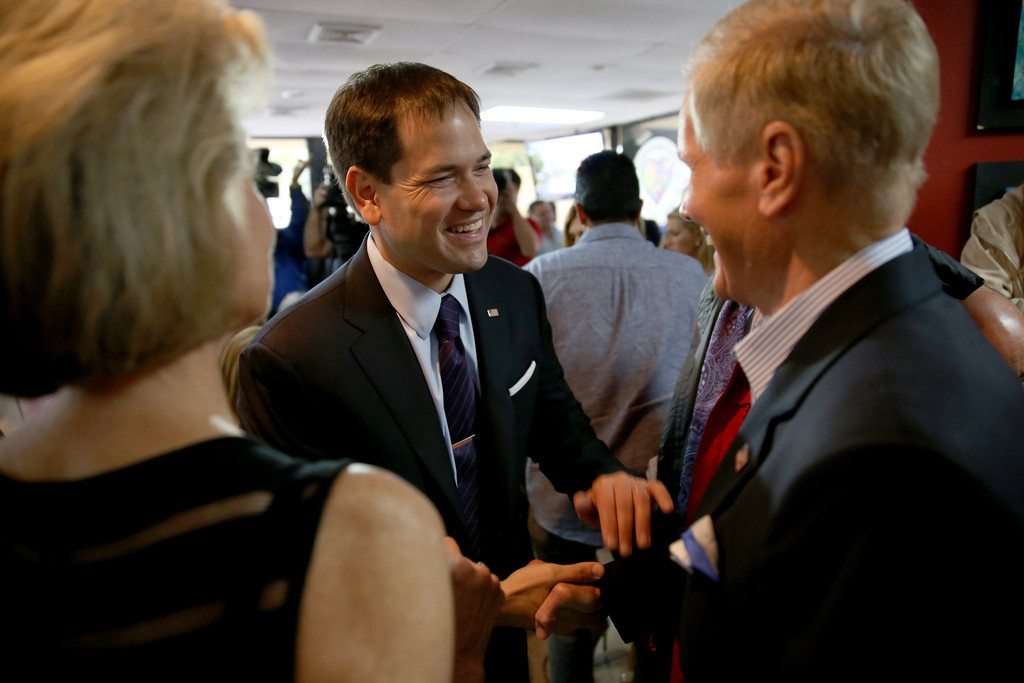 "The Army Corps of Engineers is reportedly drawing down the number of utility repair workers on the island," the senators wrote. "We would welcome an opportunity to discuss the Corps' decision to begin reducing this workforce on the island while our fellow Americans in Vieques, Caguas, and elsewhere continue to struggle."
Joining Nelson and Rubio in calling for the hearing were Democrats Richard Blumenthal of Connecticut, Bob Casey of Pennsylvania, Dick Durbin of Illinois, Tom Carper of Delaware, and Independent Bernie Sanders of Vermont.
Rubio says relief for farmers may be near  
Florida's junior Senator is bringing some good news to Florida farmers. Disaster relief for those impacted by Hurricane Irma may be available "as early as next week."
Rubio offered the upbeat comments shortly after meeting with Agriculture Secretary Sonny Perdue earlier this week.
Citrus farmers have been especially frustrated as they continue to wait for $2.36 billion in federal disaster aid related to losses caused by the devastating natural disaster. Citrus growers suffered at least $761 million in losses from the storm, part of the roughly $2.5 billion in losses to Florida's agriculture industry.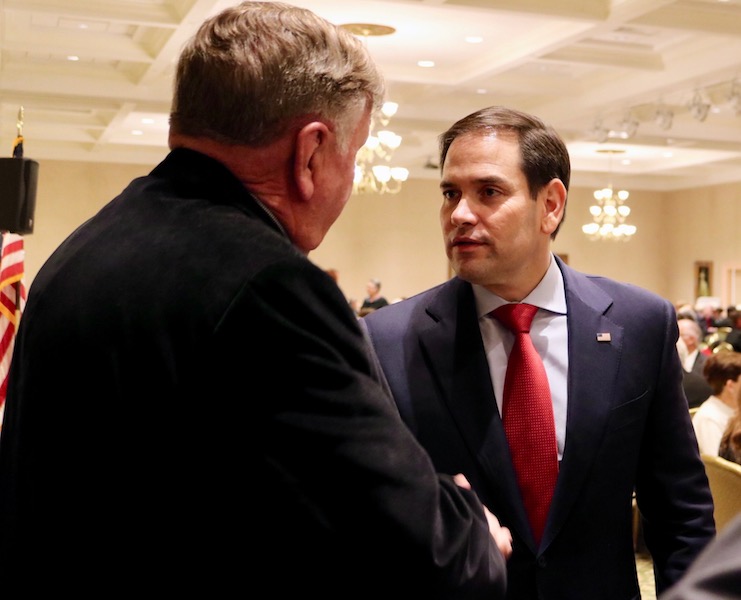 Rubio and Nelson have encouraged Perdue to expedite release of the aid, which was part of the $90 billion disaster relief package signed by Trump in February. Their efforts appear ready to pay off.
Before speaking with Perdue, Rubio and Nelson joined with several Senate colleagues to again urge quick action on behalf of the farmers.
"It is important you use this authority as granted by Congress and remove any unnecessary restrictions when so many of our rural are dependent on the quick recovery of domestic food and fiber crop production," they wrote.
Irma-induced losses at citrus groves in parts of Southwest Florida have reached anywhere from 70 to 90 percent and the production across the state is forecast to be down 34.5 percent from a year ago. Additionally, grapefruit production is off by 40 percent.
Rubio did not say how the funds would be distributed once they became available. The federal legislation provides Perdue with wide flexibility in disbursing the disaster assistance, with the goal of helping farmers rebound from crop losses as quickly as possible.
Nelson says Syria troop withdrawal would be a mistake  
Last week, Trump said 2000 American troops would be leaving Syria "very soon," a position shared by Saudi Arabia. Secretary of Defense James Mattis and other Trump subordinates, meanwhile, signaled an indefinite commitment.
Nelson begs to disagree. He countered that a quick withdrawal could have negative consequences.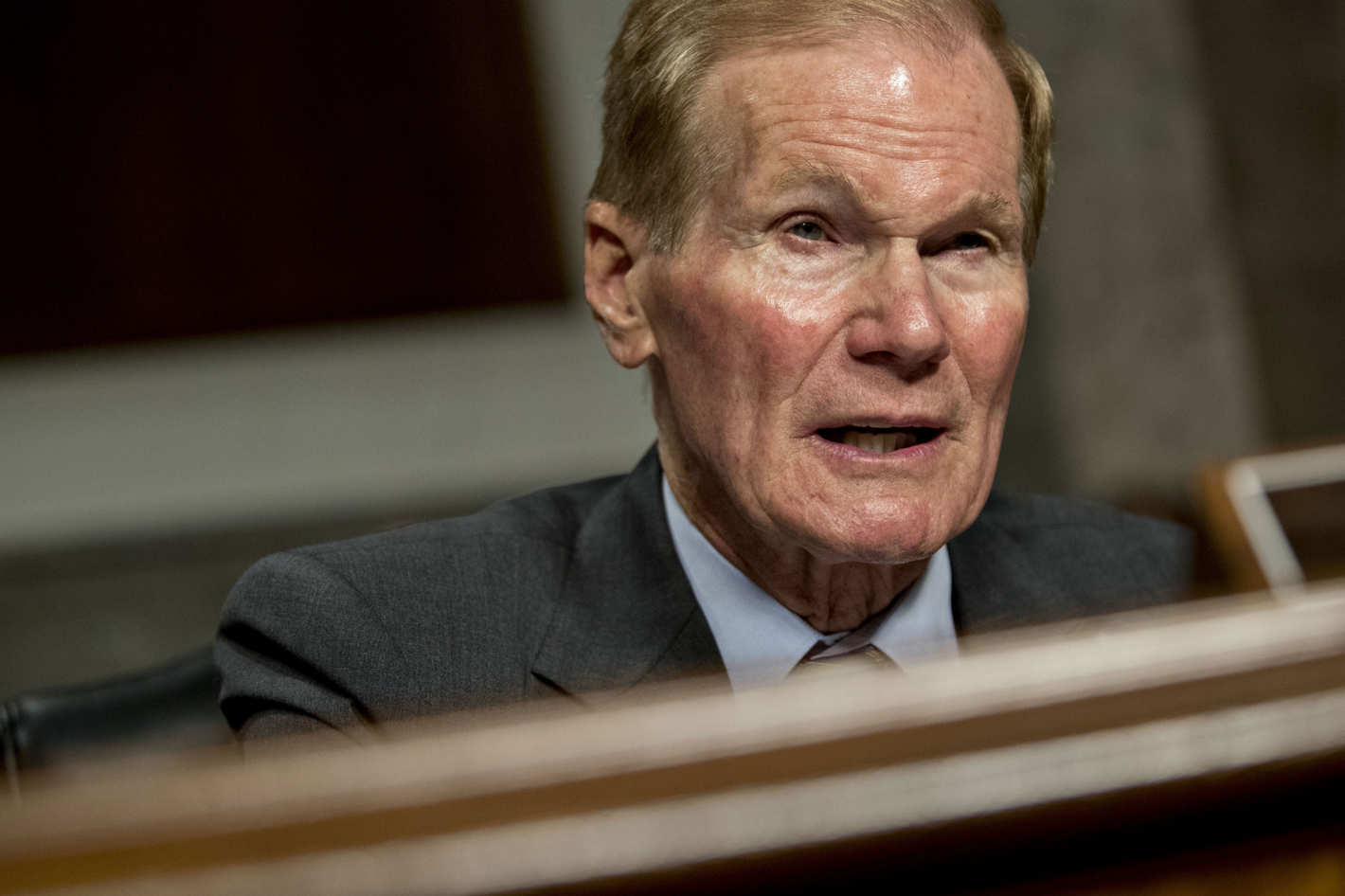 "American troops, which are advisers and special operators, they shouldn't leave Syria," Nelson said. "Because the minute they do, the Turks and (Bashar) Assad's Syrian forces, they are going to move in on the Kurdish forces. [The Kurds] are the ones that have taken the fight to ISIS and have been so successful, to kick ISIS out of Syria," Nelson said.
Since at least 2013, Nelson has backed an aggressive position in Syria. Last year, he exhorted American forces to "knock out the entire Syrian Air Force."
Nelson believes that Trump's words amounted to unclear messages and predicted that the President would "get a lot of his military advisers pushing back very hard on that one."
Gaetz, Ballard featured in separate POLITICO profiles
POLITICO Magazine was focused on Florida this week as it published two significant pieces on well-known state Republicans. Trump's Best Buddy in Congress featured the well-known desire of Rep. Matt Gaetz of Fort Walton Beach to see special counsel Robert Mueller fired, while The Most Powerful Lobbyist in Trump's Washington profiled Brian Ballard.
Among the topics covered in the Gaetz piece was the first-term Republican's desire for Attorney General Jeff Sessions to rescind his recusal in the Russia probe and terminate Mueller. He also does not trust Deputy Attorney General Rod Rosenstein, whom he believes has been compromised.
"I still think there's time for Sessions to do the right thing," he said.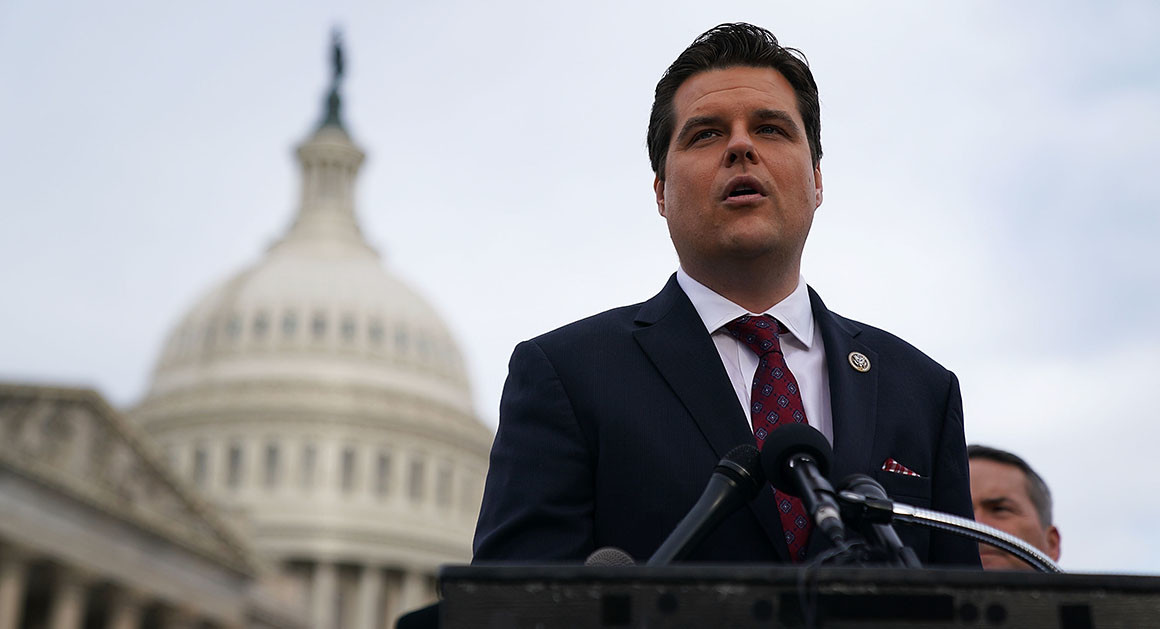 Gaetz is again described as a confidante of Trump, who calls regularly. He firmly believes neither Trump nor his campaign were guilty of anything underhanded because it was "too big of a mess to be up to anything like collusion."
The Ballard piece provides an account of which those knowledgeable of influence (he does not like that word) circles in Florida are already familiar. It paints a picture of the astounding growth of a lobbying firm that zoomed to the top in the span of one year.
Ballard's access and knowledge of Trump are cited as the key reason. It is also a testament to his standing behind Trump even when things like the Access Hollywood tapes with Billy Bush came out.
According to Ballard, it cost him friendships. In financial terms, things could not have worked out any better.
DeSantis wants investigation into former Wasserman Schultz employee
Washington is certainly not lacking for investigations, but a North Florida Republican thinks there should be one more. Republican Ron DeSantis, who is leaving Congress to run for Governor, believes the House Oversight Committee should be looking into a former employee of Weston Democrat Debbie Wasserman Schultz.
Imran Awan, who was an IT consultant for Wasserman Schultz and several other Democrats, is accused of committing severe cyber breaches and drawing high salaries for himself and other family members. DeSantis is calling for Congress to quickly investigate this and blames House Republican leadership for the slow pace.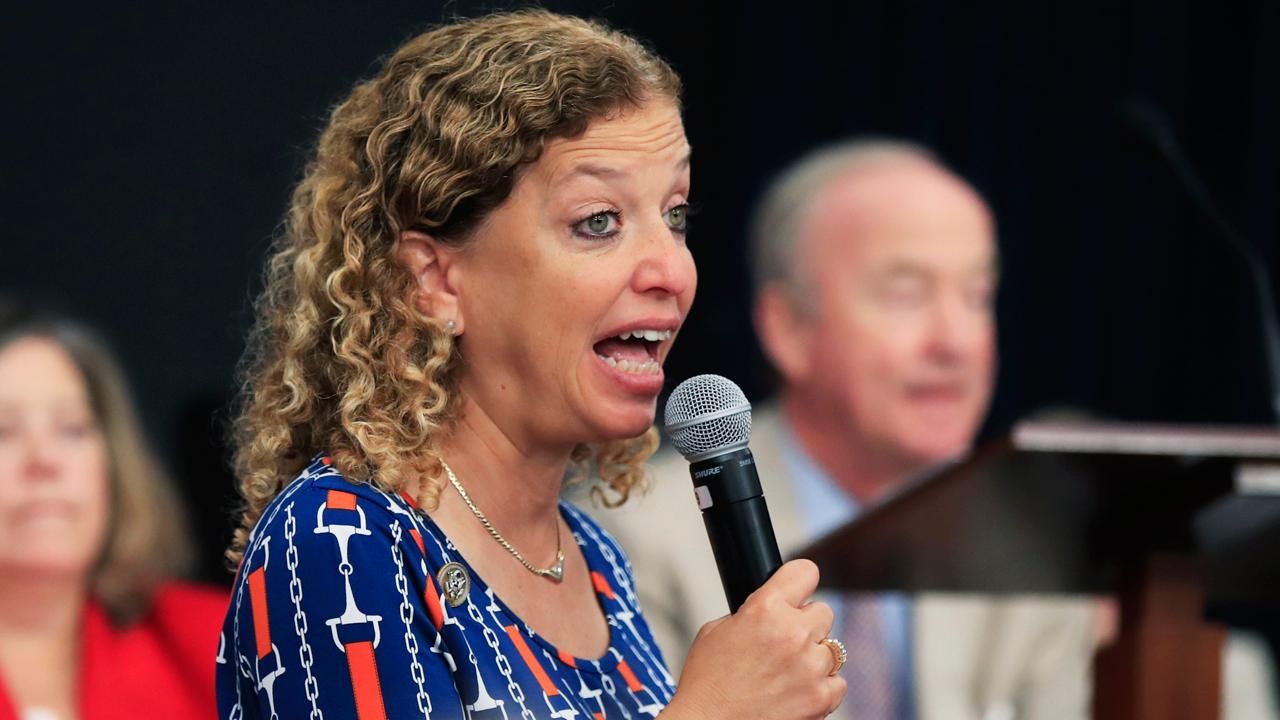 "I think the House leadership has not wanted any of us to get involved with investigating this," DeSantis said on Fox Business Network. "But the number of issues that are outstanding from this are really troubling."
While several Democrats employed Awan and his various family members, Wasserman Schultz is known to be more closely tied to him. He was kept on her payroll long after the accusations against him were leveled.
When asked by former GOP Rep. Jason Chaffetz (a former Oversight Committee Chairman) about whether the Oversight Committee should hold her accountable, DeSantis said "That is something that needs to be dealt with. I've requested the ability to do that."
Along with DeSantis, Lakeland Republican Dennis Ross also serves on the committee.
Murphy announces additional scientific grants for UCF
The University of Central Florida is in line to receive a $20.5 million grant to help manage a prestigious observatory, something Democratic Rep. Stephanie Murphy of Winter Park was happy to talk about. The National Science Foundation (NSF) is prepared to award the funding for UCF to lead a joint effort to manage the iconic Arecibo Observatory in Puerto Rico, which houses the world's second-largest radio telescope.
NSF has already allocated $5.4 million by way of two grants to UCF in 2018. Murphy announced a nearly $1 million grant in February and a $4.4 million grant that NSF made earlier this week.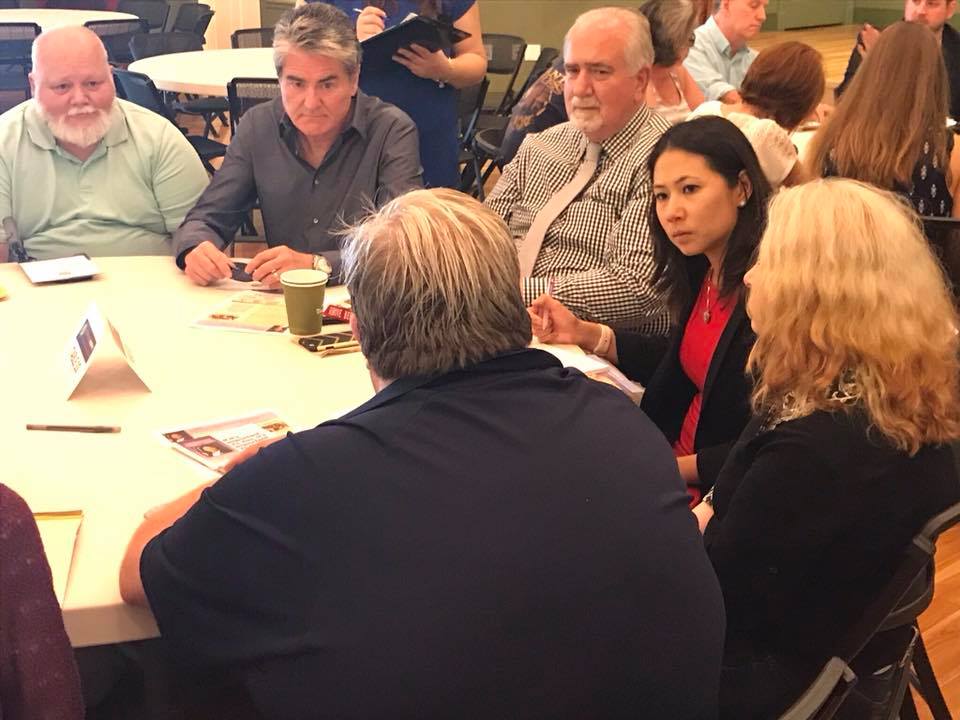 "I am so pleased the federal government will provide a long-term investment in the UCF-led consortium as the consortium assumes management of the Arecibo Observatory in Puerto Rico, a world-class scientific asset that was damaged by Hurricane Maria," Murphy said in a news release. "This is a victory for students and faculty at UCF, for their partners in Puerto Rico, and for aspiring young scientists on the island and in central Florida."
Under the UCF-led management team, scientists from Puerto Rico, central Florida and around the world will conduct cutting-edge research at the Arecibo Observatory in the areas of radio astronomy, atmospheric sciences, and planetary radar. Scientists will continue to use the Observatory to track potentially dangerous near-Earth objects such as meteors and asteroids.
The Observatory will place special emphasis on educating local students and creating the next generation of science, technology, engineering, and mathematics (STEM) professionals.
Webster honored by seniors' group
A seniors' advocacy group has presented one of their most prestigious awards a Central Florida Republican. Rep. Daniel Webster of Orlando received the Guardian of Seniors' Rights by the 60-Plus Association.
Making the announcement was the association's national spokesman, singer Pat Boone, who began his career more than 60 years ago. He used a musical metaphor to salute the veteran lawmaker.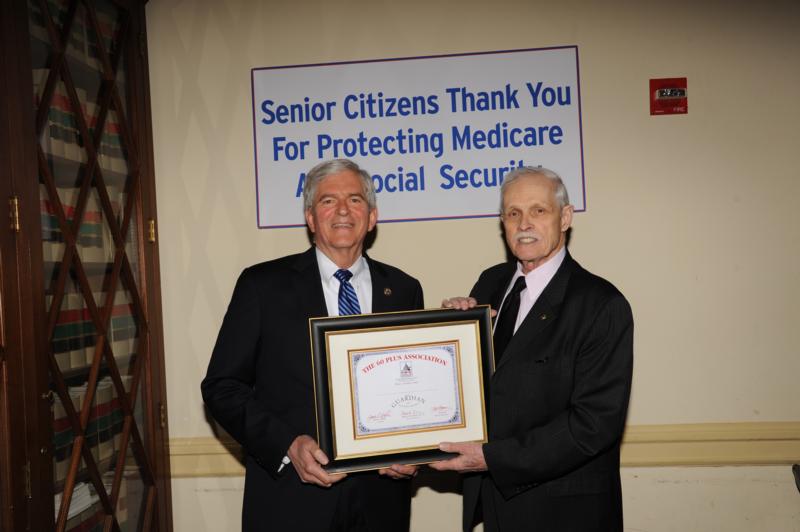 "I'm still singing at concerts, but today I'm singing the praises of Rep. Daniel Webster," Boone said in a statement. "Seniors can depend on Daniel Webster."
Webster received his award from 60 Plus Chairman Jim Martin as part of an event in Washington.
"The Guardian Award is given to members in appreciation of their tireless efforts on behalf of senior citizens, as so many of our elderly struggle on a fixed income," Martin said. "Seniors have to live within their means and so should our government. We also particularly appreciate the efforts by Rep. Webster to assure the financial stability of Social Security and Medicare."
Deutch hosts large town hall gathering on gun violence
This week, hundreds of attendees crowded into the Coral Springs Center for the Arts to talk about guns and school safety. The town hall was organized by Democratic Rep. Ted Deutch of Boca Raton, one of leading voices in Congress for gun control.
After leading the crowd in the Pledge of Allegiance, Deutch showed emotion as he read the names of the 17 victims. He was joined by local government leaders as well as Marjory Stoneman Douglas High School students and families.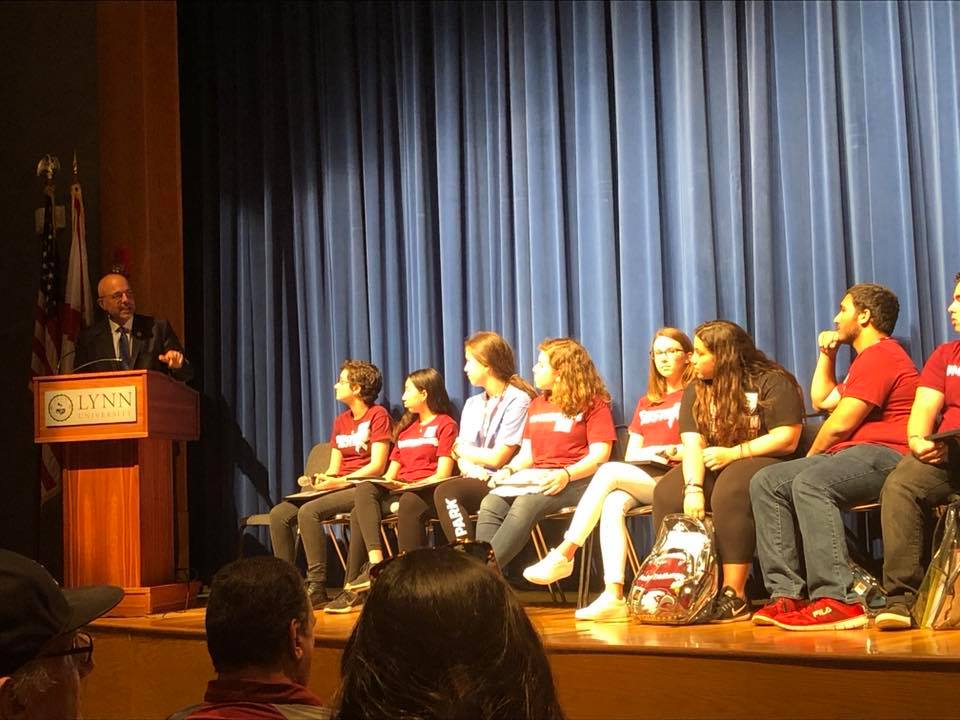 Speakers offered their views not only on gun control but also for mental health services. One of those speakers was student Leonor Munoz.
"It's right around this time when the shock has worn off and the depression has set in that a lot of us are not doing well," she said. "And I want to know what is being done to ensure that trauma trained psychologists are available for every student at Marjory Stoneman Douglas."
Deutch responded that Munoz and the students "deserve" the assistance she seeks. Following the event, he promised a long fight for school safety.
"We came together because this isn't over," Deutch tweeted. "We all need to rely on one another, support one another, and work together to make our communities safe from gun violence."
Curbelo to Trump on tariffs: Told you so
While Trump has insisted that imposing tariffs on steel is designed to counter huge trade deficits, some Republicans warned that a trade war would result in higher prices for Americans.
GOP Rep. Carlos Curbelo was one of those Republicans. His view carries a bit more weight as one of only two Floridians on the House Ways and Means Committee, which oversees trade.
Republican Rep. Vern Buchanan of Longboat Key is the other.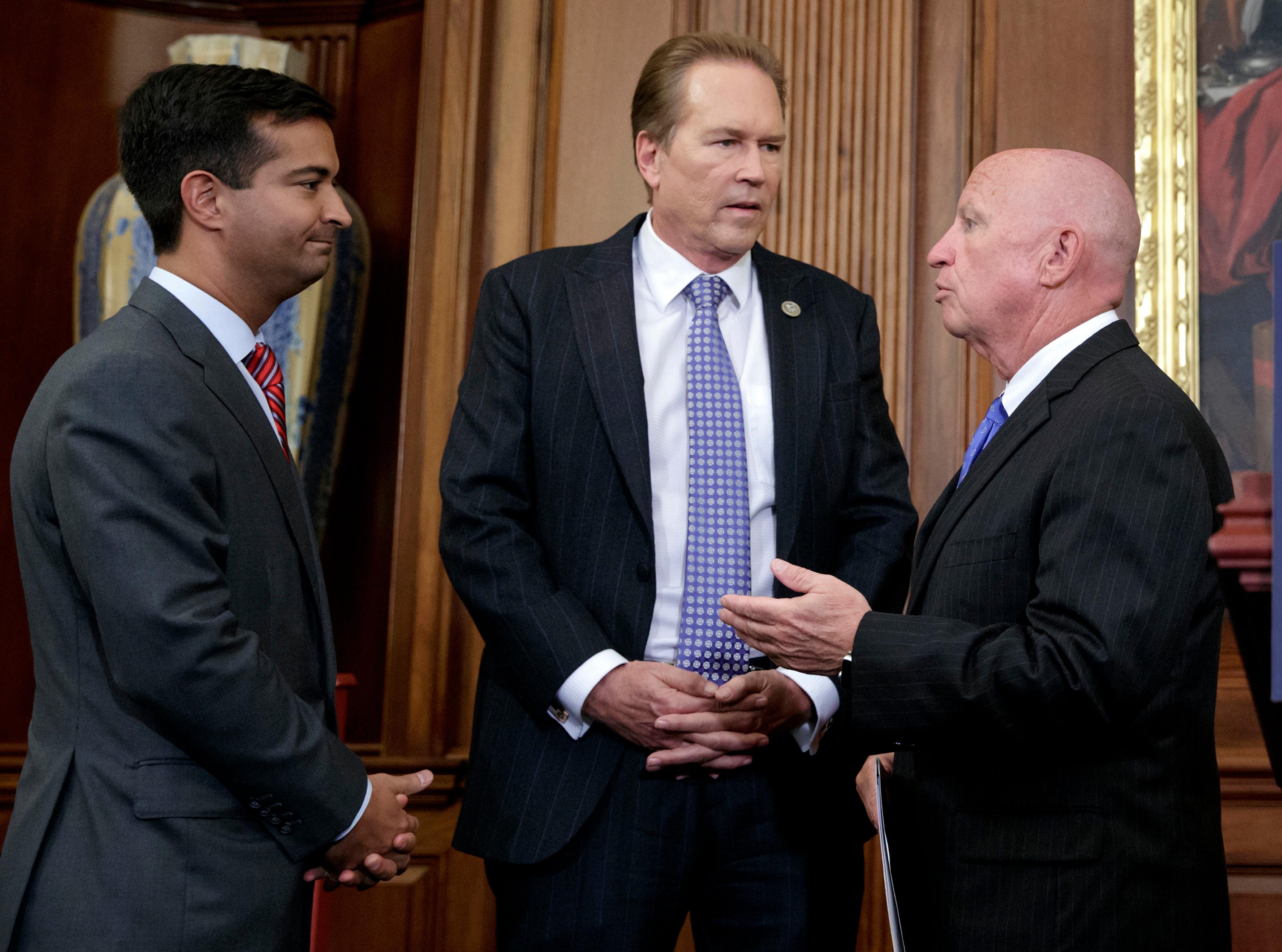 This week, Curbelo was talking tariffs and the negative effects they can have. He joined U.S. 1 Radio News' Bill Becker to discuss the plight of a constituent who roof repair bill went up by $1,300 due to the tariffs.
"So, this is one of the big reasons why, especially Republicans on the Ways and Means Committee, have warned the White House that this tariff policy has to be very targeted and should be modest," Curbelo said. "I understand we need to protect these industries … but we should protect and exempt our allies — European countries and countries here in the Americas — that produce steel and sell it to the United States."
Some are speculating that Trump is trying to gain leverage with China to get a better trade deal.
Budget hawk group salutes three delegation Republicans with highest honor
One of Washington's better known anti-spending groups is awarding three members of the delegation with its "Taxpayer Super Hero" designation for fiscal conservatism. Citizens Against Government Waste presented their highest citation to Gainesville Republican Ted Yoho, Marineland Republican DeSantis, and Naples Republican Francis Rooney.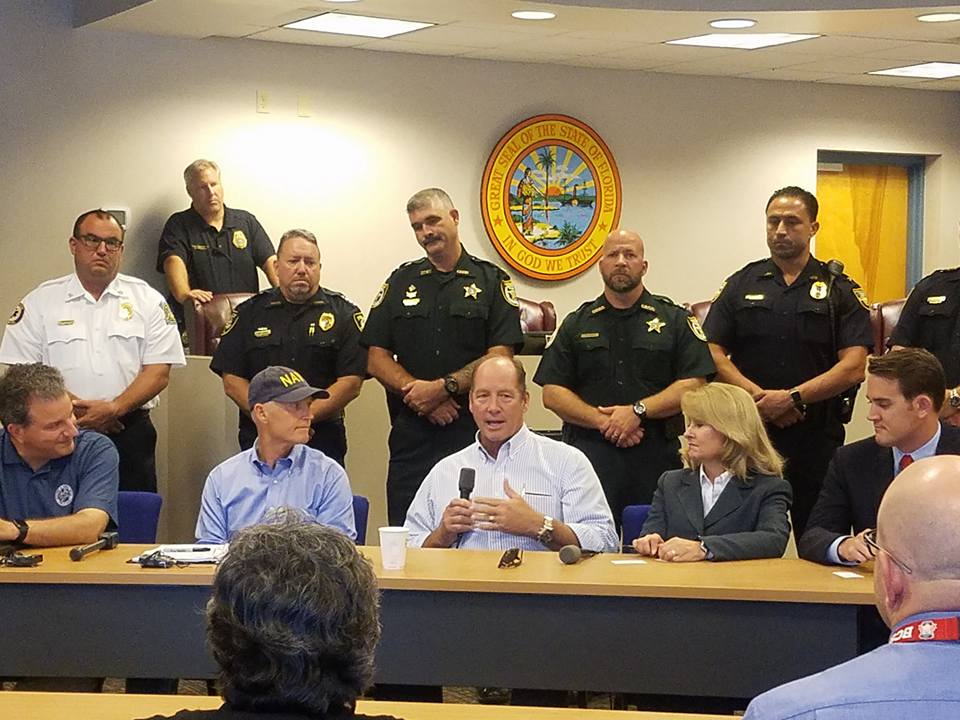 "I am proud to accept the Taxpayer Super Hero Award," said Rooney in a release. "I will continue to protect Americans hard-earned money from wasteful government spending and vote to enact fiscally responsible policy."
The group selected a handful of bills and amendments to determine who was friendly to fiscal discipline or hostile. All delegation Democrats, including Sen. Bill Nelson, fell under the latter category.
"Honored to be one of 11 members of Congress to be recognized as a Taxpayer Super Hero by Citizens Against Government Waste," said Yoho. "I will continue to cut wasteful spending & making government more accountable to protect the fiscal interests of American taxpayers."
Neal Dunn of Panama City and Webster of Orlando each received 97 ratings, while Sen. Rubio and Gaetz of Fort Walton Beach scored 96.
California AG, former Mack COS duel over emission standards
The recent action of the U.S. Environmental Protection Agency to lessen some of the Obama Administration's tough standards for automobile tailpipe emissions is either a threat to Americans health or much ado about nothing. EPA called the standards "drastic" and should be eased.
California officials, led by Attorney General Xavier Becerra, promised another lawsuit against the Trump administration. Auto industry advocates, led by the former chief of staff for former Republican Sen. Connie Mack, said EPA's action is proper.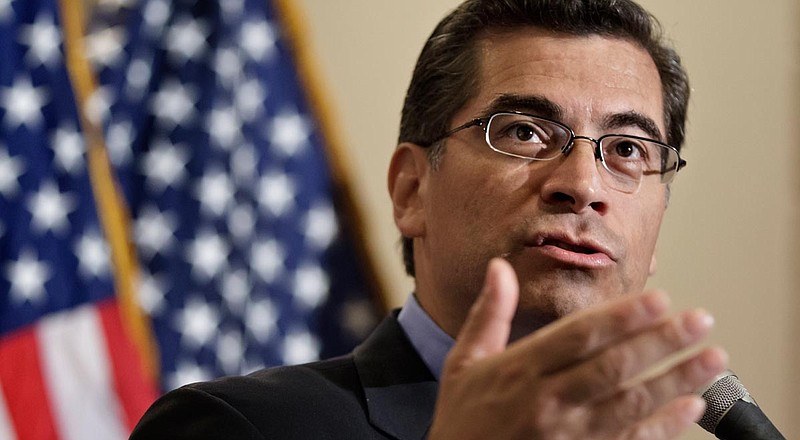 The action announced by EPA Administrator Scott Pruitt "risks our ability to protect our children's health, tackle climate change, and save hardworking Americans money," Becerra said.
In response, the auto industry claims California's reaction is overheated and wrong.
"'Adjustments' are not rollbacks," wrote Mitch Bainwol, president and CEO of the Auto Alliance, in an op-ed. "We favor standards that increase year over year. The industry is committed to ongoing progress in a journey that has no end date."
Bainwol headed Mack's Senate office for more than a decade.
On this day in the headlines
April 6, 1968 — President Lyndon Johnson canceled a planned meeting in Honolulu with military advisers as he grappled with violence around the country in the wake of the assassination of the Rev. Dr. Martin Luther King, Jr. two days before. Johnson read a proclamation designating April 7 as a national day of mourning for King, who was shot to death in Memphis, Tenn.
Johnson, who only one week before said he would not run for re-election, appealed for an end to the violence. "America will not be ruled by the bullet," he said in remarks covered live on both radio and television.
April 6, 1997 — After only two days in space, the Space Shuttle Columbia is forced to cut short its planned 16-day mission. A fuel cell had been losing voltage since launch, maybe before, said NASA's mission operation director Jeff Bantle.
The astronauts were to conduct 33 planned experiments that were deemed as precursors for a future international space station.