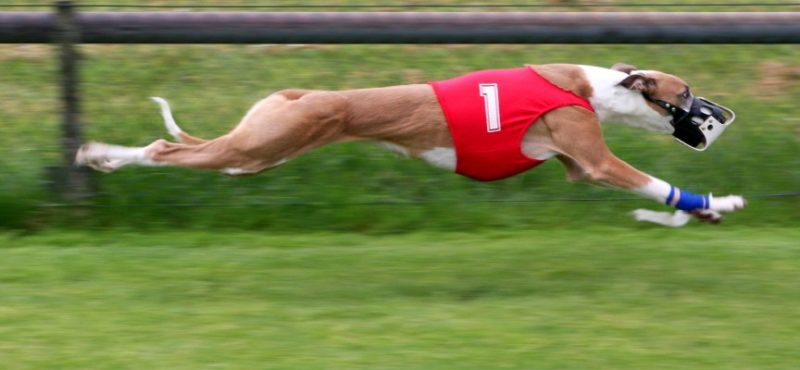 The lawyer that successfully represented a pig farmer who sued over the state's 'pregnant pig' constitutional amendment now says another proposed amendment to do away with greyhound racing is legally sound.
Broad & Cassel attorney M. Stephen Turner, who represented Florida pig farmer Stephen Basford, wrote an opinion letter – provided to Florida Politics Thursday – for GREY2K USA Worldwide, the organization that seeks to end dog racing.
Greyhound owners say that the amendment at issue (P67), would amount to an unconstitutional 'taking' if passed. In constitutional-law parlance, a taking is when government "uses, regulates, (or) seizes private property" and doesn't pay for it.
Florida also has its own law, the "Bert J. Harris Jr. Private Property Rights Protection Act," to protect property owners from takings that don't rise to a violation of the U.S. Constitution.
Former Lt. Gov. Jeff Kottkamp and former appellate judge Paul Hawkes, who now represent the Florida Greyhound Association (FGA), say the amendment's passage will subject the state to lawsuits worth hundreds of millions of dollars. In Florida, live dog racing is still conducted at 12 tracks.
The dog-racing ban is one of 36 to be considered by the Constitution Revision Commission (CRC) when it convenes in Session, beginning Monday in Tallahassee. Turner's letter was sent to commissioners earlier Thursday.
The panel is formed every 20 years to review and consider changes to the state's governing document. The CRC can place amendments directly on the ballot, but they still must be approved by at least 60 percent.
Proposal sponsor Tom Lee, a CRC member and Republican state senator from Thonotosassa, plans to tweak it to include a ban on the "commercial" racing of dogs altogether, not just betting on dog races, as it currently stands.
Turner won Basford's case over the pig amendment, passed by voters in 2002 and in effect by 2008, that said pregnant pigs could not be "confined" in such a way that "prevented (them) from turning around freely."
Basford had to shut down his pig operation; he eventually won over $500,000 in a decision upheld in a 2-1 ruling by a 1st District Court of Appeal panel.
"In contrast, gambling on dog races is a nuisance at common law, and a constitutional amendment reverting that activity to illegal status would not cause taking of property," Turner wrote. "… Its prohibition is well within (the state's) police power."
Turner's letter, however, is based on a ban on wagering on greyhound racing, not the outright ban on dog racing that Lee now contemplates. Lee filed that change Wednesday.
"Unfortunately for Mr. Turner he obviously wrote his opinion before" Lee filed the change, said Jack Cory, the FGA's spokesman and lobbyist. That change "only strengthens our position."
Still, "to the extent that dog owners, breeders, trainers and kennel operators might claim their personal property is devalued … even a regulation directed to personal property cannot constitute a taking if there is some remaining use that can be made of the property," Turner wrote.
"The voters deserve the opportunity to decide whether commercial greyhound racing should be phased out," said Christine Dorchak, co-founder, president and general counsel of GREY2K USA Worldwide. "Proposal 67 deserves a place before voters in November."
But Kottkamp and Hawkes, writing in an op-ed sent this week to Florida Politics, see a potential deluge of claims.
"Nothing in CRC Proposal 67 prohibits bleachers, but the state would most likely have to compensate the owners of the bleachers or viewing stands at each of the racetracks because (they were) part of the 'functionally integrated nature' of the property," they wrote.
"The question then is: What is the fair market value of all the real and tangible property in Florida that would be adversely affected by the passage of CRC Proposal 67?" Added to that figure would be litigation cost and attorney fees as in the Basford case.
Racing greyhounds "are routinely purchased for as little as $2,000 or as much as $50,000," they added. "You could assume a very conservative average of $5,000 per dog, which would total $40 million. You would then add the value of the approximately 7,000 racing greyhounds on farms that are being raised and trained. A very conservative figure for greyhounds in training would be $3,000 each or another $21 million.
"Thus, an extremely conservative estimate of the damages just for the racing greyhounds that could no longer race as the result of CRC Proposal 67 would be over $60 million. This does not include the partial taking and loss-of-value claims related to kennel property and equipment."
Updated Friday — Dorchak responds in an email: "The Florida Greyhound Association does not understand the proposed legislation and is desperately trying to confuse Commissioners. Proposal 67 outlaws commercial dog racing, and prohibits new racing licenses. The Broad and Cassel memo makes clear that racing licenses are not property and do not trigger recovery under the Bert Harris Act. This carefully prepared analysis applies equally to the initially filed text and to the new strike-all language."