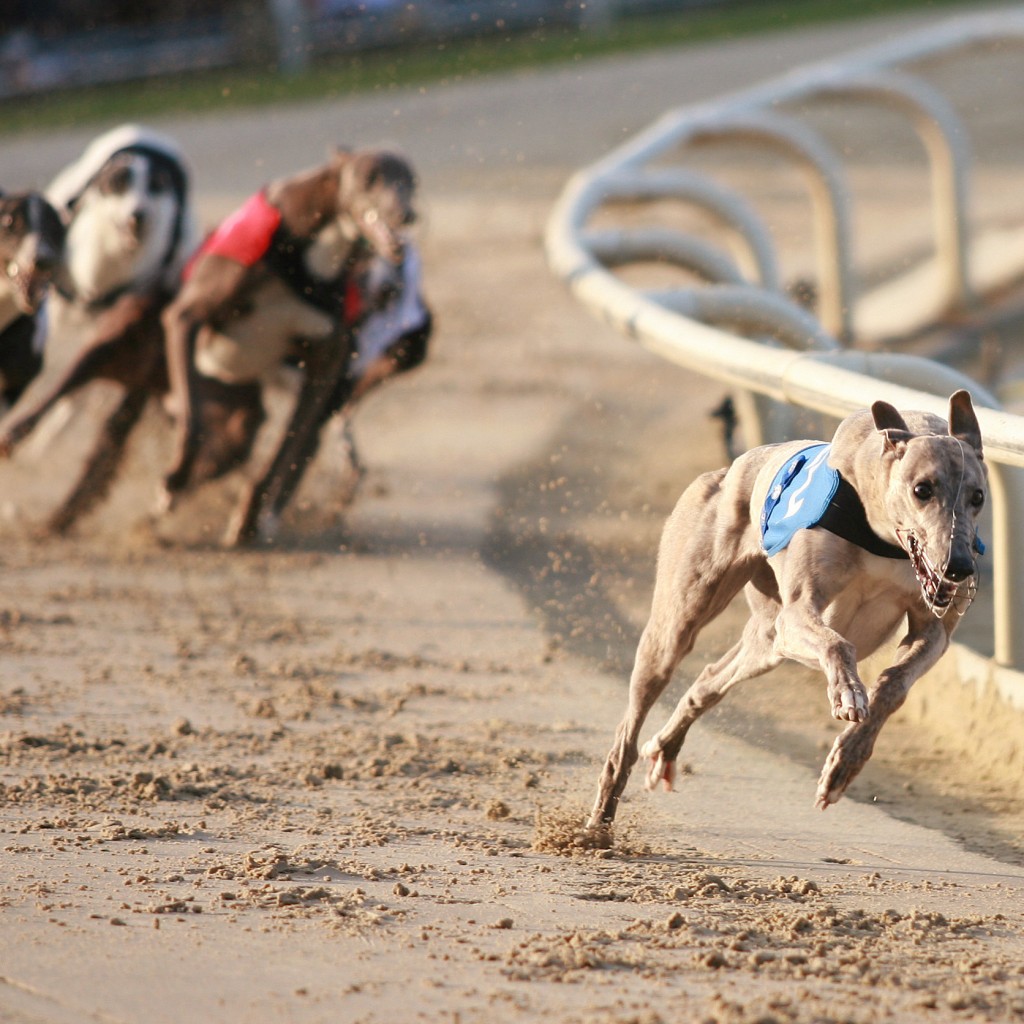 Consitution Revision Commission Proposal 67 would amend Florida's Constitution and prohibit wagering on greyhound races, including ones sanctioned by licensed owners. 
According to the Division of Pari-mutuel Racing, there are 21 greyhound racing permit holders in Florida with 12 greyhound race tracks currently in operation. In addition to live greyhound racing, 11 of those tracks have card rooms. The tracks in Miami-Dade County and Broward County are also permitted to have slot machines.
The Sanford/Orlando greyhound racetrack only has live greyhound racing and does not have card rooms or slot machines. The entire business of the Sanford/Orlando track is built around live greyhound racing. The owner of the track, Penn Sanford, LLC, has recently made a significant investment to upgrade their facility.
Florida law and precedent require the state to compensate for the 'fair market value' of all real and personal property, based on what the court calls the "reasonable investment-backed expectations" of the property owner adversely affected by regulatory action of the state.
Compensation includes all property where value is adversely affected because of its "functionally integrated nature," to the prohibited activity — in other words, property that is not prohibited or rendered illegal because of state action must still be compensated for, if it is found that the property was used to support the prohibited activity.
An example: Nothing in Proposal 67 prohibits bleachers, but the state would most likely have to compensate the owners of the bleachers or viewing stands at each of the 21 racetracks because it was part of the "functionally integrated nature" of the property. Nothing prohibits tracks, railings, display boards, greyhound dogs, kennels, starting gates or hundreds of other types of property. But, the owners of all of that property would be entitled to compensation from the state under existing law. The question then is: What is the fair market value of all the real and tangible property in Florida that would be adversely affected by the passage of Proposal 67? Added to that figure would be litigation cost and attorney fees.
Passage of Proposal 67 would give rise to thousands of claims under the Bert Harris Act, as well as for inverse condemnation, to those impacted by the amendment including greyhound racing dog owners, greyhound breeders, greyhound kennel owners, owners of specialized businesses where the business model depends on the greyhound industry, and greyhound racetrack owners.
Cost to the state — including the cost of defense, court cost, expert witness fees, attorney fees to plaintiff counsel, and the actual compensation for lost "investment-based expectations" of property value — could easily exceed $250 million and could conceivably approach $500 million. The proposal's passage would trigger thousands of lawsuits, as every entity that could establish a legitimate claim that their "reasonable investment-backed expectations" were adversely affected by the proposal would reasonably be expected to file. Because each claim would be based on unique facts each would have to be separately litigated. Litigation would require lawyers, experts and incur cost.  
The current effort to end greyhound racing in Florida has been financed primarily by two groups from outside of Florida—Grey2K (based in Massachusetts) and the Humane Society of the United States (based in Washington, D.C). No Florida-based entity has aggressively pursued the legal prohibition of greyhound racing.
The binding precedent that interprets the law requiring compensation be paid for all property adversely affected is from the 2002 constitutional prohibition of using farrowing pens to birth and wean baby pigs. In that case, the Humane Society and an obscure group called "Floridians for Humane Farms" pushed a ballot initiative banning the use of gestation crates for pigs — otherwise known as the "Pregnant Pig" Amendment.
At the time the Pregnant Pig Amendment passed in Florida — there were only two pig farmers in Florida impacted—including a farm owned by Steve Basford of Taylor County, whose business produced 6,000 pigs per year. Basford had spent more than 30 years developing breeding lines and building his business. However, once the Pregnant Pig Amendment passed he could no longer continue to operate.
The amendment caused Basford to get rid of his pigs and forced him out of business. In 2010, he filed an inverse condemnation lawsuit against the state arguing that the Pregnant Pig Amendment resulted in a "taking" of his farm equipment – tangible personal property.
Very little of the property the state was required to compensate Brasford for was actually the farrowing pens rendered illegal under the constitutional provision.
Most of the compensation was for other property used in the hog farming business – property that was functionally integrated in Basford's operation, but rendered impractical after the amendment passed. This property included a barn, some poured concrete and some other equipment used in hog farming. The trial court awarded Basford $505,000 based on his inverse condemnation claim finding that the amendment was a "partial taking" of property. Basford also filed a claim under the Bert Harris Act but failed to meet the pre-suit notice requirements on that claim.
An appellate court in 2013 upheld the award finding that the passage of the Pregnant Pig Amendment resulted in a partial taking of Basford's property. Total damages paid to Brasford as a result of his litigation exceeded $1 million dollars. This ratio of total cost being roughly twice the market value is a similar ratio that DOT experiences from condemnation proceedings (including interest and legal fees) to settle claims.
The Basford case is a precedent, should Proposal 67 pass.  
But the proposal would have a far more significant financial impact on Florida than the Pregnant Pig Amendment because so many more people and businesses would be harmed by Proposal 67. It would cause the elimination of 3,000 direct and 10,000 indirect jobs for people who make their living on greyhound racing in Florida. It would also jeopardize the well-being of approximately 15,000 greyhound racing dogs in Florida.
As the Basford case indicates, the owners of racing greyhounds, the owners of racing greyhound kennels, and the owners of racing greyhound tracks would all have claims for inverse condemnation if Proposal 67 passes. In addition, they would all likely have substantial claims pursuant to Florida's Bert Harris Act for the loss in value of their property.
The value of the racing greyhounds in Florida alone is very significant. Depending on their bloodline, racing greyhounds are routinely purchased for as little as $2,000 or as much as $50,000. Many dogs that are currently racing generate revenues that far exceed their purchase price.
To establish the value of the approximately 8,000 greyhound racing dogs currently racing you could assume a very conservative average of $5,000 per dog — which would total $40 million. You would then add the value of the approximately 7,000 racing greyhounds on farms that are being raised and trained. A very conservative figure for greyhounds in training would be $3,000 each, or another $21 million.
Thus, an extremely conservative estimate of the damages just for the racing greyhounds that could no longer race as the result of Proposal 67 would be over $60 million. This does not include the partial taking and loss of value claims related to kennel property and equipment — that's even more problematic.
Most of the real estate at the tracks is devoted to the racetracks and passage of Proposal 67 will prohibit the intended use of that property. Bets over the last five years on live greyhound racing at Florida's 12 greyhound racetracks have totaled more than $1.2 billion. Because the income approach to determine market value is a recognized methodology to determine value, and it would be reasonable that the income would be a determinative factor in the owners "reasonable investment backed" expectation of value, that figure could easily be used as a baseline to determine the loss in value of the impacted property.
The greyhound racetrack at Sanford-Orlando would have a particularly strong claim since they only generate revenue from live greyhound racing. In the last five years alone—the Sanford-Orlando track has taken in over $50 million in bets on greyhound racing.
Passage of the proposal would put the track out of business and give rise to a claim for damages that could easily exceed $100 million.
Jeff Kottkamp is a former Lt. Governor and Paul Hawkes is a former judge. They both now represent the Florida Greyhound Association.