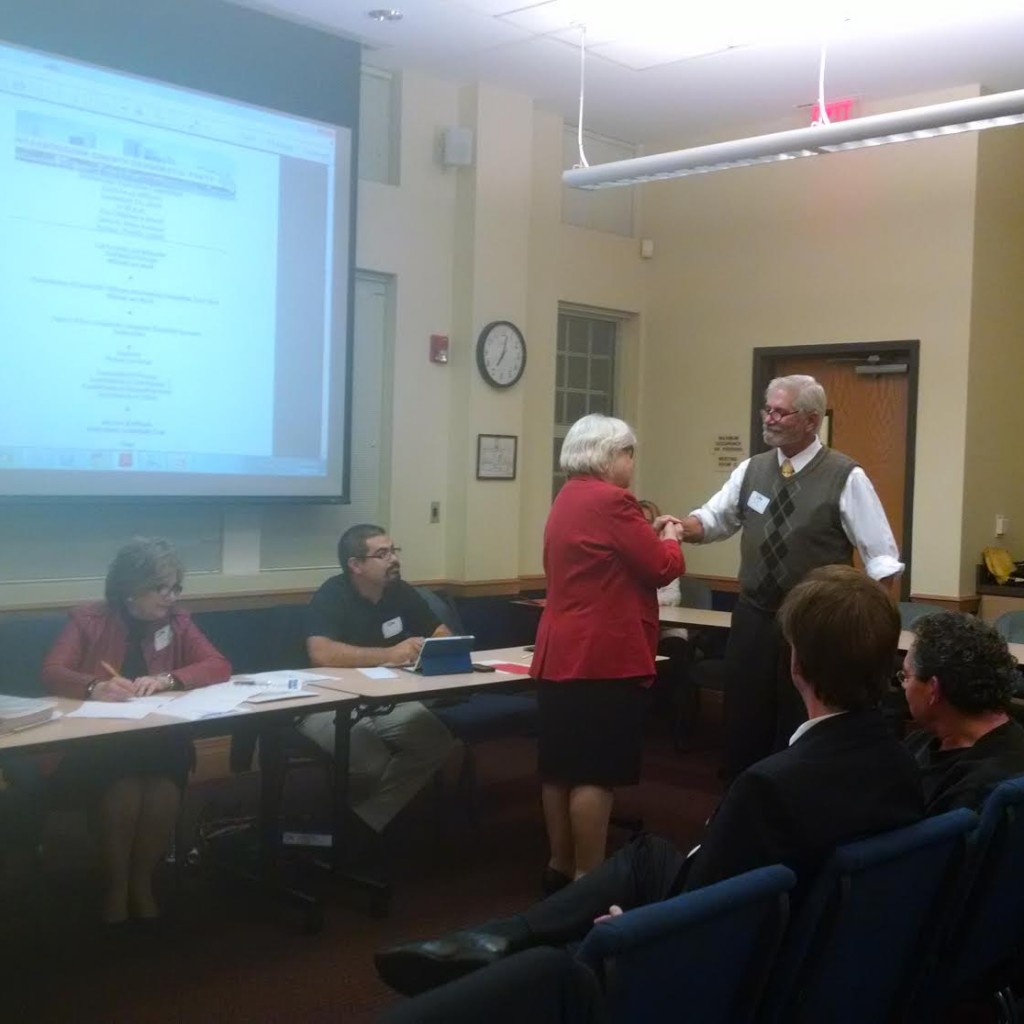 A rumored floor challenge to the lone candidate for the Hillsborough County Democratic Executive Committee failed to materialize Thursday night, allowing Elizabeth Belcher to win the position without opposition.
Belcher has been involved with the DEC since 2008. She became more involved with local politics retiring from a 27-year career as a special agent with the I.R.S. She's also been an unsuccessful candidate for political office over the last two election cycles. She ran and lost a challenge to Victor Crist for the Hillsborough County Commission District 2 race last month. In 2012 she lost a bid for the Senate District 22 race to Republican Tom Lee.
"We're going to begin by taking a deep breath and start working forward," she said immediately after the 90-minute meeting, held in stiflingly warm conditions due to a faulty heater at the Children's Board of Hillsborough County headquarters in Ybor City.
Belcher wasn't the favorite a week ago for the chair position a week ago, but that was before the presumptive front-runner, vice-chair, Tim Heberlein, dropped out of the contest on Monday night, claiming that it would conflict with his duties with the Sierra Club.
There were rumors that there would be a nomination on the floor on Thursday for yet another candidate, but when outgoing party chair Michael van Hoek called for nominations three times, no one raised their hand, giving the race to Belcher.
"It's been an interesting week," she said with a smile after it was all said and done.
When asked if her goal was to recruit more candidates to run for offices , Belcher wouldn't commit. "It's the chicken and the egg kind of thing. You can't get Democrats nominated and run without money, you can't get money without the candidates, so it's going to almost be the same thing at the same time," she said.
The party's failure to have candidates run in all local races has been an embarrassment at times, none bigger than in 2010, when they failed to run a live human being against Jim Norman in a state Senate seat that encompassed Hillsborough and Pasco Counties. Norman was involved in a scandal involving a $500,000 "gift" that a businessman gave to Norman's wife. But after Norman survived a contested primary that year, he easily won election because the Democrats had failed to run a candidate against him (Norman resigned in disgrace in 2012).
The party's fortunes improved in 2012, when the county went for Barack Obama, and elected local Democrats like Mark Danish, Kevin Beckner, Bob Henriquez and Craig Latimer to local and state offices. But 2014 was another tough year, as Danish lost a re-election bid to Shawn Harrison in HD63 and Pat Kemp just came up short against Al Higginbotham for County Commission.
Belcher said she will emphasize that local Democrats "on getting the training, the coordination, the communications, the finance. Each piece depends on the every piece."