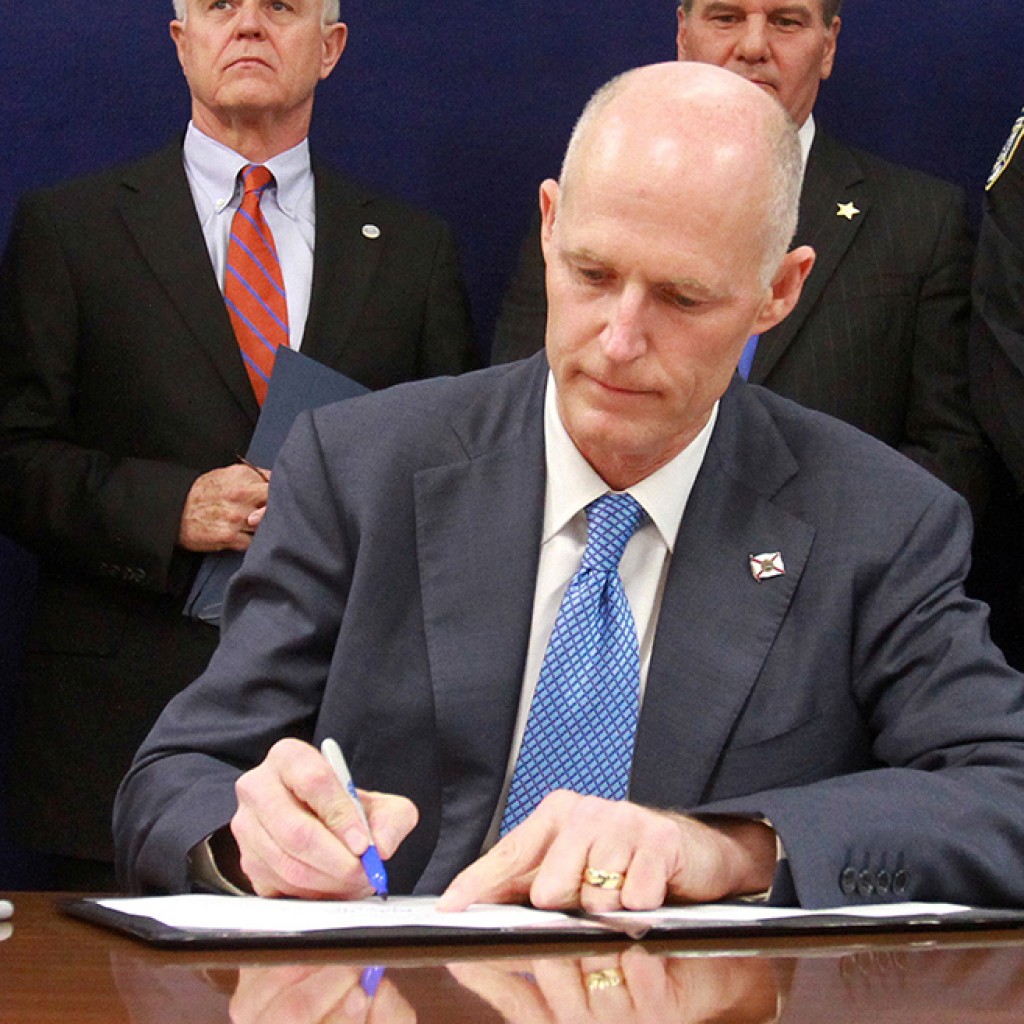 Let the good times roll — to your door.
A bill (HB 667) that would expressly allow Floridians to use a smartphone app to order alcoholic beverages for home delivery was one of 18 signed into law by Gov. Rick Scott on Friday.
Services with apps, such as Drizly and Shipt, already deliver in the state. But "current law does not address orders received via the Internet or other electronic forms of communication," a staff analysis says.
It was supported by retail and restaurant groups, and by Uber and Target.
Another bill Scott approved directly benefits him: SB 186 reinstates a resign-to-run law that requires candidates seeking federal office to give up their state or local elected office in order to run for Congress.
That bill, however, does not apply to those departing office because of term limits.
That means Scott won't have to step down early in April when he's expected to announce his candidacy for U.S. Senate against incumbent Democrat Bill Nelson.
"There are no carve outs," the bill's Senate sponsor, St. Augustine Republican Travis Hutson, tweeted Friday. "From day one, I said if you want to run and think you should keep your seat if you lose, it is unacceptable. Termed out means gone, therefore no need to resign."
Scott also vetoed one measure (HB 1113) that would have allowed the Palm Beach County Housing Authority to add two additional members.
In a veto letter, he said changes "to the established appointment process for county housing authorities should be uniform … to ensure consistency statewide."
The list of bills OK'd Friday, as provided by the Governor's Office, is below:
SB 1392
Criminal Justice – This bill increases transparency in the criminal justice system, authorizes the adult civil citation program, and revises the juvenile civil citation program.
SB 186
The Resign-to-Run Law – This bill makes changes to the law on running for public office for current office holders.
HB 165
Written Threats to Conduct Mass Shootings or Acts of Terrorism – This bill prohibits a person from making, posting, or transmitting a threat to conduct a mass shooting or an act of terrorism in a way that allows another person to view the threat.
HB 185
Redirection of Fees to Tax Collectors – This bill allows Florida tax collectors to retain the processing fees for administering driver license knowledge and skills tests and processing reinstatements of suspended or revoked driver licenses.
HB 215
Motor Vehicles – This bill provides terms of use for autocycles and mobile carriers and prohibits local governments from preventing motor vehicle access to limited transportation points of entry or exit from state universities.
HB 465
Insurance – This bill makes several changes to the insurance statutes, including insurance adjuster license examinations and the documents an insurer can submit for the Own-Risk Assessment compliance.
HB 565
Excess Credit Hour Surcharges – This bill creates a refund for state university students with excess credits who graduate 

within four years

.
HB 667
Beverage Law – This bill allows alcoholic beverage vendors to make deliveries based on electronic orders, such as smartphone applications, and authorizes third-party deliveries.
HB 731
Home Education – This bill provides greater flexibility to families administering home education programs.
HB 961
Beverage Law – This bill provides guidelines for a licensed malt beverage vendor to accept glassware from a distributor.
HB 1091
Early Learning – This bill establishes a statewide program accountability system for School Readiness providers.
HB 1211
Airboat Regulation – This bill requires airboat operators to meet safety requirements to give rides to passengers for-hire.
HB 1265
Alcoholic Beverages – This bill removes the size restrictions on bottles of liquor sold or purchased on intrastate passenger trains.
HB 1285
Florida Business Entities – This bill allows state banks and trust companies to form as social purpose corporations or benefit corporations and renames the Institute for Commercialization of Public Research to the Institute for Commercialization of Florida Technology.
HB 6003
Participant Local Government Advisory Council – This bill abolishes the Participant Local Government Advisory Council, created in 2008 to review the administration of the Local Government Surplus Trust Fund.
HB 6009
Write-in Candidates – This bill repeals current law requiring a write-in candidate to reside within the district represented by the office sought at the time of ballot qualification, which was found unconstitutional by the Florida Supreme Court.
HB 6049
Medical Marijuana Growers – This bill repeals the requirement that a Recognized Class Member License applicant for a Medical Marijuana Treatment Center be a member of the Florida Black Farmers Agriculturalist Association.
HB 6059
Department of Corrections' Direct-Support Organization – This bill continues the direct support organization within the Department of Corrections.