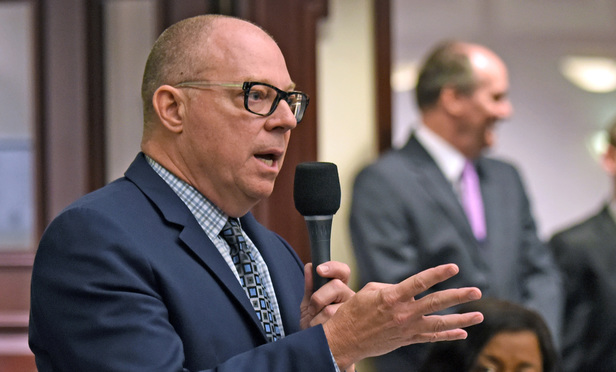 Democratic state Rep. David Richardson announced Monday morning his campaign raised $411.021 in the first quarter of 2018 for Florida's 27th Congressional District, one of the most hotly contested races anywhere.
Richardson went into the first quarter leading the money race; this $411,000 haul could keep him atop a field that now has eight Democrats, eight Republicans and an independent candidate seeking to succeed the retiring Republican U.S. Rep. Ileana Ros-Lehtinen in the Miami-based seat.
Richardson, of Miami Beach, was the first of the candidates to announce any campaign finance for January, February and March. His campaign also reported that it finished March with about $1.1 million cash on hand.
Richardson faces Democrats state Sen. Jose Javier Rodriguez, Donna Shalala, Matthew Haggman, Mary Barzee Flores, Kristen Rosen Gonzalez, Michael Hepburn, and Ken Russell. The Republican candidates include Gabriel Ferrer, Raquel Regalado, Bruno Barreiro, Bettina Rodriguez-Aguilera, Elizabeth Ketshia Adadi, Keith Robinson, Michael Ohevzion, and Mariam Peiro. Independent Mayra Joli also is running.
Richardson's campaign contends he has one of the most robust grassroots fundraising programs in the country. A news release from his campaign stated it received contributions from 18,168 individuals, and that 95 percent of the donations are for $50 or less.
"I'm honored to have received such tremendous support from a broad spectrum of Democrats. My campaign is focused on a progressive platform of passing Medicare-for-All nationwide, prioritizing immigration reform, passing common-sense gun reforms, and impeaching President Trump," he stated in the news release. "We progressives, in Miami and across the country, should not be afraid to stand up for these issues which will do the most good for those in the most need.
"My race in District 27 is not just about electing a Democrat — it's about electing the right Democrat, one who is driven by and committed to progressive ideals. That's who I am, and our fundraising numbers demonstrate that's what this district wants.
"I thank my supporters for believing in this campaign."