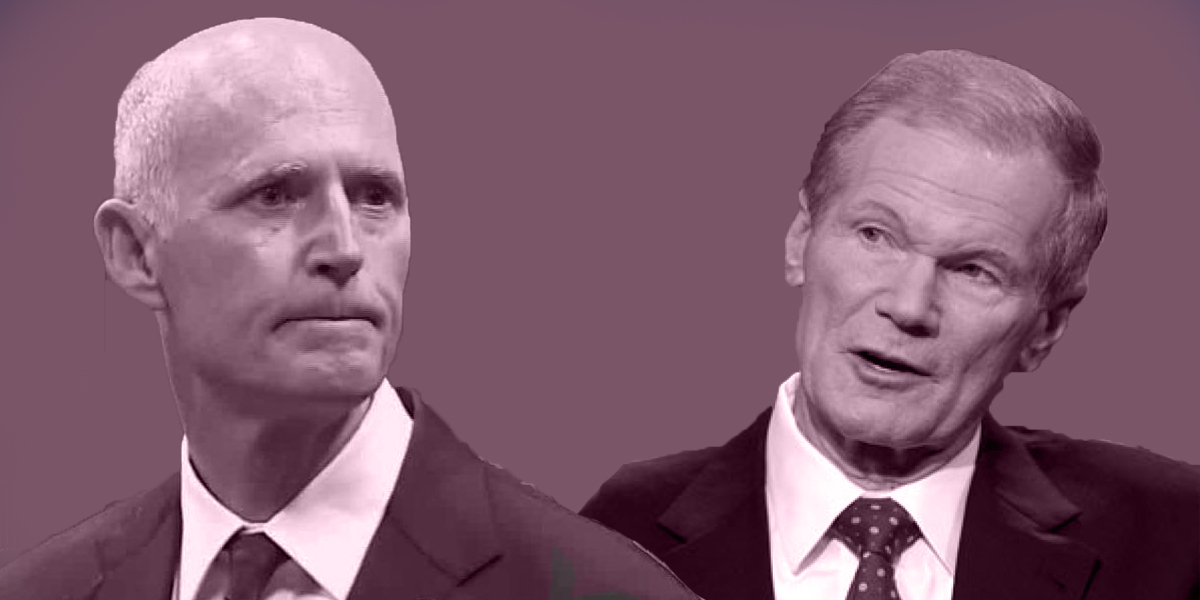 Democrats are sharpening their attacks on Rick Scott just as Florida's Republican Governor bides his time with a no-comment period until the big announcement Monday when he's expected to become a candidate for the U.S. Senate.
On Thursday, the Democratic Senatorial Campaign Committee launched a new website "SelfServingScott.com" anticipating Scott's candidacy. The site lays out several attacks on Scott, claiming he will say and do anything to help himself at Floridians' expense.
The rollout of the site continues an aggressive anti-Scott campaign Democrats began last month as it became increasingly apparent Scott would soon formalize his long-known intentions to run against Democratic U.S. Sen. Bill Nelson. The attacks come in the period when Scott and many of his advisers and allies are reluctant to respond, lest they acknowledge a Senate candidacy before it can be rolled out with a splash.
Three weeks ago, the released two digital videos alleging that Scott had used his tenure as governor to increase his personal wealth and that he'd had several instances of forgetting or losing information that some charged could have been key evidence of crimes. Last week the Florida Democratic Party organized a news conference to charge that Scott had been avoiding accountability on tragedies.
On Wednesday, American Bridge released a memo detailing what it called Scott's weaknesses Democrats could exploit.
The new DSCC site features the two videos the committee already has released attacking Scott, and links to several pages going into details on allegations the Democrats are making about his seven-year tenure as governor, and what they say will happen if he runs for the U.S. Senate.
Among the Democrats' allegations:
— That he personally made lots of money on investments as wages remained low in Florida.
— That his business holdings make him a walking conflict of interest, and that he has kept his finances secret through his blind trust.
— That his offer for nursing home directors to call his cellphone in a crisis, combined with his alleged failure to respond to such calls, may put some blame on him for the tragic deaths at Rehabilitation Center at Hollywood Hills after Hurricane Irma last September.
— That Scott supported drilling near shores and beaches even as he has claimed to oppose it in more recent times.
— That he broke a promise to expand Medicaid health care to 800,000 Floridians.
— That he let 612 days pass between the Pulse and Parkland mass murders without taking any action regarding gun violence.