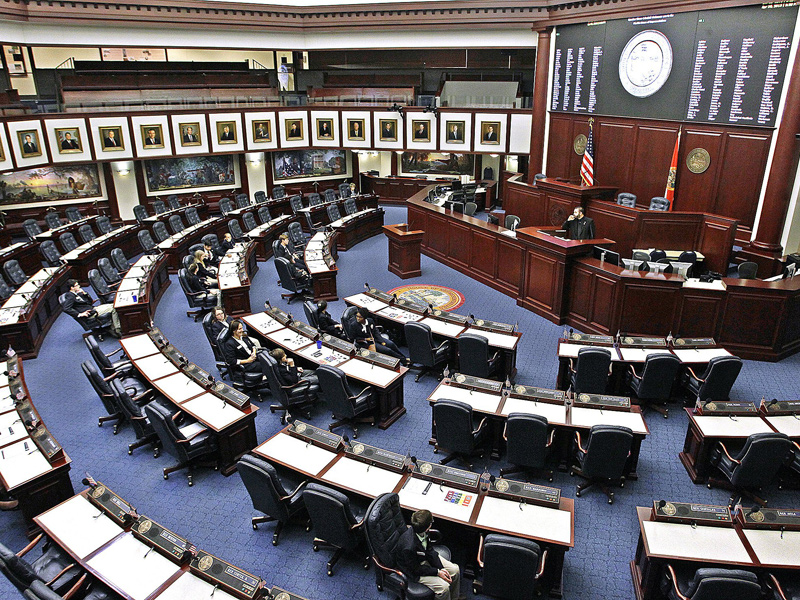 A deaf South Florida man is suing the Legislature because it doesn't provide closed captioning for its "online live streaming and archived videos of legislative proceedings."
The National Association Of The Deaf and Eddie Sierra filed a federal lawsuit this week in Miami against the state, the Florida Senate and House, Senate President Joe Negron and House Speaker Richard Corcoran, as well as the Florida State University Board Of Trustees and FSU President John Thrasher.
FSU produces and operates The Florida Channel, a "public affairs programming service," on which legislative videos are shown. The Legislature funds the channel.
Not offering captions "or any other auxiliary aids or services" violates the federal Americans with Disabilities Act and the Rehabilitation Act, the suit says.
The plaintiffs seek a court order "to ensure that the live streamed and archived audio/video content of legislative proceedings is fully accessible to, and independently usable by, individuals who are deaf or hard of hearing." They also want an unspecified amount of damages and attorney fees.
A complaint in a lawsuit tells one side of a story. A request for comment was left with a House spokesman. FSU and Senate representatives declined comment.
The suit says Sierra had first filed a complaint with the Federal Communications Commission (FCC), but the Legislature said videos complained about were online and not "on television."
Most legislative committee meetings, for example, are broadcast as live streams only available online.
Both chambers show video of committee and other proceedings on their respective websites, though those video feeds are from The Florida Channel.
The Florida Channel does "provide captioned content, (but) the live and archived videos of legislative proceedings are not … captioned," the suit says.
The plaintiffs are represented by attorneys J. Courtney Cunningham and Scott R. Dinin, both of Miami.
Cunningham, the "father of a son with disabilities," specializes his practice in "digital discrimination," defined as "when people with disabilities encounter difficulties interacting or engaging with digital content," his website says.