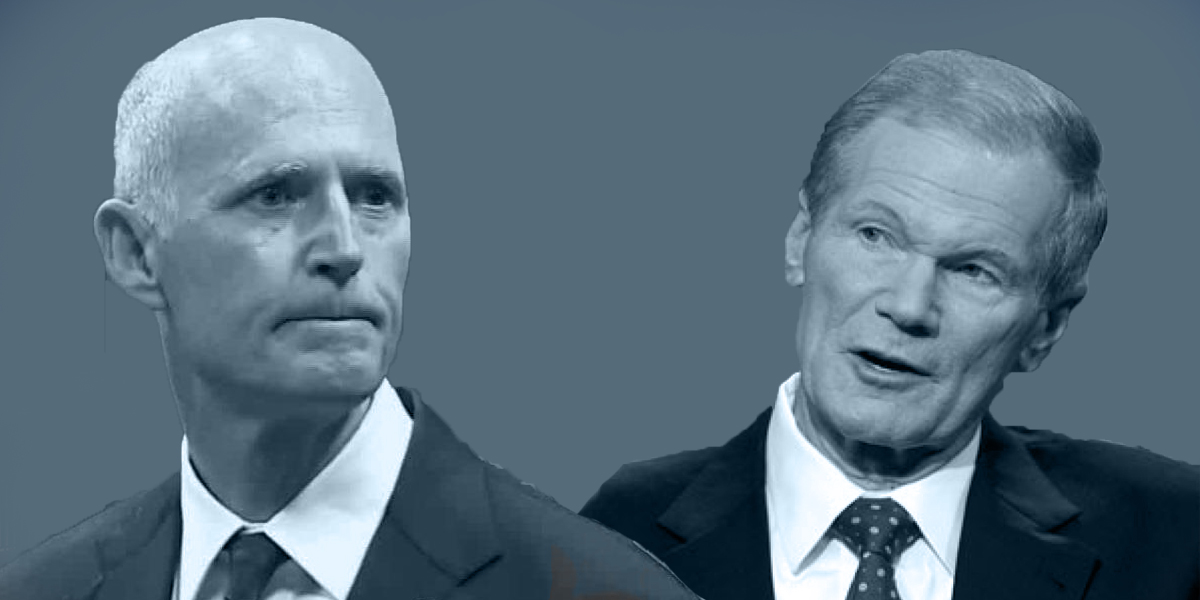 It's only been three days since Gov. Rick Scott announced he would challenge Democratic U.S. Sen. Bill Nelson, and a new poll shows him six points behind the longtime lawmaker.
The survey from Public Policy Polling finds that 50 percent of Florida voters are in favor of Nelson getting a fourth term in the Senate, while 44 percent said they would pick Scott for the job. The remaining six percent said they were unsure who they would vote for.
Another bit of good news for Nelson: he scored a plus-10 in the favorability poll, with 47 percent of voters saying they saw him favorably compared to 37 percent who did not.
The positive rating comes from voters who in the same poll had a not-so-negative outlook on President Donald Trump. He was slightly underwater, with 46 percent finding him favorable compared to 48 percent who of him.
Scott's favorability score came in at a middling plus-1, 47-46.
The survey represents an 8-point swing from another recent poll of the high-profile U.S. Senate race that found Scott with a 2-point lead over Nelson, 43-41.
Part of the difference between the new PPP poll and the month-old Clearview Research poll can be explained by their turnout models.
PPP assumed registered Democrats will outnumber Republicans at the polls by 1 point. That's a major break from past midterm elections, but is reflective of the expected enthusiasm gap between Democrats and Republicans this cycle.
The Clearview poll gave Republicans a 2-point advantage at the voting booth, citing 2014 turnout numbers. As a midterm, it is the most recent comparable election, the firm said at the time.
The new poll was conducted April 10 and 11 and took responses from 661 Florida voters. Democratic consultant Christian Ulvert of EDGE Communications paid for the poll. He is currently serving as a senior adviser to Miami Beach Mayor Philip Levine's gubernatorial campaign.
Florida's U.S. Senate race has national implications. Nelson is one of 10 Senators up for re-election in 2018 in a state that voted for Trump in 2016, and defending his seat is a near requirement for Democrats to have a shot at retaking the chamber.
Survey of Florida politics by Peter Schorsch on Scribd