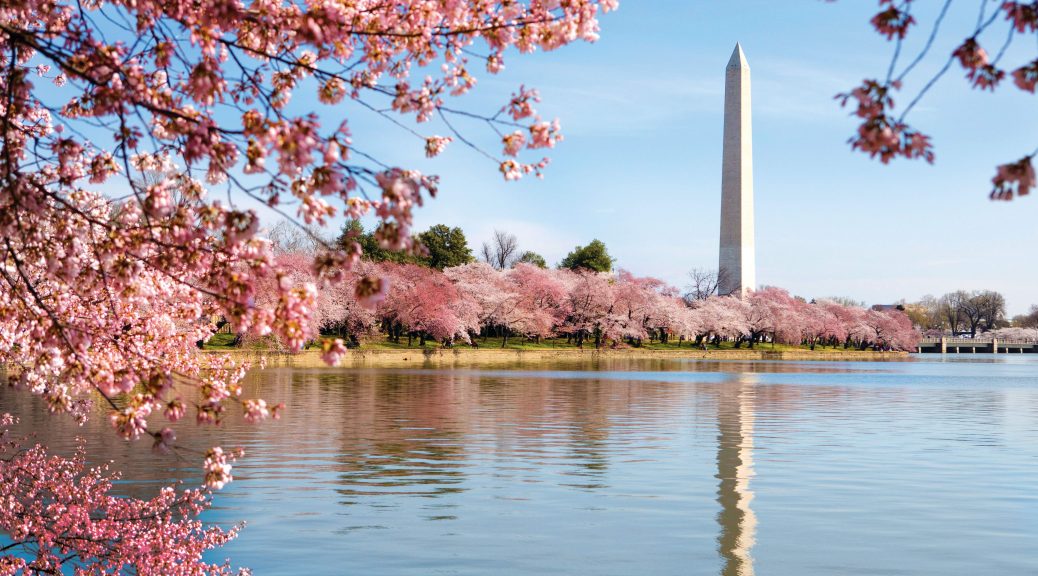 Ross departure more surprising than Ryan's
In some ways, House Speaker Paul Ryan's announcement he was leaving Congress was surprising. When the third person in line for the presidency drops the microphone on a career as one of the most influential officials on Capitol Hill, people take notice.
On the other hand, rumors of his departure were getting louder. Guys like Majority Leader Kevin McCarthy of California and Majority Whip Steve Scalise of Louisiana were said to be lining up to succeed the Wisconsin Republican.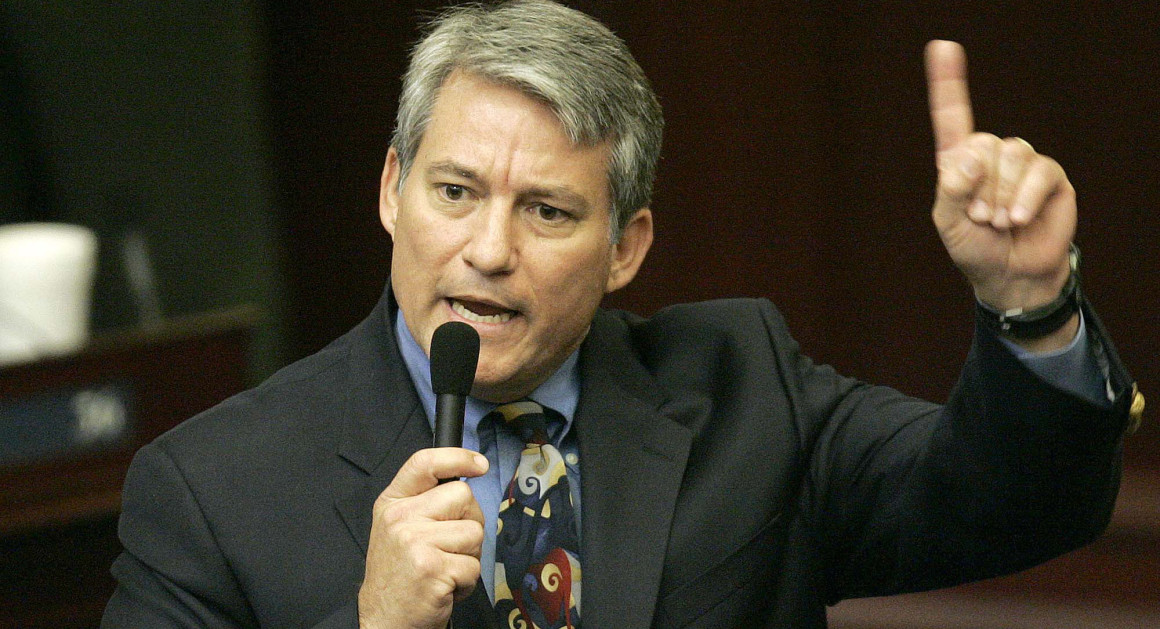 Ryan may have tipped his hand by his role in the monstrous $1.3 billion spending package approved a couple of weeks ago. That may have signaled surrender by the former budget hawk due to the weariness of fighting not only Democrats but the herd of cats known as the House Republican caucus.
While members of the Freedom Caucus publicly tolerated Ryan, after openly feuding with his predecessor, Rep. John Boehner of Ohio, the spending bill may have been a bridge too far for remaining budget hawks. Despite Ryan's national fundraising prowess, a portion of the GOP caucus wants Ryan on the next plane for Milwaukee.
The few comments among delegation members directed toward Ryan were polite. Panama City Republican Neal Dunn said Ryan "has earned our respect and, just as importantly, our gratitude. Paul Ryan is truly a class act."
John Rutherford of Jacksonville posted a tweet saying "Thank you @SpeakerRyan for your service to our country and your leadership as Speaker of the House — best wishes to you and your family." None of the delegation Freedom Caucus members offered any comments as of Thursday.
Longboat Key Republican (and delegation co-chairman) Vern Buchanan said Ryan's announcement "was disappointing, but not surprising given that he never sought the speakership in the first place. Paul is a true public servant in every sense of the word."
While the Ryan announcement was settling in on Wednesday, word came that Lakeland Republican Dennis Ross was also declining to seek re-election. It was more surprising than the Speaker's decision.
"I never viewed this amazing opportunity as a job or a career. My home has been and will continue to be in Lakeland, Florida," Ross said in a statement. "I look forward to returning to the practice of law and to pursuing opportunities to increase civic education for our youth, and young adults, and with that encourage more engagement and participation of future generations in government."
What do these two announcements mean politically? There is no way to spin away the fact that Ryan's retirement is a signal the Republicans are in big, big trouble.
Ryan's Wisconsin district is in play, and some believe he could have met the fate of former Speaker Tom Foley, the Washington state Democrat, who was swept out of office in the GOP wave of 1994. Did Ryan retire to ensure he would not face the same humiliation?
Ross represented a district that went for Donald Trump by 10 points in 2016. If Republicans do not recruit a quality candidate, this seat could also be in jeopardy judging from the recent elections showing Democrats perhaps overperforming.
The race to replace Ross will soon be on and the campaign to try and scare the bejesus out of voters with the thought of "Speaker Nancy Pelosi" is not far behind.
As the weather finally starts to warm, so too will the politics.
New poll puts Nelson on top against Scott
Polls will be plentiful for a pivotal race like the one for the U.S. Senate in Florida. Before Gov. Rick Scott officially joined the race to take on Democratic Sen. Bill Nelson, polls showed both candidates leading at one time or another or tied.
The first poll involving candidate Scott came out this week. The survey from Public Policy Polling (PPP) finds that 50 percent of Florida voters are in favor of Nelson getting a fourth term in the Senate, while 44 percent said they would pick Scott for the job. The remaining six percent said they were unsure.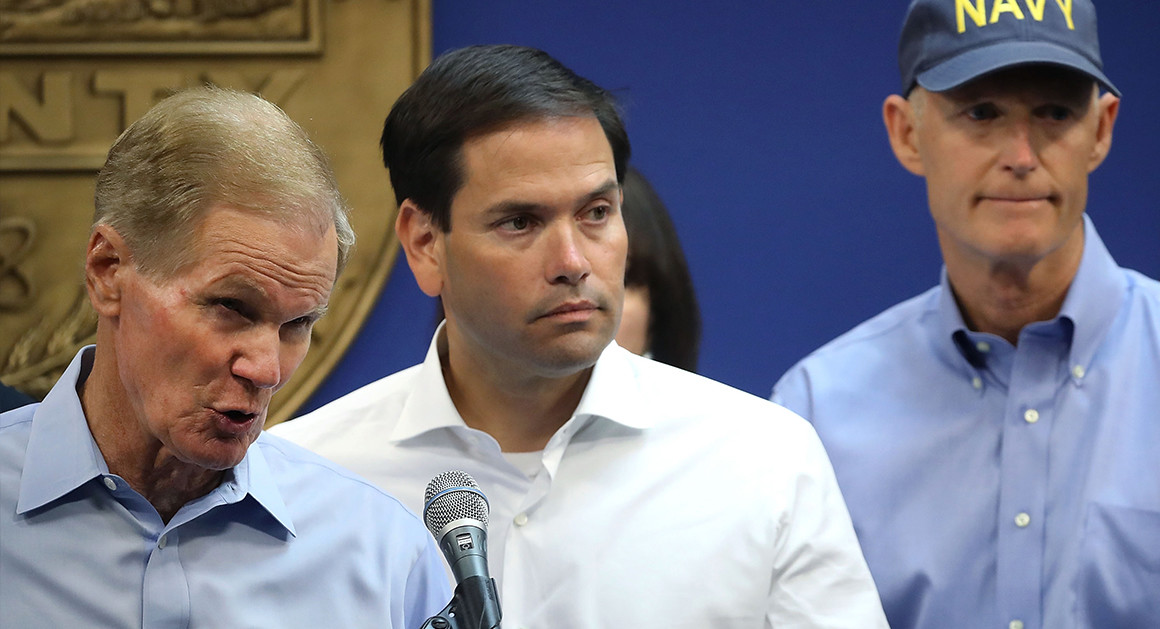 Earlier polls found large percentages of Floridians not knowing enough about Nelson to form an opinion. That number dropped significantly with 47 percent having a favorable opinion of him while 37 percent rated him unfavorably.
Scott had a 47-46 favorable/unfavorable rating. Respondents had a 46 percent favorable opinion of Trump with 48 percent holding an unfavorable view.
The key to the poll was the turnout projections, which predict one percent more Democrats will go to the polls than Republicans. The GOP does typically better in midterm elections, but with Democratic energy at higher levels, PPP expects Democrats to have an edge in November.
If they are to regain a majority in the Senate, Democrats must hold onto Nelson's seat.
Rubio could upstage Pence at Peru summit
With Trump mulling options for punishing Syria, he is no longer attending the Summit of the Americas in Peru. He is sending Vice-President Mike Pence in his place, but another attendee is likely to get as much, if not more, attention.
Republican Sen. Marco Rubio will also be in Lima and will likely be a go-to source for Trump's views on Latin America and South America. Rubio has Trump's ear on policy matters involving the region, especially when it comes to Venezuela and President Nicolas Maduro.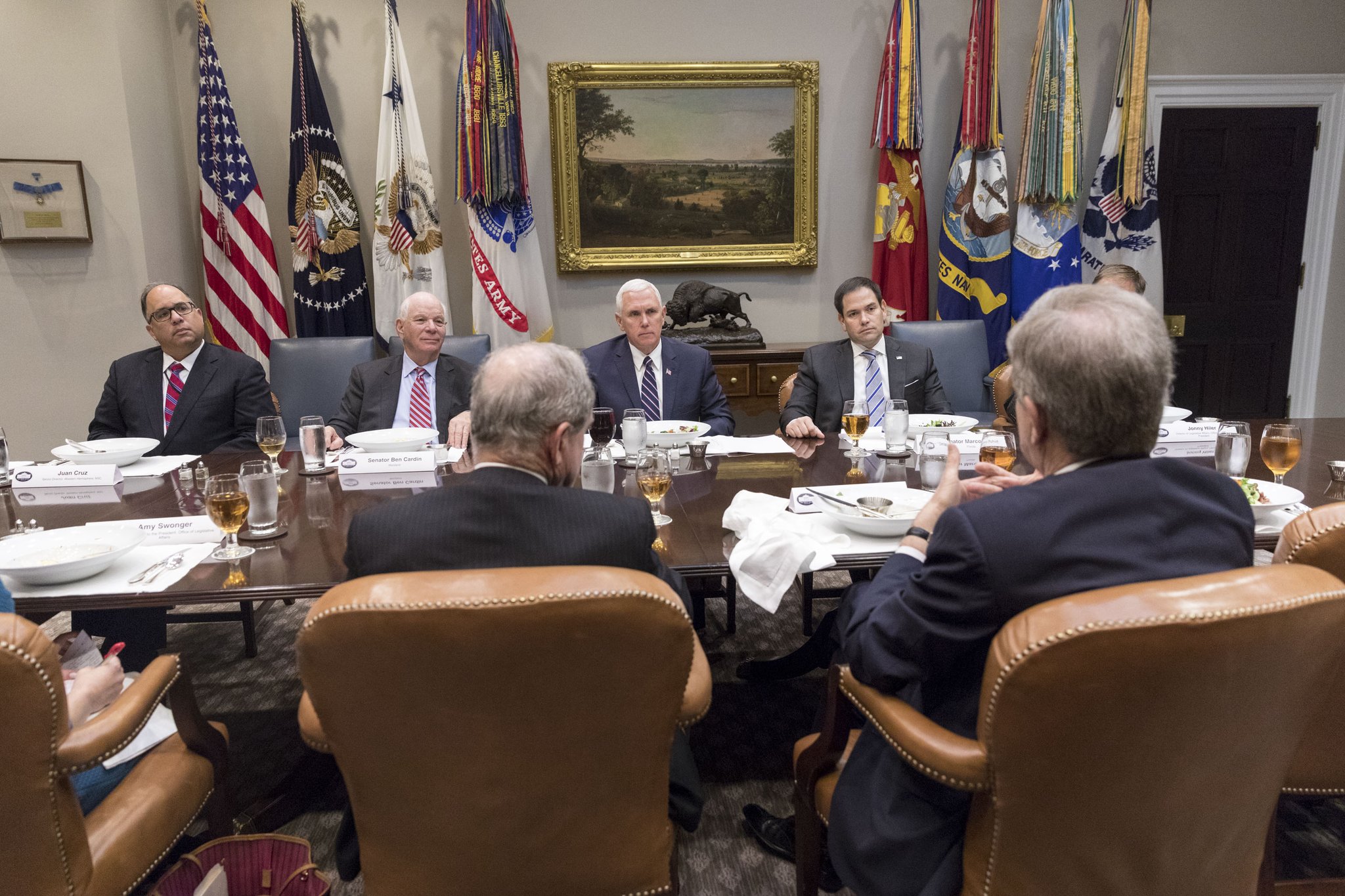 Rubio says it is unfortunate Trump could not make his first visit to the region but has a good excuse.
He told ABC News the president's absence is "understandable," but offers a "disappointing" example of how Latin America often takes a back seat to more pressing national security issues. Trump is not popular among the leaders of those nations and will gladly interact with his unofficial stand-in.
While vice-presidents often have little to do, the summit might provide another example for Pence.
Nelson and Rubio want FEMA cash fast-tracked
Sens. Nelson and Rubio sent a letter Friday to FEMA Administrator Brock Long urging the agency to get the ball rolling on paying back local governments for their disaster expenses.
Rep. Carlos Curbelo also signed on to the letter.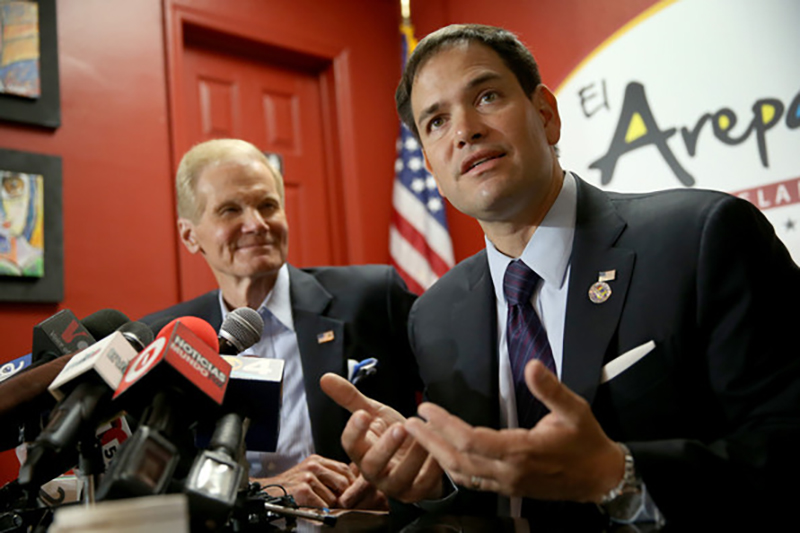 "Local governments are cash-strapped with little to no funding in their budgets to repair damaged communities," they wrote. "It is critical that FEMA responsibly provide local governments with the assistance Congress appropriated to address current damages and the ability to prepare communities for the upcoming hurricane season."
Nelson, the ranking Democrat on the Senate Commerce Committee, also addressed the issue at a Friday hearing of the panel.
"There are some areas where we can and must do better," he said. "Puerto Rico is an example, Florida is an example. That local governments are still not being compensated for the debris pickup that they have advanced — that is unacceptable."
Gaetz wants Rosenstein, Mueller before Congress, then fired
The raid conducted by FBI agents at the home, office and hotel of Trump personal lawyer Michael Cohen stunned nearly anyone paying attention. It also angered many on the conservative side, including Fort Walton Beach Republican Matt Gaetz.
Gaetz believes the FBI and Department of Justice misled a Foreign Intelligence Surveillance Act (FISA) judge to obtain warrants to spy on the Trump and subsequently launch the investigation led by special counsel Robert Mueller. He is saving most of his wrath for the Justice Department's number two official.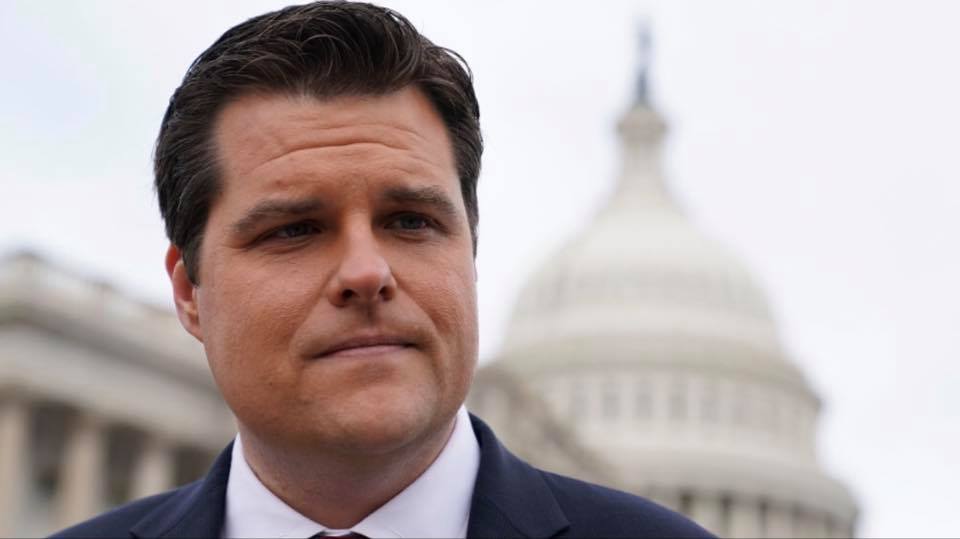 "I find it extremely hypocritical for Deputy Attorney General Rod Rosenstein to oversee an investigation into obstruction of justice regarding the firing of former FBI Director James Comey, when Rosenstein wrote the memo recommending Comey's firing himself."
With the raid on Cohen and the concern for attorney/client privilege, Gaetz also wants to bring Rosenstein and Mueller before Congress. He specifically would like to have them before the House Judiciary Committee, on which Gaetz, Rutherford and Marineland Republican Ron DeSantis all serve.
"Are we really in a situation where Bob Mueller is no longer investigating crimes, he's just investigating people?" Gaetz asked on Fox News. "My expectation is that there are no good answers and that at the Department of Justice, they're covering their own trail because they know that they engaged in FISA abuses that they don't want to be prosecuted for," he said.
Gaetz has also called for the firing of Rosenstein and Attorney General Jeff Sessions.
DeSantis honored for support of credit unions
Two legislators from southern states, including a Florida Republican, have been honored as federal lawmakers of the year by the Southeastern Credit Unions & Affiliates (LSCU). Joining DeSantis in being cited was Alabama Republican Martha Roby.
The LSCU credits DeSantis with being "a strong supporter of credit unions" and "extremely accessible" to hear the concerns of the industry. They cited a list of bills and amendments on which DeSantis and Roby came down on the right side.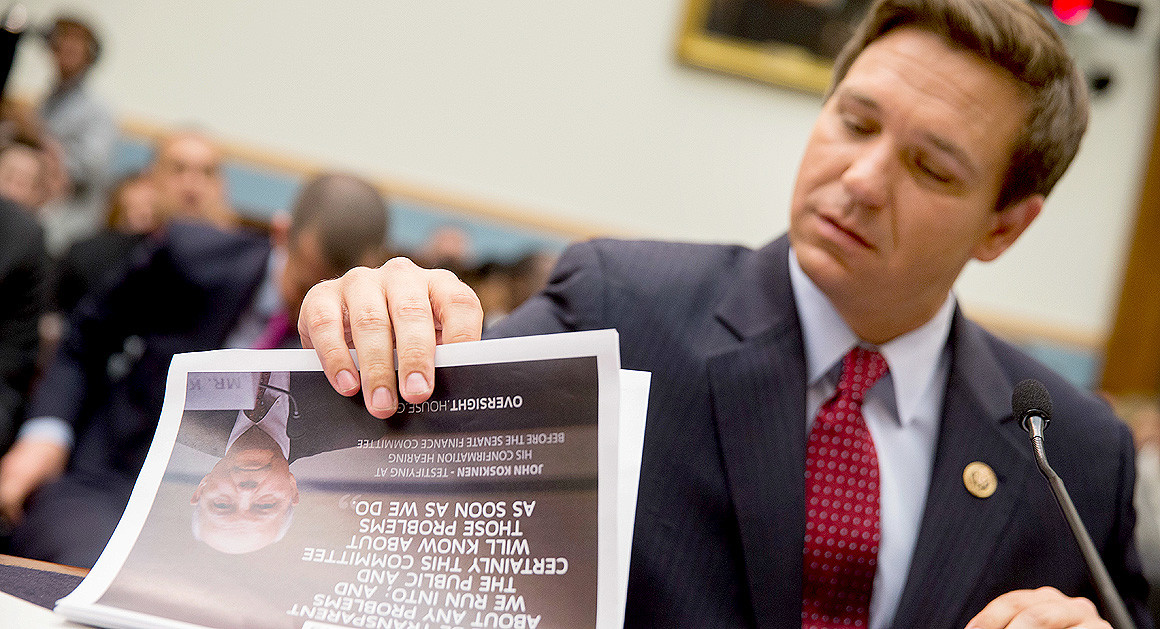 "Reps. Roby and DeSantis have shown that they are willing to support legislation that will reduce regulatory burdens for credit unions," said LSCU & Affiliates President/CEO Patrick La Pine. "They understand that these barriers mandate that credit unions focus more on compliance and less time on serving their membership. We thank Reps. Roby and DeSantis for providing support for local financial institutions."
DeSantis is in the final months as a Congressman, while mounting a campaign for Florida Governor.
Murphy hails halt of customs officers from Orlando Airport
On Tuesday, the efforts of an Orlando-area Congresswoman paid off, at least for a while. Winter Park Democrat Stephanie Murphy received confirmation from U.S. Customs and Border Protection (CBP) that no additional CBP officers will be transferred from Orlando International Airport to the southwest border during the 90-day period between April 2018 and June 2018.
Murphy has been pushing for this result at the request of Orlando International leadership since CBP announced in December 2017 that it would relocate four officers from the airport to the southwest border during the 90-day period between January 2018 and March 2018. Murphy immediately raised concerns with CBP, held a meeting with senior CBP officials in January 2018, and held a follow-up phone call with those officials in March.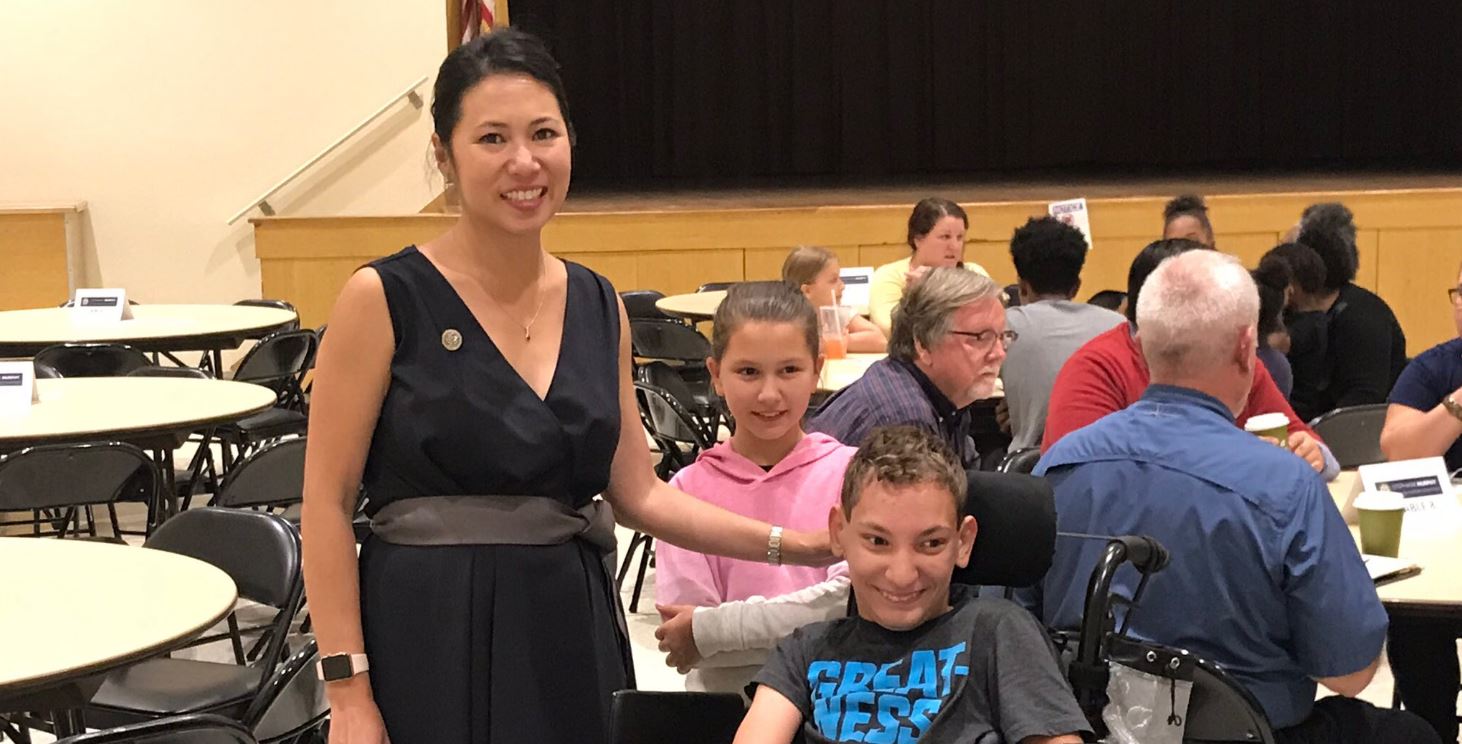 "Orlando International must have the CBP officers it needs to keep passengers and commerce moving in the safest, most efficient way possible," Murphy said in a news release. "I'm pleased we prevented another transfer of CBP officers from the airport to the southwest border, and I will continue fighting to keep CBP officers at Orlando International, where they serve an invaluable purpose."
The union representing the airport workers gave Murphy high marks.
"Congresswoman Murphy is to be commended for her advocacy on the critical issue of understaffing at our nation's airports, seaports and land border crossings," said Tony Reardon, National President of the National Treasury Employees Union. (NTEU). "Constantly moving CBP Officers from around the country to assist with understaffing at the southern borderland ports is the wrong approach."
Crist wants update on Bay Pines concerns
A little more than a week after Veterans Affairs Secretary David Shulkin was removed due to ongoing trouble at facilities around the country, St. Petersburg's Bay Pines VA Healthcare facility was again in the news. After forwarding "grave allegations" to the VA brought by Bay Pines employees and other whistleblowers months ago, Democratic Rep. Charlie Crist wants an update following new accusations surfaced in the last week.
In a letter to Kirk Nicholas, the Executive Director of the Office of Accountability and Whistleblower Protection at the VA, Crist asked what is being done to fix the problems at Bay Pines.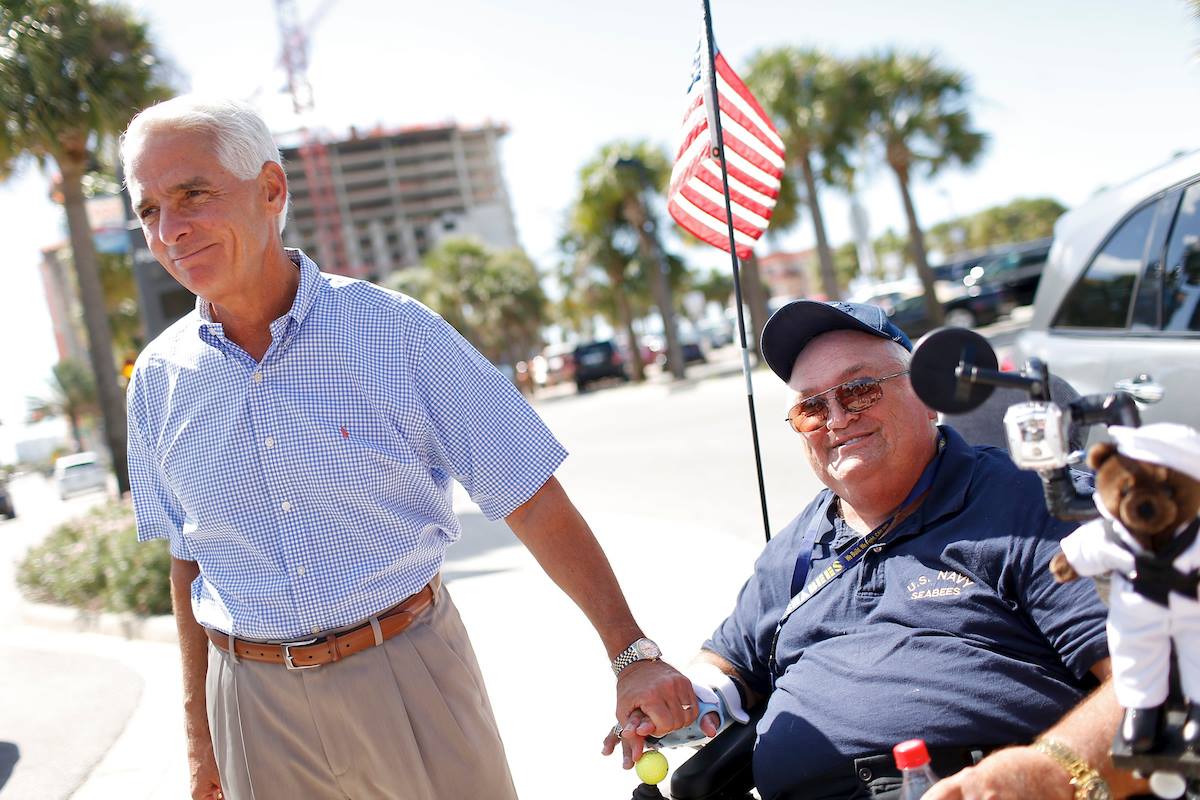 These allegations, originally transmitted in December, now include new reports provided by our office this week, and are deeply, deeply troubling," Crist wrote. "Allegations of a toxic environment and the mistreatment of patients at the Bay Pines VA are an affront to the first and only mission of the VA: serving and honoring America's veterans."
In a video statement, Crist said: "This is about protecting our veterans and those who care for them."
To view the statement, click the image below:
Buchanan, Curbelo want protection for Florida farmers in next NAFTA
Florida farmers took a beating following Hurricane Irma. Many in the delegation agree that they have also been a victim of the North American Free Trade Agreement.
With negotiations for a new agreement underway, Republicans Vern Buchanan of Longboat Key and Carlos Curbelo of Kendall are seeking to ensure farmers are not shortchanged. Despite being the second-leading producer of fruits and vegetables in the country, Florida producers have been hard hit by a $5 billion trade deficit with Mexico.
In a letter to U.S. Trade Representative Robert Lighthizer, Buchanan and Curbelo made a case for protecting Florida farmers.
"We are extremely concerned about the unprecedented growth in imports from Mexico as a result of their unfair subsidies and illegal seasonal dumping and the impact it is having domestically," they wrote. "Because Florida and Mexico share a similar growing season and produce a number of the same specialty crops, Florida producers have been particularly hard hit."
Buchanan and Curbelo serve on the House Ways and Means Committee, which has jurisdiction over several policy areas including international trade. They are the only two Floridians on the committee.
Humane Society salutes Buchanan
Buchanan, well-known for his advocacy on behalf of animals, has been cited for his commitment. This week the U.S. Humane Society presented him with the Legislative Leader Award.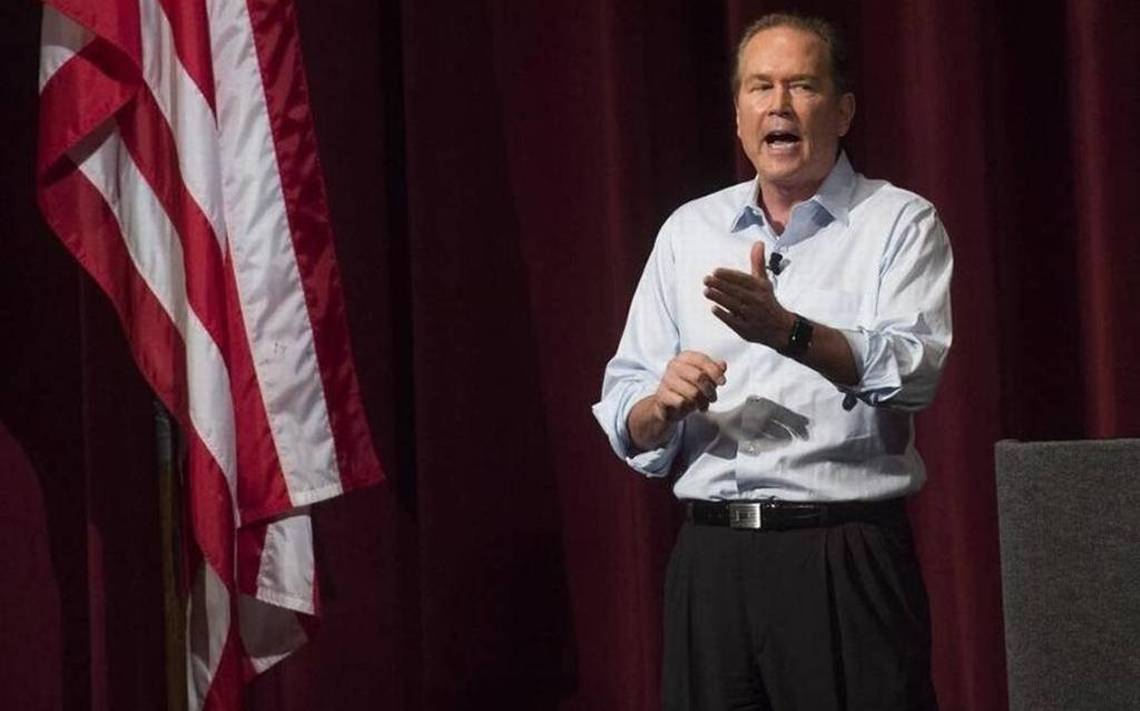 The group cited Buchanan's work to stop the slaughter of American horses for human consumption, ban cosmetic testing on animals and protect endangered species in Florida and across the globe. The award was presented to Buchanan at a Washington, D.C. ceremony by Humane Society President Kitty Block.
"As co-chair of the Animal Protection Caucus, he has mobilized colleagues on both sides of the aisle to protect animals from abuse," said Tracie Letterman, the Humane Society's vice president of federal affairs. "Rep. Buchanan was again a leading voice in Congress for animals in 2017."
Buchanan's record includes supporting the most robust protections for the Florida manatee, combating international wildlife trafficking and preventing the Veterans Affairs from conducting painful and unnecessary experiments on dogs.
"Protecting threatened wildlife and fighting cruel animal testing and experiments are nonpartisan issues that should be important to everyone," he said.
Deutch ties Scott to Florida-based gun distributor
The campaign for U.S. Senator from Florida was barely underway before the Democrat from Boca Raton brought Scott, Russia, and Deutch's crusade for gun regulations into the mix. On Wednesday, Deutch asked the Department of the Treasury for information on whether a Pompano Beach company, Kalashnikov USA, avoided sanctions through a relationship with Russian-based Kalashnikov Concern.
Deutch believes Kalashnikov USA is using shell companies to hide its relationship to the Russian giant, who is under government-imposed sanctions. Kalashnikov USA is the sole distributor of Kalashnikov products, but claims to have no ownership relationship with Kalashnikov's Russian operation.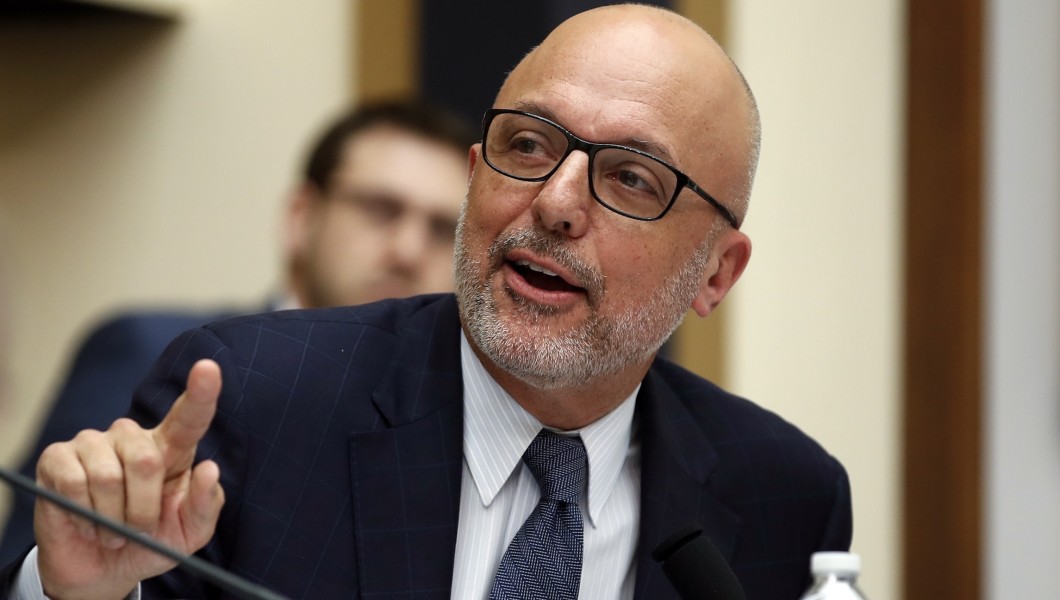 He blames Scott for the company being in South Florida in the first place, saying the Scott administration "lured" Kalashnikov USA with incentives.
"It is shameful that the State of Florida and Governor Rick Scott appeared to bend over backward to recruit a gun company with questionable ties to Russian oligarchs, especially as nearly seventy percent of Floridians support a ban on assault-style rifles," Deutch said in a statement. "This case deserves a full investigation to determine whether federal laws were broken to protect Kalashnikov's profits."
Kalashnikov manufactures, among other weapons, the AK-47 assault rifle, which is illegal to own without a special permit.
Scott announced earlier this week he was challenging Nelson, also an outspoken advocate for gun control, for Nelson's Senate seat.
Delegation Democrats join call for pay equity
Tuesday was Equal Pay Day around the country. The cause to bring women's paychecks more in line with those of men was a topic on the minds of members of the Florida delegation, including male members.
Capitol Hill and the federal government has their own share of wage gaps but have passed legislation in the past to try and force employers to pay women better. In 2009, Congress passed, and President Barack Obama signed, the Lily Ledbetter Fair Pay Act, but discrepancies persist.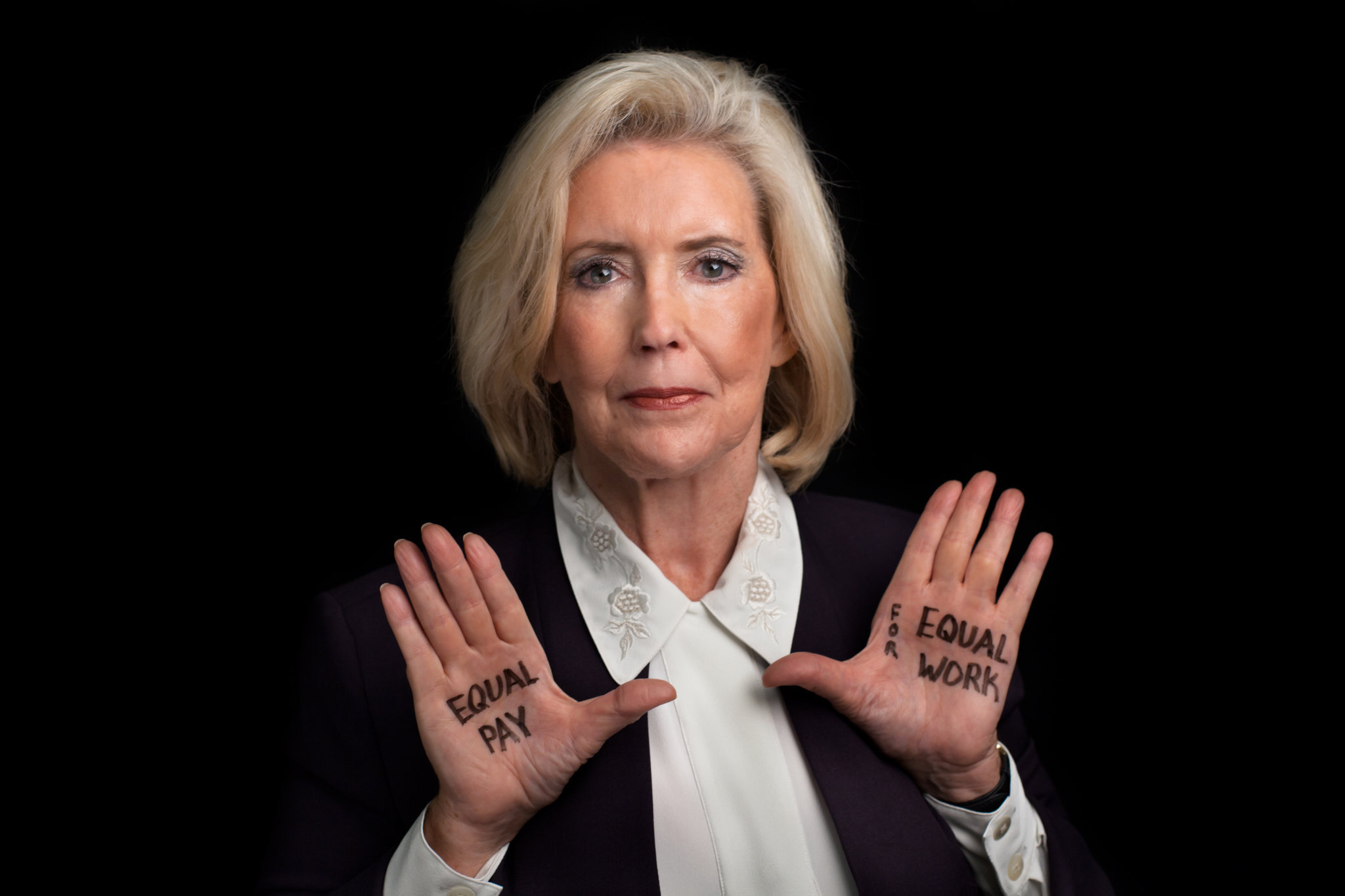 "In our great nation, inequality in the workplace should never be tolerated, and folks should be paid fairly based on their work, not by their gender or race," West Palm Beach Democrat Lois Frankel said in a statement. "It's time Congress pass the Paycheck Fairness Act and strengthen protections against harassment, so all workplaces are safe, equal and dignified."
Frankel and Connecticut Democrat Rosa DeLauro sponsored a resolution for Equal Pay Day, which drew 67 fellow Democrats. Other delegation members offered their support.
"It has been 55 years since the passage of the Equal Pay Act, yet women still do not receive equal pay for equal work," Democratic Rep. Alcee Hastings said in a statement. "The time has long since passed that (we) address this issue once and for all."
Hastings also pointed out the gap is wider among women of color.
Delegation updated on Russian troll money
The Florida Department of State told Democratic members of the state's congressional delegation this week that it was working on getting a slice of the $380 million the federal government set aside to help secure election systems.
On Wednesday, state department spokeswoman Sarah Revell said it was already cashing checks from the pool of money "before receiving the letter from the Democratic members of Florida's congressional delegation, and we were always planning to do so."
Revell was responding to a letter signed by Democratic U.S. Reps. Alcee Hastings, Val Demings, Lois Frankel, Debbie Wasserman Schultz, Al Lawson, Kathy Castor, Frederica Wilson, Ted Deutch and Charlie Crist and sent to Florida Secretary of State Ken Detzner on Tuesday.
In it, the lawmakers asked Detzner to apply for Florida's share of the federal money — about $19 million.
"While most state systems were not breached, the U.S. intelligence community has repeatedly warned that Russia will try to disrupt midterm elections in November," they wrote.
In addition to the federal money, state lawmakers approved a $1.9 million appropriation this year to help them set up a monitoring system that will alert the department on threats to the state's election system.
The state department had also asked for lawmakers to approve another five full-time employees to boost cybersecurity operations, but that request went unmet.
 Former South Florida rep gets Middle East consulting gig
Former Democratic Rep. Joe Garcia recently joined the international firm, Mercury Public Affairs. The company has offices around the world, including one in Tampa and another in Ft. Lauderdale, from where Garcia operates.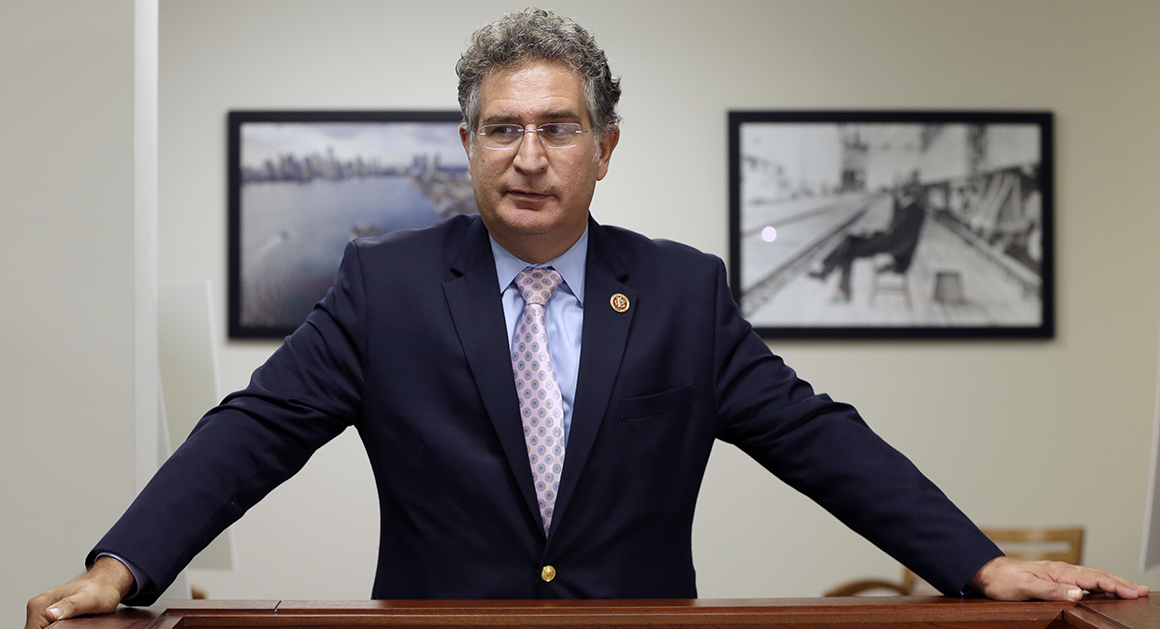 Garcia has just signed on to represent his first foreign client. Recently, he disclosed a deal to advise the government of Qatar during April.
Since last summer, Qatar has suffered an ongoing diplomatic crisis, with Saudi Arabia leading a coalition of Middle Eastern countries who have cut off ties with the Gulf state. Qatar's head of state recently met with Trump in Washington.
On this day in the headlines
April 13, 1970 — Following an explosion in deep space, the Apollo 13 astronauts are now trying to bring their spacecraft safely back to earth. NASA officials, who abandoned Apollo 13's mission to land on the moon, were confident they could return astronauts James Lovell, Fred Haise, and Jack Swigert back home.
At one stage of last night's crisis, when mission control reported only 15 minutes of power left for the command module, the crew appeared to be in mortal danger. Friends, family and former astronauts rushed to be with the families of the crew.
April 13, 2006 — Federal spending hit a record high in March, rising to $250 billion. This represents an increase of 13 percent over the previous year.
Budget projections call for a record budget deficit of $423 billion. The Bush administration said the war in Iraq and reconstruction costs for Gulf Coast hurricanes were the prime drivers of the deficit.
(Note: The current budget deficit is expected to climb to more than $1 trillion).
Monopoly comes to Capitol Hill
Congressional hearings are supposed to be about serious business. For instance, Consumer Financial Protection Bureau chief (and former White House budget director) Mick Mulvaney was on Capitol Hill to answer questions about his agency's activities.
Cameras focused on Mulvaney could see an individual dressed up to look like Rich Uncle Pennybags, the white mustache-wearing symbol of board game Monopoly, in the background. As it turns out, this is a semiregular occurrence.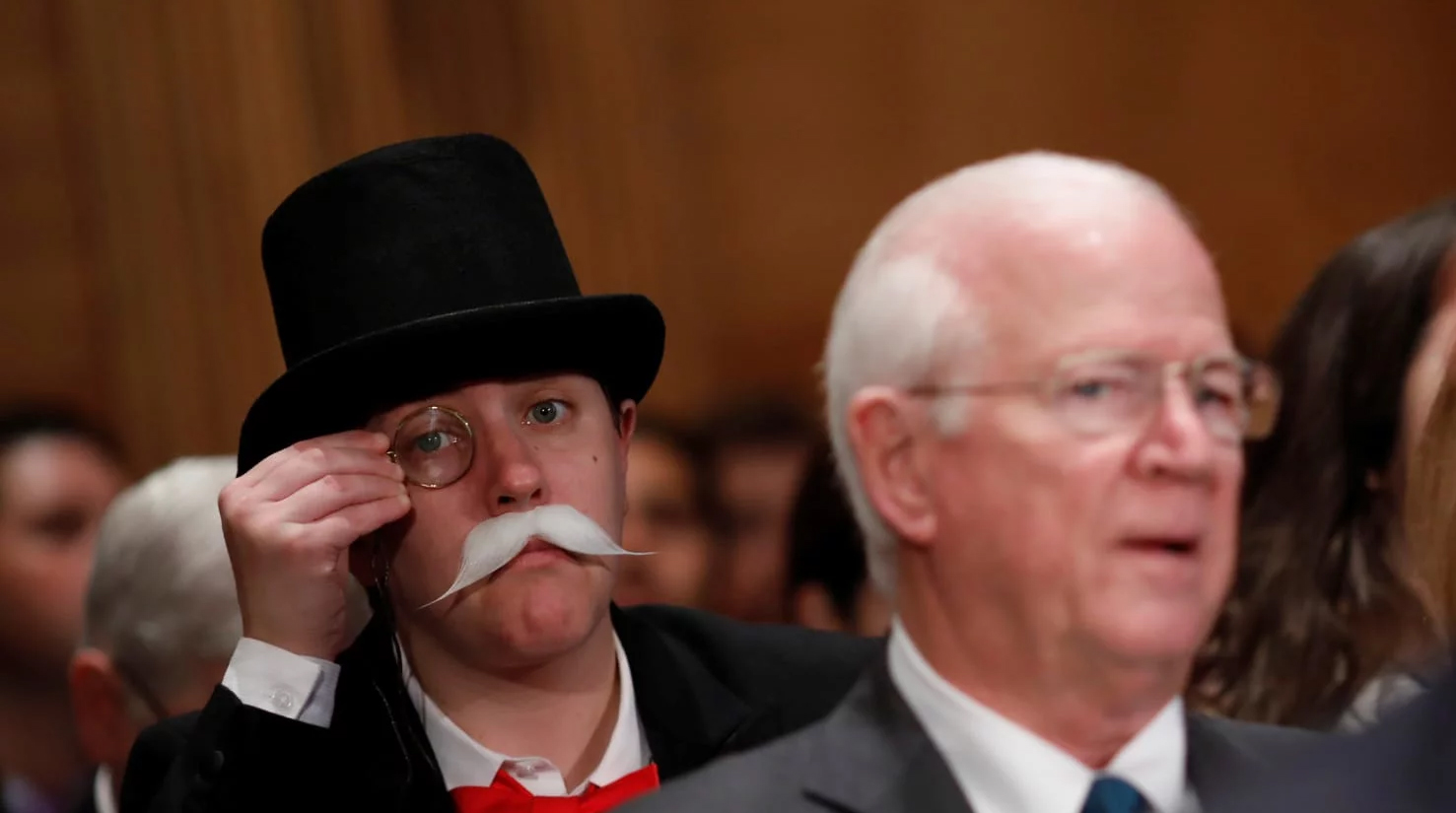 Uncle Pennybags, aka Amanda Werner, shows up often at hearings featuring Trump administration officials. Her day job is arbitration campaign manager for the advocacy group Public Justice.
Public Justice live-tweeted during the hearing, at one point calling Mulvaney "a hack." They did not issue orders telling him to "go to jail, go directly to jail."