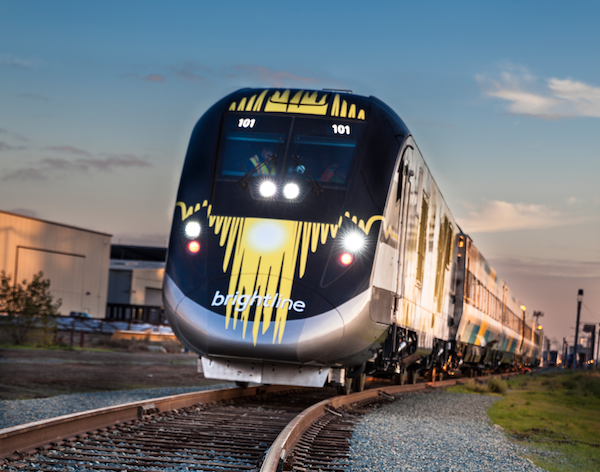 Brightline's use of federal tax-exempt Private Activity Bonds, to build the privately owned and operated higher-speed passenger railroad that would connect Orlando to South Florida, was sharply criticized Thursday during a congressional hearing.
Brightline, also known as All Aboard Florida, is planning to use $1.5 billion worth of the federally authorized bonds to pay for construction costs on the South Florida phase already in partial operation and the next phase, which would run private passenger trains from South Florida through the Treasure and Space Coast counties to Orlando.
But at a hearing Thursday before the House Subcommittee on Government Operations, Brightline President Patrick Goddard and U.S. Department of Transportation official Grover Burthey were hotly grilled about how the railroad project qualified for the tax-exempt bonds. And committee members, particularly Chairman U.S. Rep. Mark Meadows, a North Carolina Republican, made it clear they believed the deal should never have been approved.
Meadows established he was not happy with what Brightline and the federal Department of Transportation are doing. He made several requests for more information from Goddard and Burthey, and indicated his subcommittee would be revisiting the matter.
It is unclear whether Brightline will be able to issue the PABs as authorized by the Federal Department of Transportation, or somehow be forced to abandon the PAB financing effort and seek Railroad Rehabilitation and Improvement Financing [also a potentially problematic option,] or have to turn to much more expensive conventional financing to pay for the track upgrades and extension needed.
Brightline wants to upgrade the tracks from West Palm Beach to Cocoa and build new tracks from Cocoa to the Orlando International Airport, and start higher-speed train service, running up to 110 mph between West Palm Beach and Cocoa, and up to 120 mph between Cocoa and Orlando, by the early 2020s.
Orlando is not just hoping for the service; the Greater Orlando Aviation Authority is putting the finishing touches on a $211 million train station being built in anticipation of the train's arrival.
Ranking subcommittee member U.S. Rep.  Gerry Connolly, a Virginia Democrat, also sought to make the hearing about the very nature of Public Activity Bonds, which are seen as critical to President Donald Trump's proposed federal infrastructure plan.
Both Goddard and Burthey were on the hot seats while opponents of the train watched as fellow witnesses. Leading the questioning were two Republican congressmen who represent the Space and Treasure coasts, U.S. Reps. Bill Posey of Rockledge and Brian Mast of Palm City.
Mast in particular pressed them to explain the potential inconsistency of All Aboard Florida instances that it is getting no government money, while federal rules require that PABs can be used only on projects that are, in fact, getting federal money.
Under questioning the deal broke down thusly: The railroad tracks between West Palm Beach and Cocoa have received $9 million in federal money for street crossing upgrades. That, Burthey said, makes the railroad route eligible, even though the money was used to improve the streets crossing the tracks, not the railroad itself; and even though the tracks are not owned by Brightline, but by the Florida East Coast Railway, which All Aboard Florida has insisted is an entirely different company.
And the railroad didn't qualify as a railroad; it qualified as a "surface transportation project," which Burthey said was appropriate, but which Meadows, Connolly, Posey, and Mast expressed incredulity about, because they considered all surface transportation projects to be roads by definition, not railroads.
"I'm puzzled how your agency can possibly consider a highway and a railroad the same thing," Posey told Burthey.
"I do not see this as fitting the definition of surface transportation, not any, even if you read the statute, it doesn't seem to apply," Meadows said. "So at this point I have a real concern that the intent of Congress is being overridden on the Private Activity Bond measure here."
"This is a misuse of PABs," Connolly declared.
"What we're using here is the kind of double-speak that often ticks people off," Mast said.
"We've been questioned on these issues for several years, and went through several lawsuits on PABs… we have prevailed," Goddard said in response.
He was reluctant to go into detail because the opponents, led by Citizens Against Rail Expansion in Florida, are suing again, over this issue.
There was disagreement about how much money federal taxpayers are putting in, but in the end no disagreement that it is happening. CARE-Florida representative Robert Crandall said a federal judge agreed with the range of $375 million to $600 million in taxes that would not be paid by bondholders over 10 years, while Goddard offered the company's estimate of $250 million.
He added that the company projects it also would generate $650 million in new tax revenue.