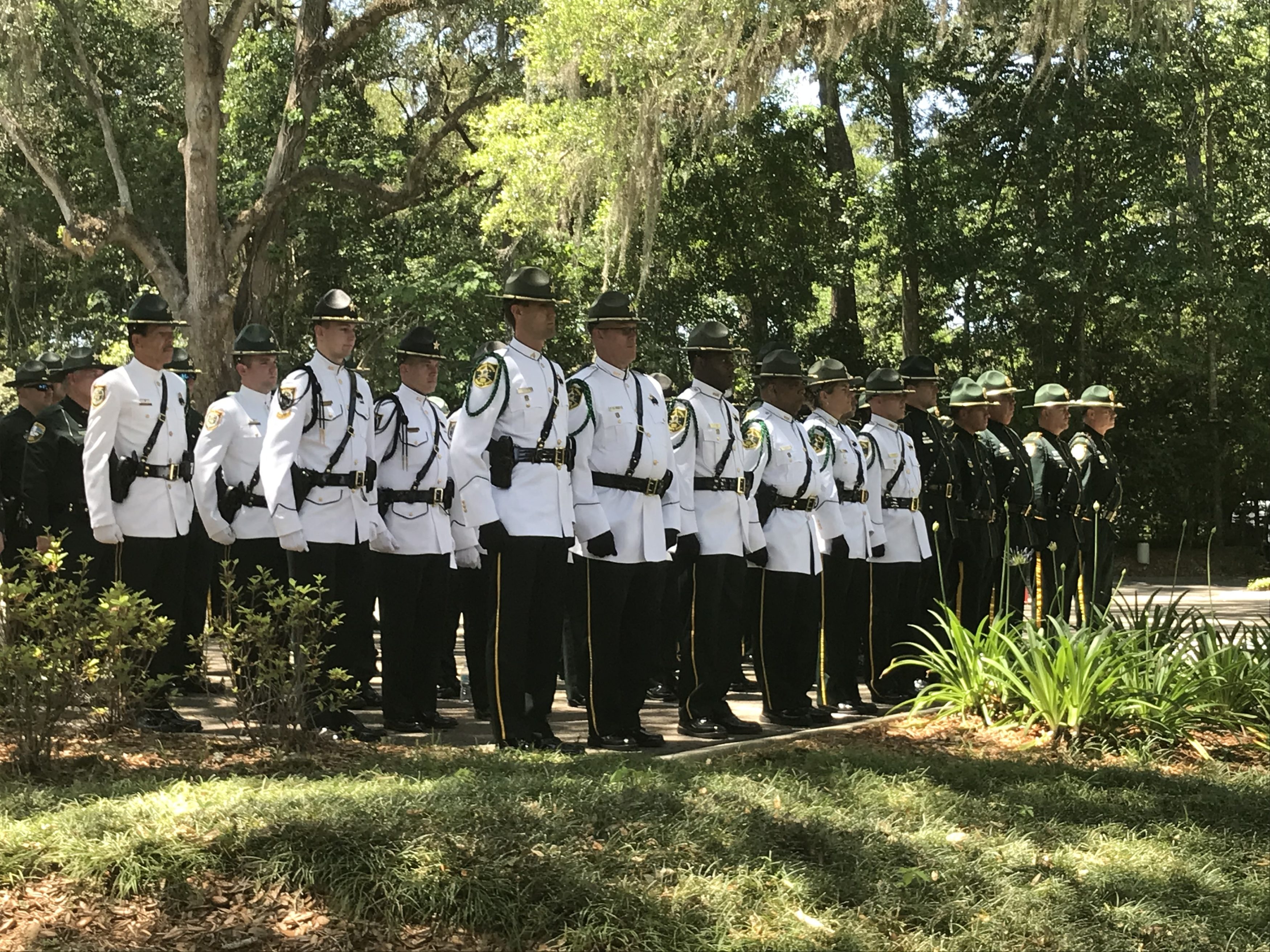 Florida law enforcement deputies and officers who gave the ultimate sacrifice in 2017 were honored at a Florida Sheriffs Association tribute on Monday.
At FSA's headquarters stands a memorial with the names of each fallen Florida cop. Before 2017, 369 names were carved into the memorial, according to FSA President and Walton County Sheriff Mike Adkinson.
This year, another four names were added.
Last year saw the line-of-duty deaths of Orange County Sheriff's Deputy First Class Norman Lewis, Hardee County Sheriff's Office Deputy Julie Bridges, St. Lucie County Sheriff's Office Captain Charlie Scavuzzo and Broward County Sheriff's Office Deputy Michael Ryan.
"I would hope these are the last names ever added to this memorial," Adkinson said.
Chief Financial Officer Jimmy Patronis delivered keynote remarks at the ceremony. He reminded the crowd how "precious" and "fleeting" life is, and touched on the wide range of emotions audience members, which included relatives of the fallen, would experience.
"We're going to have joy. We're going to have tribute. We're going to have tears," Patronis said. "And the sacrifice we recognize and acknowledge today will not be forgotten."
The CFO also described the inherently heroic nature of first-responder activity.
"You rush in when others are rushing out," Patronis told an audience largely made up of law enforcement. "Tragedies this year have shown us humanity at its absolute worst, but when you show up, it shows humanity at its absolute best."
The tragedies Patronis referenced could have been a nod to Hurricane Irma. Bridges, the fallen Hardee County deputy, died in an Irma-related crash. Scavuzzo, the St. Lucie County captain, died of a heart attack while working long, stressful hours during the storm.
Relatives of each fallen cop were summoned and honored by Adkinson. The memorial concluded with a 21-gun salute by the Leon County Sheriff's Office, followed by taps from the Jacksonville Sheriff's Office and a bagpipe rendering of "Amazing Grace" by the Pipes and Drums of the Orange County Sheriff's Office.
While Adkinson said he hoped the four names added would be the last, he acknowledged the line-of-duty deaths from 2018 and asked for a moment of silence for Deputy Kevin James Stanton of Brevard County, along with Sgt. Noel Ramirez and Deputy Taylor Lindsey of Gilchrist County.