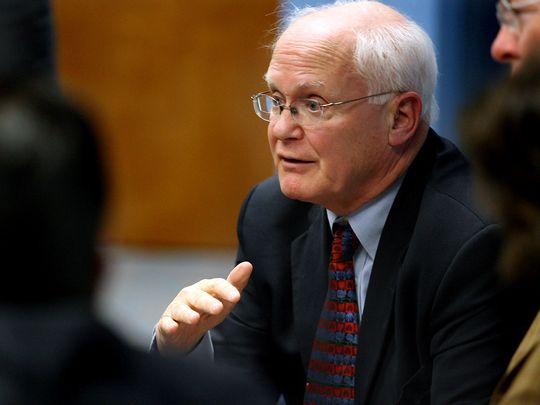 Education, particularly early education, is a key avenue in the fight against intergenerational poverty, says Children's Movement of Florida founder Dave Lawrence.
Lawrence gave the elevator speech version of his organization's mission during the Florida Chamber of Commerce Summit on Prosperity & Economic Opportunity.
"We are, believe it or not, the most unequal of all the western industrialized countries," he said, citing stats on incomes, job prospects, obesity and literacy for youths and their parents.
Despite optimism expressed by some of the preceding speakers at the summit, Lawrence said work on correcting these and other problems is in its infancy.
"I don't want anybody to be fooled. We are not close to the promised land," he said.
Among the "pertinent realities" Lawrence said Florida – and the United States – faces are that most children entering school today will be working in jobs and industries that don't yet exist when they enter adulthood; nearly 70 percent of inmates in Florida prisons can't read above a fourth-grade level, and those in the juvenile justice system are functionally illiterate; nearly three-quarters of young adults can't enter the military whether due to substance abuse problems, criminal behavior or a disqualifying condition; and too many Florida children enter school already behind the curve.
And if children enter the classroom unprepared, it can be a laborious task helping them catch up.
Teachers "spend as much time triaging… as they do teaching," he said.
Lawrence, a former publisher of the Miami Herald, said research shows that the bulk of brain development happens by age 3, and for every dollar spent helping those young brains develop, the state can save $7 in future safety net spending, corrections spending or other costly government programs.
While he touted the benefits of early childhood education, he warned it shouldn't be conflated with child care, which recognized was "the reality for most and often not stimulating," saying it's closer to babysitting than proper schooling.
Part of the problem is a lack of investment in child care workers, who have an average hourly wage of about $10 in Florida. Compare that to $15-plus for animal control workers.
"Where's our sense of priority?" he asked, later adding that a lack of funds is not an acceptable excuse.
"I simply do not accept that the problem is money. I think we have plenty of money. The challenge is how we spend that money. A country that can afford to spend nearly $2 trillion bringing democracy to Iraq and Afghanistan, can certainly do better by its children."