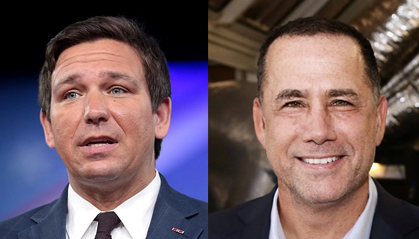 The race for Florida governor is tight on both sides of the aisle, with Democrat Philip Levine and Republican Ron DeSantis barely edging out the opposition in their respective primaries.
That's according to a new poll from Florida Atlantic University's Business and Economics Polling Initiative.
However, a plurality of registered voters in both parties is undecided, with 43 percent unsure who they'll support in the Republican primary and 42 percent not yet committing to a Democrat.
That means candidates have plenty of voters to pick up between now and August 28.
Among registered Republicans who say they've made up their mind, 16 percent support DeSantis. Adam Putnam is right behind with 15 percent support. No other Republican candidate currently has double-digit support, according to the poll.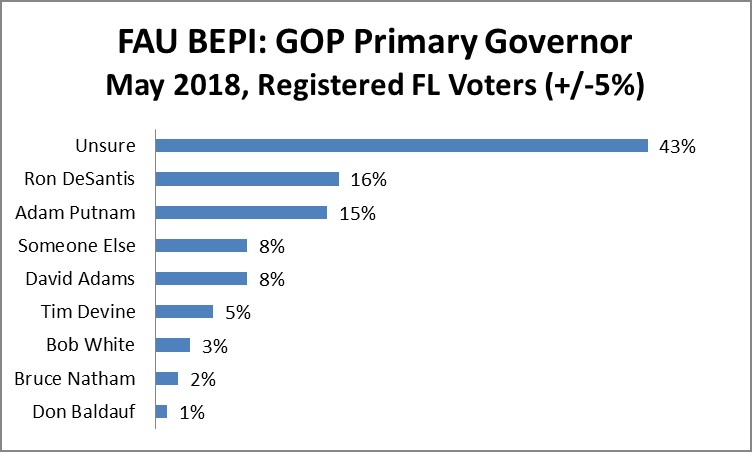 On the Democratic side, Levine leads Gwen Graham by the same margin, 16 percent to 15 percent. Chris King sits in third with 10 percent of the vote.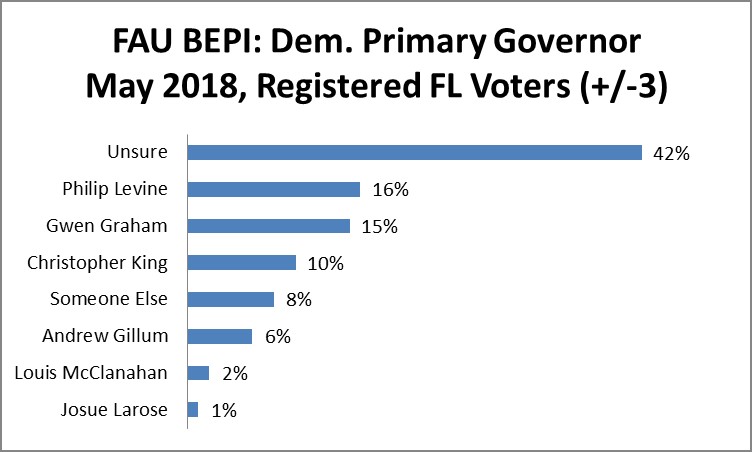 Looking at likely voters increases the front-runners' leads, but not by much. Likely voters have DeSantis leading Putnam 20 percent to 17 percent, and Levine over Graham 18 percent to 15 percent.
The poll surveyed 1,000 registered voters in Florida from May 4-7. Overall 34 percent of those surveyed were Republicans, 34 percent were Democrats and 32 percent were independents. The poll's margin of error is plus or minus three percentage points.
Reacting to the results, BEPI Director Dr. Monica Escaleras says nothing is certain with more than four months to go until the primaries, especially with so many voters still undecided.
"It is not unusual to have so many undecided voters at this early stage, as even the leading candidates are still introducing themselves to much of Florida," adding that the "race for governor remains wide open."