From karaoke to ballroom dancing to ice sculpting, the hobbies of Florida's legislators are legion.
A Florida Politics reporter recently noticed and tweeted that Rep. Carlos G. Smith, an Orlando Democrat, listed but one "recreational interest," karaoke, on his legislative info page.
That sparked a number of responses on social media last week.
TCPalm reporter Ali Schmitz noted that outgoing Senate President Joe Negron declares "courthouse architecture" as an interest. Must be all those columns.
Sun-Sentinel reporter Dan Sweeney chimed in: "You guys have cracked open a never-ending font of amazement. Reviewing the recreational interests of state reps is kind of a hobby of mine," he tweeted.
"Along with the aforementioned, I'd also point you to the ballroom dancing of @ColleenLBurton and the ice sculpting of @JoeGruters."
Burton soon defended her honor: "So you know, I competed in 2011. #notnicetohobbyshame"
Lara Medley, Burton's legislative assistant, also tweeted: "I would like a demonstration of Representative @JoeGruters hobby please." Gruters liked that tweet but did not respond.
Sweeney added: "Not to mention the Brazilian Jiu Jitsu of @AmyMercado and the fact that @JamesGrantFL lists 'the woods' as a recreational interest without saying what it is he does there, which leaves a lot to the imagination."
Undoubtedly after some #FlaPol Twitterati head scratching, Grant took to Twitter to explain: "Lest there be any confusion, bow & bird hunting.
"Fly rods on the water, my bow or Berettas in the woods, & a hockey stick on the ice are the 3 scenarios where I can truly get lost enough to make the world around me stop," he added. "And no, I don't get any of the 3 enough. #CarryOn …"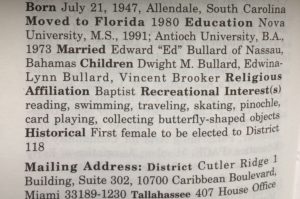 Even POLITICO Florida scribe Marc Caputo weighed in with a memory: The late "Sen. Larcenia Bullard had the best hobby in the clerk's manual once: 'collecting butterfly-shaped objects.' I'm not making this up."
Indeed, he was not. An old clerk's manual confirmed that hobby, along with "skating," "pinochle" and others. Bullard died in 2013 after serving 18 years in the Legislature. 
Outgoing House Speaker Richard Corcoran lists no hobbies. With six kids, he's busy.