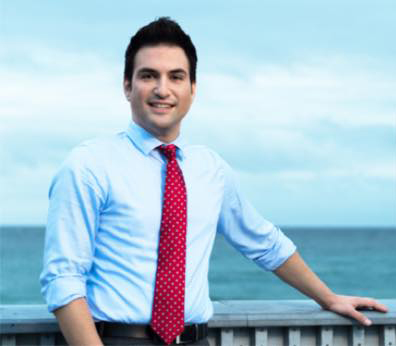 Boca Raton attorney Matt Spritz announced a pair of endorsements Monday for his campaign to take over for termed-out Republican Rep. Bill Hager in House District 89.
The nods came in from the two immediate past chairs of the Palm Beach County Republican Party, Sid Dinerstein and Anita Mitchell.
"It is my great pleasure to endorse Matt Spritz for State Representative. He has the knowledge, energy and values necessary to effectively represent our community in Tallahassee," Mitchell said.
"I'm pleased to offer Matt my full support in his campaign for House District 89. He's a high energy, principled leader that will always put our community before politics," added Dinerstein.
Spritz, who faces Michael Caruso in the Republican Primary, said he was "honored" to receive the endorsements, saying Dinerstein and Mitchell "care deeply about the future of our community, our state, and our country. I'm thrilled to have them on our team."

Past endorsements for Spritz have come in from several current Florida House members, as well as former state Sen. Ellyn Bogdanoff and former U.S. Senator George LeMieux.
HD 89 covers a portion of Palm Beach County coast and has been held by Hager since it was redrawn prior to the 2012 elections. The winner of the Republican Primary will be his most likely successor in 2018.
Through April, Spritz led the money race with $115,000 on hand in his campaign account, including $40,000 in loans, as well as $33,000 in the bank for his committee, Invest in Florida. Caruso isn't far behind. He has $136,000 in his campaign account, including $110,000 in loans.
Also running for the seat are Democrats James Bonfiglio and Ryan Rossi as well as unaffiliated candidate Deborah Gibson.