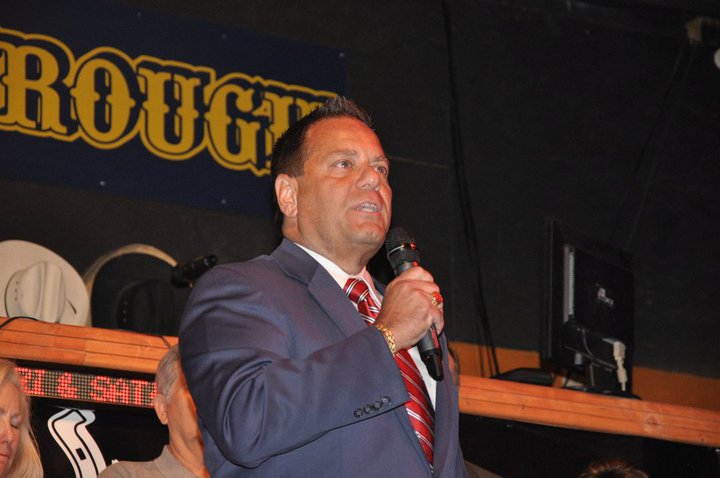 Pinellas County Commissioner John Morroni finally succumbed to one of the cancers he has battled for nearly a decade, passing away Sunday night at the age of 63.
With a quarter century of public service, Morroni was the rare modern politician who enjoyed support from both sides of the political spectrum.
As news of Morroni's passing has spread, elected officials and other leaders from across Florida are expressing their sympathies. Here is a running compilation of their reactions:
U.S. Rep. Gus Bilirakis:
"Our community has lost a tremendous leader and public servant with the passing of Commissioner Morroni. Those of us who had the pleasure to call him friend will remember his passion for helping others, his generosity of spirit and love of family.  My thoughts and prayers are with his family and all who had the privilege of knowing him. May his memory be eternal."
U.S. Rep. Charlie Crist:
"I am saddened to learn of my friend John Morroni's passing. He was a warm and wonderful person who will be missed by everyone he touched by his good humor, his kindness, and his public service. Rest in peace, my friend."
U.S. Rep. Debbie Wasserman-Schultz:
"I served in the Florida House with John. He was a passionate, full-of-life force to be reckoned with and had such a good heart. Florida and Pinellas were lucky to have him. May his memory be for a blessing."
State Rep. Chris Sprowls, via Twitter:
"John was a truly kind man. Someone who treated everyone like a friend, and friends like family. The world was better for having John in it. He will be missed. Rest In Peace my friend."
State Rep. Chris Latvala, via Facebook:
"In politics you dont find many true friends. John Morroni was a dear friend of mine. 7 or 8 years ago at Courtside he was also one of the first people that told me that i should run for office one day. The district i currrently represent is the same one he held in the 1990s. John Morroni was a champion for our first responders and his community as a whole. Tonight he lost his long and courageous battle with cancer. I will miss you, John. I hope i am the kind of public servant and friend you were. I love you buddy."
Pinellas County Commissioner Charlie Justice:
"He had the ability to make you feel like you were the only one in the room talking to him. He had an infectious enthusiasm. He really liked people."
Pinellas County Commissioner Ken Welch:
"John had a true passion for serving the community. He put people first. We are a stronger, more inclusive community because of his dedicated public service."
Clearwater City Commissioner Doreen Caudell, via Facebook:
"Please Pray with us in Pinellas! I am saddened of the passing of my dear family friend, former State Representative and Pinellas County Commissioner John Morroni. Having served alongside John as his Vice Chair of Forward Pinellas I know he will continue to guide us. We LOVE you JohnRroni
😢
😘
😢
🙏🏻
"John waged a very tremendous battle against a form of cancer called myelodysplastic syndrome.
"John was an incredible public servant, and was always committed to serve all of his constituents.
"John was a dear friend to me and my family. Always having time for us and always making sure we were working hard and doing well.
"My deepest condolences go to his beautiful wife, son and all John's family and friends. We will all miss our JohnRroni dearly."
Largo City Commissioner Michael Smith, via Facebook:
"Can't stop crying right now. A wonderful friend & political colleague, County Commissioner John Morrioni, passed away after a long hard-fought battle against Acute Myeloid Leukemia. Heaven gained a beautiful angel. My thoughts go out Eileen & Mikey."
The Pinellas Sheriff's Office:
"Commissioner Morroni was a great friend to our agency and outstanding leader in our community. As a tireless advocate for law enforcement and first responders, he will be sorely missed. His family and friends are in our thoughts and prayers during this difficult time."
Pinellas GOP Chairman Nick DiCeglie:
"Heartbroken that my friend and mentor, John Morroni has passed away. Words cannot express the impact John had on so many lives. I'm thankful Erica and I were able to say goodbye to him on Saturday afternoon. Please keep Eileen and Michael in your prayers."