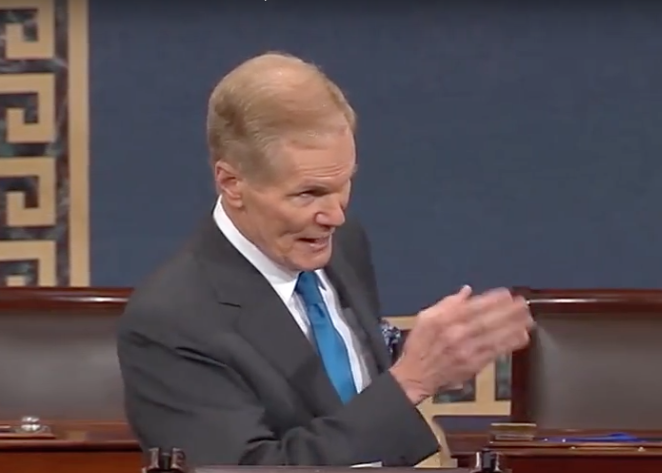 Florida's Democratic U.S. Sen. Bill Nelson on Tuesday blasted "the government of my state, the state of Florida," for not expanding Medicaid, during a speech on the Senate floor.
Nelson did not name names beyond that, but his reference to the government could be directed at his opponent in this year's U.S. Senate election, Gov. Rick Scott, who once, briefly, supported the federal offer to expand Medicaid in Florida under the Affordable Care Act, then backed down, and then turned against it.
In 2015 Florida rejected the offer that would have provided billions of dollars to Florida on a matching and sliding scale, to cover an estimated 800,000 residents who make too much money to qualify for existing Medicaid programs and not enough to afford insurance.
"There's almost $5 billion a year that is sitting on the shelf," Nelson said, "that is Florida taxpayer money that is going elsewhere.
"In my state of Florida, that is 800,000 people, almost a million people, poor people, disabled folks that would be getting health care," Nelson continued. "What do they do? They end up going to the emergency room."
Nelson's blast came in a friendly exchange with U.S. Sen. Doug Jones, the Alabama Democrat elected last fall in a special election, who began by criticizing his own state's refusal to accept the Medicaid expansion.
Nationally, 18 states including Florida and Alabama turned down the federal expansion program authorized through the Affordable Care Act, also known as Obamacare.
Kerri Wyland, spokeswoman for Scott's U.S. Senate campaign, responded, "If Bill Nelson is truly concerned about healthcare services for Floridians, he should propose real solutions instead of campaigning from the Senate floor."