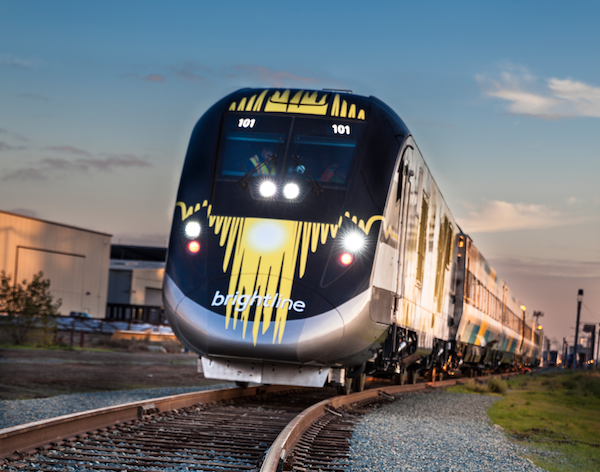 A bipartisan group from Florida's congressional delegation, along with the chairman of the House Transportation Committee, are offering a counterpunch to the jab thrown in Washington D.C.  by opponents of the Brightline private passenger railroad in Florida.
In a letter Monday, U.S. Rep. Bill Shuster, the Pennsylvania Republican chairing the House Transportation and Infrastructure Committee, and seven Florida members, Republicans Carlos Curbelo, Ileana Ros-Lehtinen, Dennis Ross, and John Rutherford; and Democrats Frederica Wilson, Lois Frankel, and Darren Soto urged the Department of Transportation to fend off attacks from "certain interests attempting to undermine this project."
Paul Gosser, a Republican from Arizona, also signed.
Their letter doesn't say so, but it appears as a counterpunch to the letter sent five days earlier by U.S. Reps. Brian Mast, Bill Posey, Ron DeSantis, and Matt Gaetz, along with Mark Meadows, the North Carolina Republican who chairs the House Oversight and Government Reform Committee's Subcommittee on Government Operations. They all urged the department to derail a Brightline financing that had previously been approved for the train.
The letter over Curbelo's and Shuster's lead signatures both defends Brightline as the kind of private project that needs to be applauded, not derailed, and the private activity bonds being used to finance its next big expansion, which is at issue in this battle between the congressional delegations.
"We are concerned that financing programs created by Congress with the express goal of encouraging private investment in projects that serve a public purpose are under attack by certain interests attempting to undermine this project," the letter states. "As a surface transportation system, Brightline clearly serves a public need, and its value is already being demonstrated by its successful limited service in South Florida."
All Aboard Florida launched its Brightline passenger trains between West Palm Beach and Fort Lauderdale in January and extended the line to Miami last week, with the trains topping out at 79 mph.
The next part is the hard one: a higher-speed railroad extension from West Palm Beach northward to Orlando. That segment will require major upgrades of existing tracks and bridges through to Cocoa, and then all-new tracks and bridges between there and the Orlando International Airport.
If completed, the trains could travel up to 110 mph between West Palm Beach and Cocoa, and up to 120 mph between Cocoa and Orlando.
For that, All Aboard Florida sought — and received DOT authorization for — $1.15 billion in tax-exempt activity bonds. All Aboard Florida would like to get construction started this year, and hopes to get those trains running in the early 2020s.
At an April 19 hearing, Meadows' committee questioned whether the project should have qualified for the bonds under the definitions in the authorization law, and Meadows said he believed the department's policy appears to conflict with Congress's intentions. In a May 16 letter to U.S. Transportation Secretary Elaine Chao, he, Mast, Posey, DeSantis, and Gaetz accused the U.S. Department of Transportation of "blank-check authorization" of the bonds and urged the department to suspend the authorization.
The May 21 letter from Shuster and the others to Chao counters their arguments. Curbelo of Kendall, Ros-Lehtinen of Miami, Wilson of Miami Gardens, and Soto of Orlando, all serve districts that are or would be directly served by Brightline. Ross of Lakeland is not far from Orlando. Rutherford of Jacksonville might one day benefit from long-term, though uncommitted plans to one day extend Brightline service to that city. Gosar, an Arizona Republican, is a member of Meadows' committee.
Mast of Palm City, and Posey of Rockledge, represent districts that would be ride-over territory for the train, and many political leaders and others in their Space and Treasure Coast regions have argued they are being asked to take on unnecessary safety, noise, and long-term maintenance cost risks. DeSantis of Ponte Vedra Beach serves a district that, like Ross's could benefit from the Orlando station, but also could be seen as a ride-over territory.
Gaetz of Fort Walton Beach is hundreds of miles away.
Former U.S. Rep. John Mica of Winter Park, a former chairman of the House Transportation Committee, also wrote to Chao on May 17 in support of Brightline and the use of private activity bonds.
All Aboard Florida weighed in with its own letter to Meadows April 30 explaining all the legal and appropriate steps the company had taken to secure the bonding authority.
Curbelo's and Shuster's letter called Brightline "a perfect example of where a program like Private Activity Bonds can encourage private investments that create new federal, state and local tax revenues while providing a public benefit. They called the project "a transformative development" and said it provides the department a tremendous opportunity to showcase a successful passenger rail project.