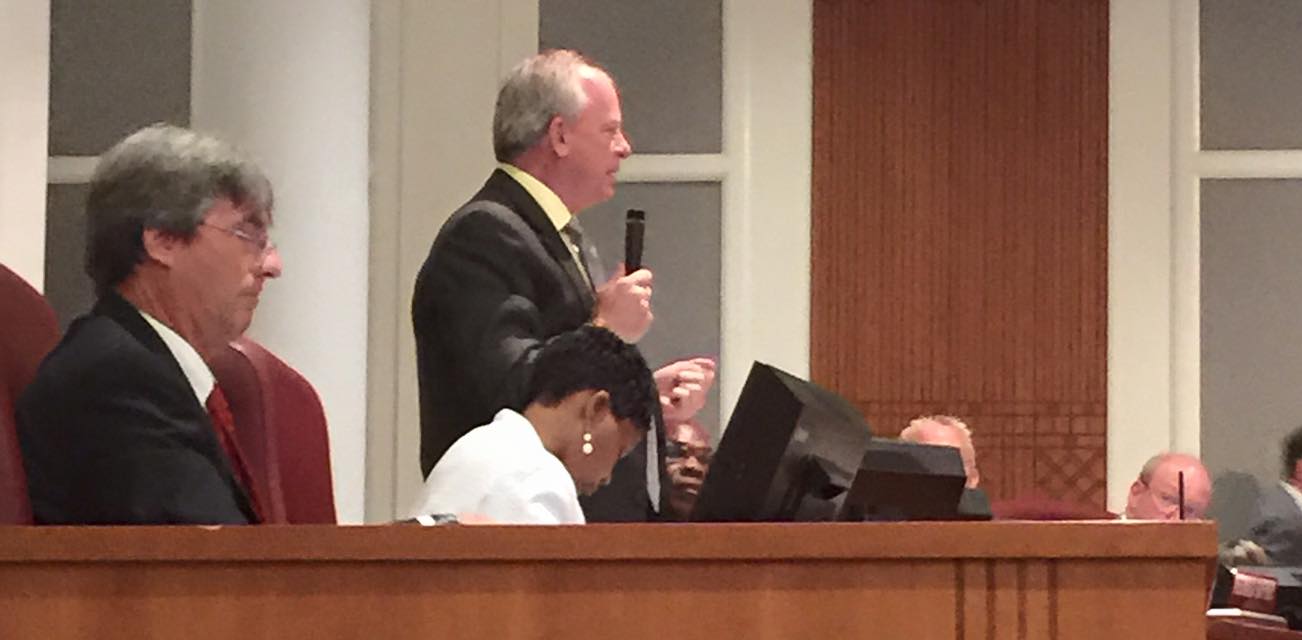 The top job starting July 1 in the Jacksonville City Council will go to current Vice President Aaron Bowman, elected President-Designate Tuesday.
There was little surprise: Bowman had 13 of the 19 councilors pledging support to him weeks prior.
President-Designate Bowman, a VP for the Jacksonville Chamber's business recruitment wing JAXUSA Partnership, will represent a break from the chaotic, parlous dynamic between current President Anna Lopez Brosche and Mayor Lenny Curry.
Former President Lori Boyer nominated Bowman, a Naval Academy alum who went on to run Mayport, lauding his "steady hand."
"In an election year, when emotions run high," Boyer said, "a seasoned leader will be valuable."
Mayor Lenny Curry and his senior staff — seemingly with a stake in the outcome of the uncontested vote — watched proceedings from the green room, coming out as ballots were being distributed.
Curry sat with Bowman's family.
One interesting anomaly: Councilman John Crescimbeni threw a curve, writing in the name Scott Wilson for President, which caused the dais to break out in laughter. It was an error.
Bowman, in his remarks, noted "excitement beyond belief … uneasiness … and extreme confidence" in taking the helm, vowing that "teamwork" between the council and the Curry administration would define his year.
Bowman also noted "challenges" with the administration this year, saying "we've got to do better."

Curry left the room, staring at the door on his way out.
_____
Meanwhile, the race for Vice President was less of a sure thing headed into Tuesday, with three declared candidates who had little traction between them.
However, action on Tuesday ahead of the vote moved the narrative along, though not in a way that resolved matters until the 3 p.m meeting.
The three hopefuls had pledge meetings Tuesday afternoon ahead of the vote.
Republican Danny Becton had three pledged supporters (himself and fellow Republicans Jim Love and Al Ferraro) ahead of the vote, and added Sam Newby to the mix.
Democrat Tommy Hazouri had two, himself and Democrat Joyce Morgan. Hazouri threw a curveball — announcing his support for Republican Scott Wilson.
Wilson went into Tuesday with no pledges besides himself, but secured pledges from Matt Schellenberg and Greg Anderson in his meeting, giving him three even before Hazouri made his move (with Councilman Bill Gulliford, who had yet to formally pledge but seemed to be leaning Wilson, in the room at the time). John Crescimbeni also pledged to Wilson ahead of the vote via email, adding to the momentum.
Love nominated Becton, while Councilwoman Katrina Brown — being sued by the city for the default of her family business on city grants and loans intended for economic development and job creation — seconded, lauding Becton's "character" and refusal to "judge a book by its cover."
Anderson nominated Wilson, noting that his public service started at the age of 18, working for public parking, before moving on to 13 years in Clerk of Courts and 8 years as a council aide.
Morgan, Bowman, Wilson, Boyer, Schellenberg, Doyle Carter, Gulliford, Hazouri, and Anderson went with Wilson, giving him a 10-9 win.
For Wilson, who lost last year by a big margin, and who came into the day with no pledges, it was sweet vindication.
Especially so given that multiple sources assert that Wilson's own Republican Party backed Becton, attempting to get Republicans on the council to support him over the eventual winner.
While Duval GOP Chair Karyn Morton denied that, sources insist pressure was there.