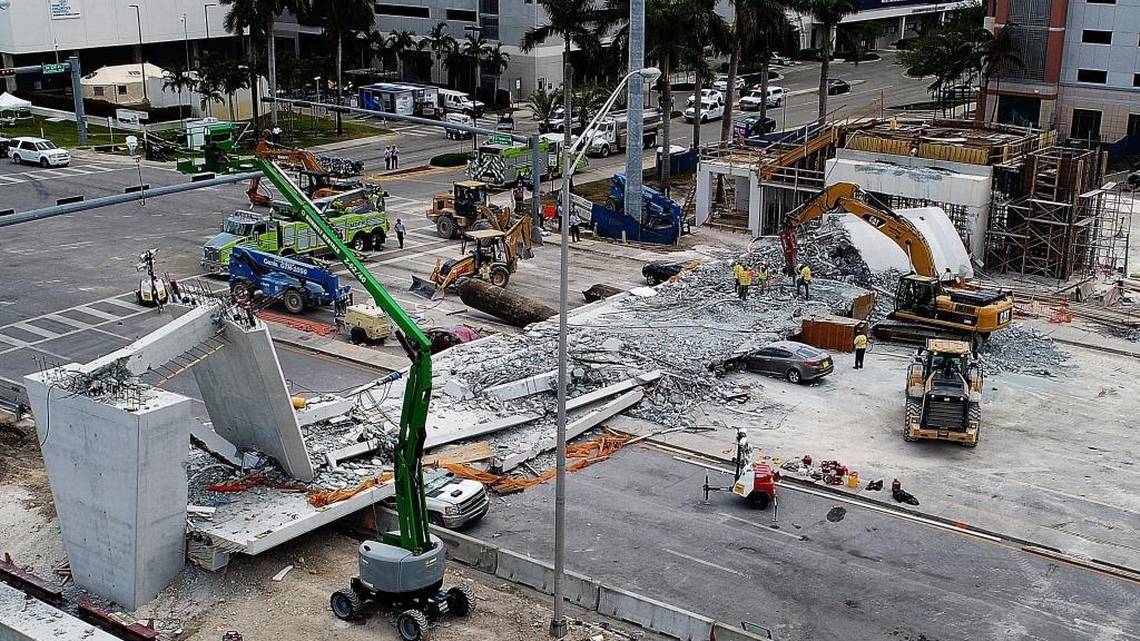 A preliminary report shows the National Transportation Safety Board is still searching for answers as to the cause of the deadly Florida International University bridge collapse.
The report highlights areas the NTSB will focus on in determining the cause of the accident, noting, "The NTSB is evaluating the bridge design, the construction process, and the construction materials. In addition, the NTSB is evaluating the emergence of cracks" in certain areas of the bridge.
The report also details actions by workers in the lead-up to the collapse back in March.
The report states workers "de-tensioned" parts of the bridge on March 10. Five days later, on the day of the collapse, "a construction crew was positioned on the structure working on re-tensioning" a portion of the structure "connecting the canopy and the deck at the north end of the bridge."
That was followed by the collapse which crushed eight vehicles underneath the bridge, killing five people. One bridge worker was also killed. Eight others were injured.
The bridge was set to be completed in early 2019. According to an NTSB lawyer, multiple agencies are pursuing criminal investigations into the collapse.
Sen. Bill Nelson, who serves on the U.S. Senate Commerce Committee overseeing the NTSB, issued a statement following the release of the report complimenting the NTSB for its work on the investigation.
"While we still don't know the ultimate cause of the bridge collapse, it's reassuring that the NTSB is already laser-focused on the emergence of cracks on the structure," said Nelson. "The victims' families and the public expect nothing less than a thorough examination of this tragic event to prevent it from ever happening again."
The NTSB's preliminary report also laid out a timeline for the next stages of the investigation.
"In the next month, the NTSB will be conducting additional forensic examination of several bridge structural components and destructive testing of multiple core and steel samples. All aspects of the collapse remain under investigation while the NTSB determines the probable cause, with the intent of issuing safety recommendations to prevent similar events."