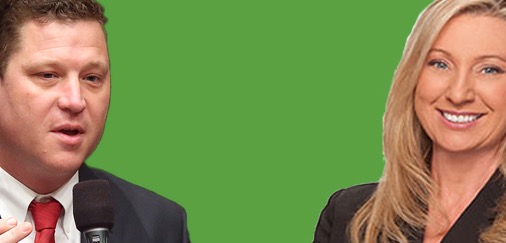 Two incumbent state Senators enter the summer with nine-point leads over their Democratic challengers, while two former state Representatives seeking an open seat in the Senate are essentially tied, fresh polling shows.
Pinellas Republican Jeff Brandes leads Democratic trial lawyer Carrie Pilon 48-39, according to a survey conducted by St. Pete Polls, while a separate survey shows Hillsborough's Dana Young up over Janet Cruz Rifkin by the same 48 to 39 percent margin.
And while the Republicans lead in those two battleground races, Democrat Amanda Murphy leads Republican Ed Hooper by less than a point — a surprising position given that she entered the race for Senate District 16 less than a month ago.
All three robopolls were conducted over the Memorial Day weekend and only include responses from those voters who said they intend to vote in the November elections.
The races for Senate Districts 16, 18, and 24 will likely decide the course, if not control, of the Florida Senate as the Democrats have identified the three seats as a package of six they are likely to target during the 2018 election cycle.
The key to Brandes and Young's leads is that they are holding their bases better than their Democratic counterparts. Brandes keeps 75 percent of Republican voters, while Pilon takes 65 percent of Democrats; Young commands 76 percent of the GOP vote, while Cruz Rifkin wins just 62 percent of Democrats.
(By the way, we see you working Matt Isbell … we're also intrigued by Young's lead over Cruz with Hispanic voters).
Murphy's lead, which comes in a district with a distinct Republican performance (R+5) advantage, is buoyed by her strong performance with independent voters as well as Democrats. The New Port Richey Democrat polled at 78 percent among her own party's voters and held a 3-point edge among independents, 41-38, with 20 percent undecided.
Hooper holds a slim lead among voters aged 30 to 49 and has a 4-point edge among men. Murphy has a slight lead among all other age groups and has a 5-point advantage among women, who made up 54 percent of the sample.
The new poll of the Pasco-Pinellas battleground also shows Murphy with strong support among Republicans — nearly 1 in 5 likely GOP voters are behind her, while only 12 percent of Democrats were willing to cross party lines for Hooper.
That metric is one Florida Democrats were banking on when they recruited Murphy, who overperformed the party in each of her three elections in House District 36. In her last race she outperformed the top of the ticket, coming within just 691 votes of re-election in a seat Donald Trump won by 20 points.
In the SD 24 poll, Brandes holds major leads in nearly every subset of voters. He leads by double digits among men, white voters, young voters, and voters over 70. The incumbent Republican also edges out Pilon by 9 points among women, 4 points among voters aged 30 to 49 and by 2 points among voters aged 50 to 69.
Pilon did poll better among independents, 42-40, as well as nonwhite voters, however, her 30-point lead among black voters and a 15-point lead among Hispanic voters come in a district where those demographics combine to less than a tenth of registered voters.
The GOP has a 4-point advantage in voter registrations within SD 24, though it was carried by Barack Obama in both of his presidential elections before going plus-7 for Trump in 2016.
In SD 18, Young is enjoying similar leads in the crosstabs — she's the pick for men (49-38), women (47-40), white voters (52-37), Hispanic voters (51-35), independents (46-41) and all age groups. She also has the backing of more than a fifth of Democrats polled.
SD 18 is the most competitive of the three Tampa Bay-area seats on paper. Democrats make up a larger share of the electorate, and it voted for the Democratic nominee in the last three presidential elections, including a 5-point win for Hillary Clinton in 2016.
Where all three Republicans hold irrefutable leads is in fundraising.
Through the end of April, Brandes had more than $550,000 on hand to Pilon's $100,000 after her first month; Young has $1.1 million banked compared to $267,000 for Cruz; Hooper has $358,000 on hand with Murphy's first report still pending.
___
Jeff Brandes is a client of Extensive Enterprises Media, the holding company that owns FloridaPolitics.com.