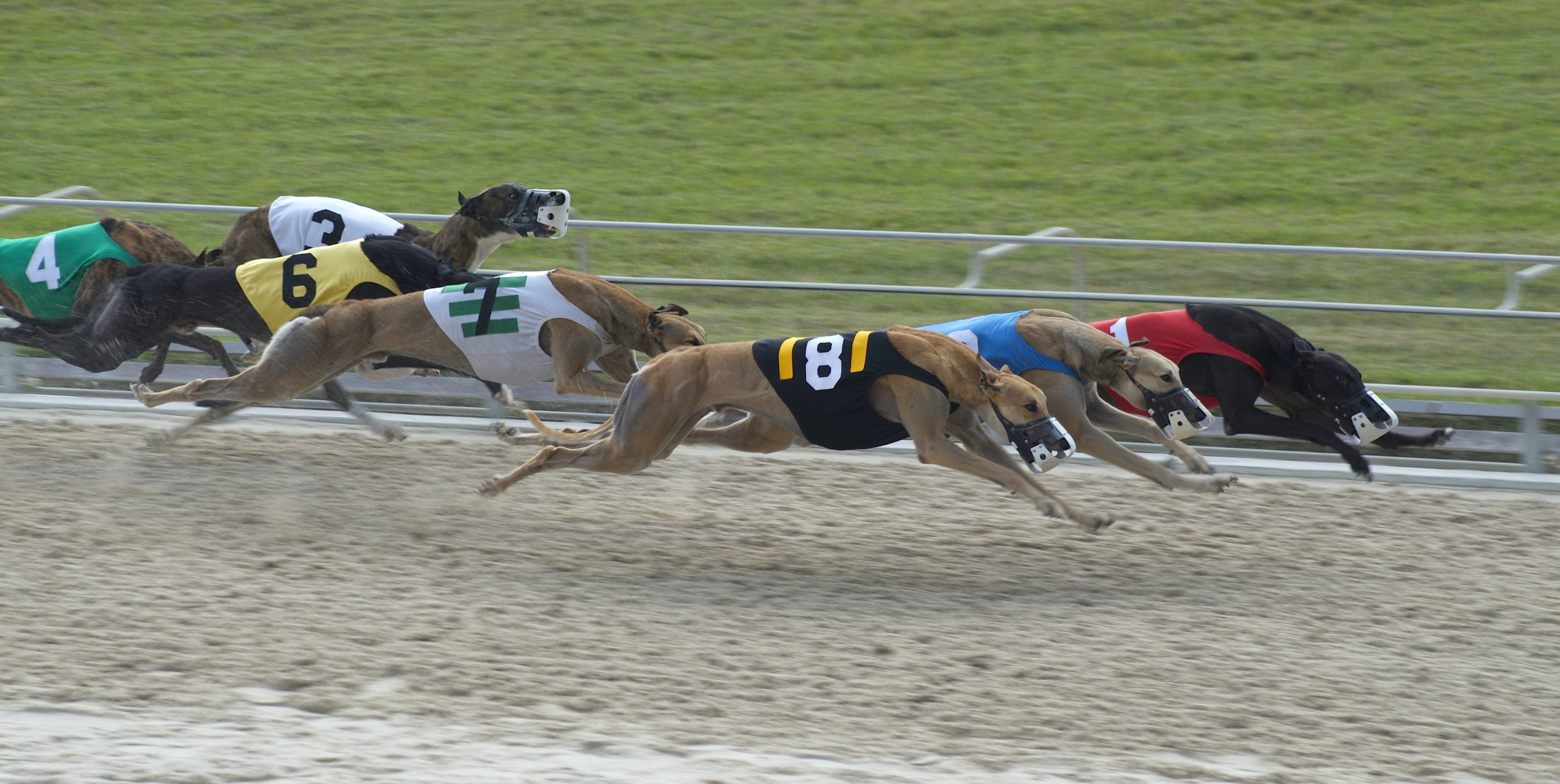 Above: Greyhounds race at a Naples/Fort Myers track. Photo courtesy Van Abernathy.
The Committee to Support Greyhounds has been formed for the "purpose of promoting greyhound welfare, racing, and adoption, as well as educating the public regarding the life of racing greyhounds," the group announced in a Monday release.
"The members of this committee are a group of passionate supporters of the greyhound breed, spearheading a grassroots campaign to boldly go into the heart of greyhound racing in Florida, sharing real life events of happy, healthy, loving greyhounds in ALL stages of life – from young puppies to life at the track to retirement," it said.
The committee's announcement comes the same day that advocates for a ballot initiative to put an end to greyhound racing launched their "Protect Dogs – Yes on 13" campaign.
Amendment 13, placed on the ballot by the 2017-18 Constitution Revision Commission, would outlaw the racing of dogs and wagering on such races. Amendments need at least 60 percent approval to be added to the state constitution.
The proposal also would allow other gambling at tracks, such as card games, to continue even after dog racing ends. In Florida, live dog racing is still conducted at 12 tracks.

"The ex-racing greyhounds you may meet personally or see from a distance did not just 'happen'; their demeanor and their willingness to adapt to different situations come first from careful breeding over generations, then from being raised with attention and love, and most of all, from being allowed to do what they love to do: Run, chase, and race," said Committee to Support Greyhounds chairman Jennifer Newcome in a statement.
"If you take any one of those out of the equation, the greyhound you will see in the future will be a very poor imitation of the amazing, athletic, adaptable and loving animals you see now," she added.
"Greyhound racing has been a proud Florida tradition for decades, as well as an integral part of the Florida economy, creating thousands of jobs, contributing to the tax base and supporting local charities," Newcome said. "This grassroots committee will work to educate and inspire voters to vote FOR Greyhounds by voting NO on Amendment 13."
The committee's website is here.
__
Updated 3 p.m. — The "Protect Dogs – Yes on 13" campaign issued a statement in response to this post:
"This afternoon, greyhound breeders filed a political committee cynically called the Committee to Support Greyhounds. This is an obvious attempt to confuse voters, and proof that they don't have a real message.
"It's worth noting that the chair of this deceptively-named committee lives in Texas, while the Treasurer lives in North Carolina. We will not be distracted by this out-of-state group.
"While greyhou​​n​​d breeders try to sow confusion, we will continue informing our neighbors about greyhound confinement and racetrack deaths. We are confident that once voters have the facts, they will vote Yes on 13."