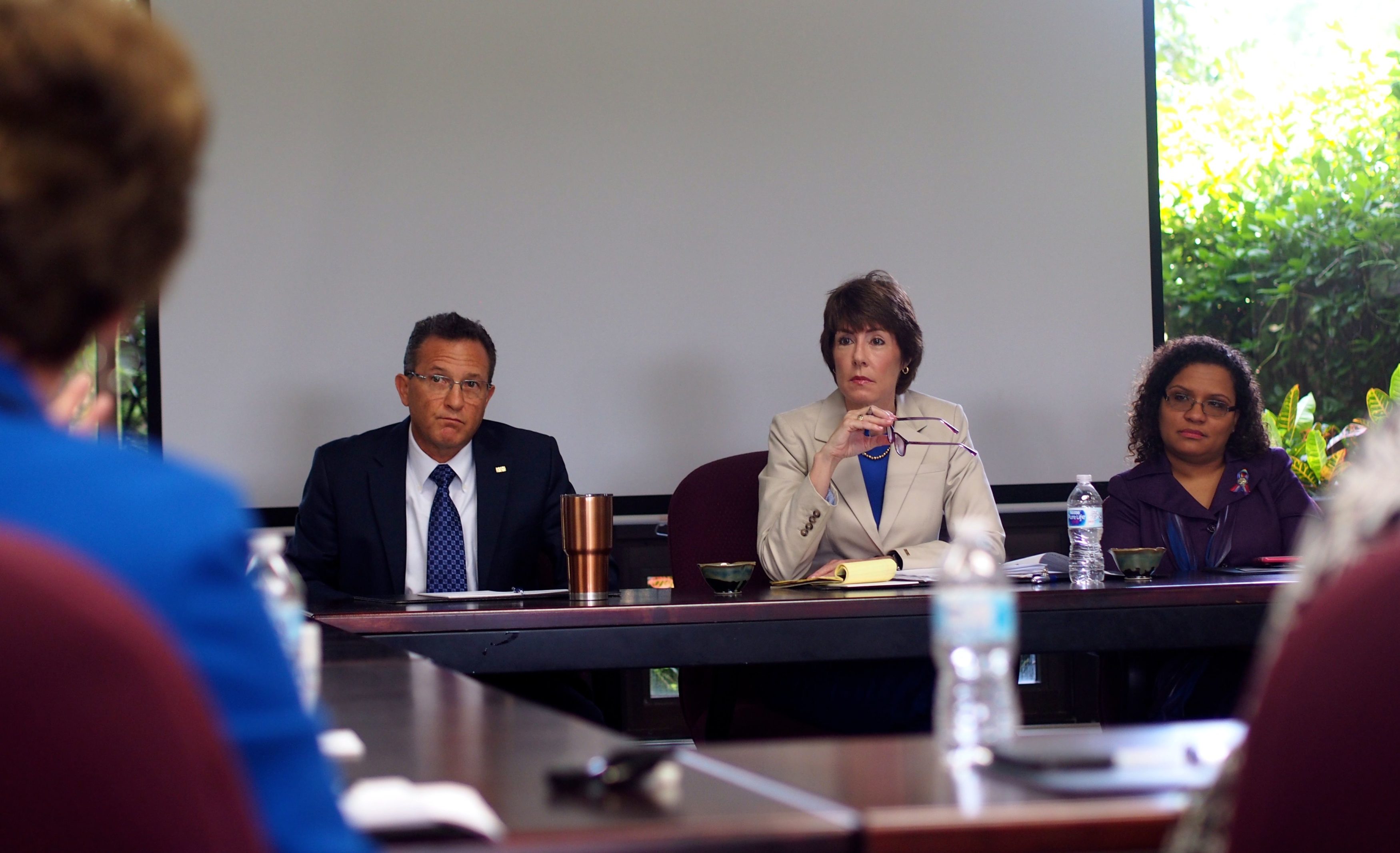 Democratic gubernatorial candidate Gwen Graham pledged Tuesday to do whatever is possible to expand Medicaid in Florida including getting behind a Constitutional amendment drive if she, as governor, cannot convince the Florida Legislature to accept the federal program.
Graham met Tuesday with a roundtable of health care leaders at the Florida Hospital Association offices in Florida, hearing tales of woe and frustration about the lack of coverage available to too many Floridians and how stretched services are to serve uninsured patients.
Most in the room appeared to support the Democrats' desire to accept the Medicaid expansion program offered by the federal government under the Affordable Care Act, and Graham laid out several strategies she said she would pursue as governor, including, as a last resort, putting it on the statewide ballot.
"My commitment is to take Medicaid expansion. We're going to get it done, even if we have to have a Constitutional amendment, I will spearhead a Constitutional amendment," Graham told the gathering, which included former House Democratic Leader Mark Pafford and state Rep. Amy Mercado of Orlando.
Graham spoke of seeing first-hand, when she volunteered as a worker at a Shepherd's Hope clinic in Longwood last year as part of her WorkDays program, how difficult it is for many Floridians to obtain health care. Shepherd's Hope was represented at the table, along with representatives of Orlando's major hospital systems, leaders of other clinics, and representatives of various health care and mental health associations.
They spoke to Graham of a situation that not only is difficult for the 800,000 uninsured Floridians and many others with too-limited coverage, but also difficult for the hospitals. On top of that is the new population of Puerto Ricans who came to Florida after Hurricane Maria destroyed their homes and livelihoods. Many are having to go back to the island for health care, because they can afford it in Puerto Rico, but not in Florida, said Milton Vazquez civic engagement program director for the Hispanic Federation of Orlando.
"It's not letting up," Jean Zambrano, vice president of clinical operations at Shepherd's Hope, said of the needs.
Candice Crawford, president of the Mental Health Alliance of Central Florida, spoke of a "man-made disaster that we are not prepared for," while talking about the mental health and addiction treatment services that have been cut this year in the Florida Department of Corrections budget. "They're going to be sending people back out in the community that have had no treatment. They are sick, and they need help.
"We've got a problem. We have over 66,000 people in this state that have serious mental illness, and have zero mental health services," Crawford added.
Others spoke of struggles with Florida's opioid crisis; hospitals' emergency rooms dealing with patients seeking primary care; under-reimbursements to hospitals; frustrations with getting coverage for telemedicine programs; the lack of available medical specialists, particularly psychiatrists; and expanding the scopes of practice for nurse practitioners and physician assistants, for which Martha DeCastro, the Florida Hospital Association's vice president for nursing and clinical care policy, declared, "Florida really is at the bottom of the heap."
"This is just the beginning of this conversation. I look around this table and I know we're going to have a lot of time together, because we have a lot of serious issues on how we get Florida to where the state needs to be," Graham said.