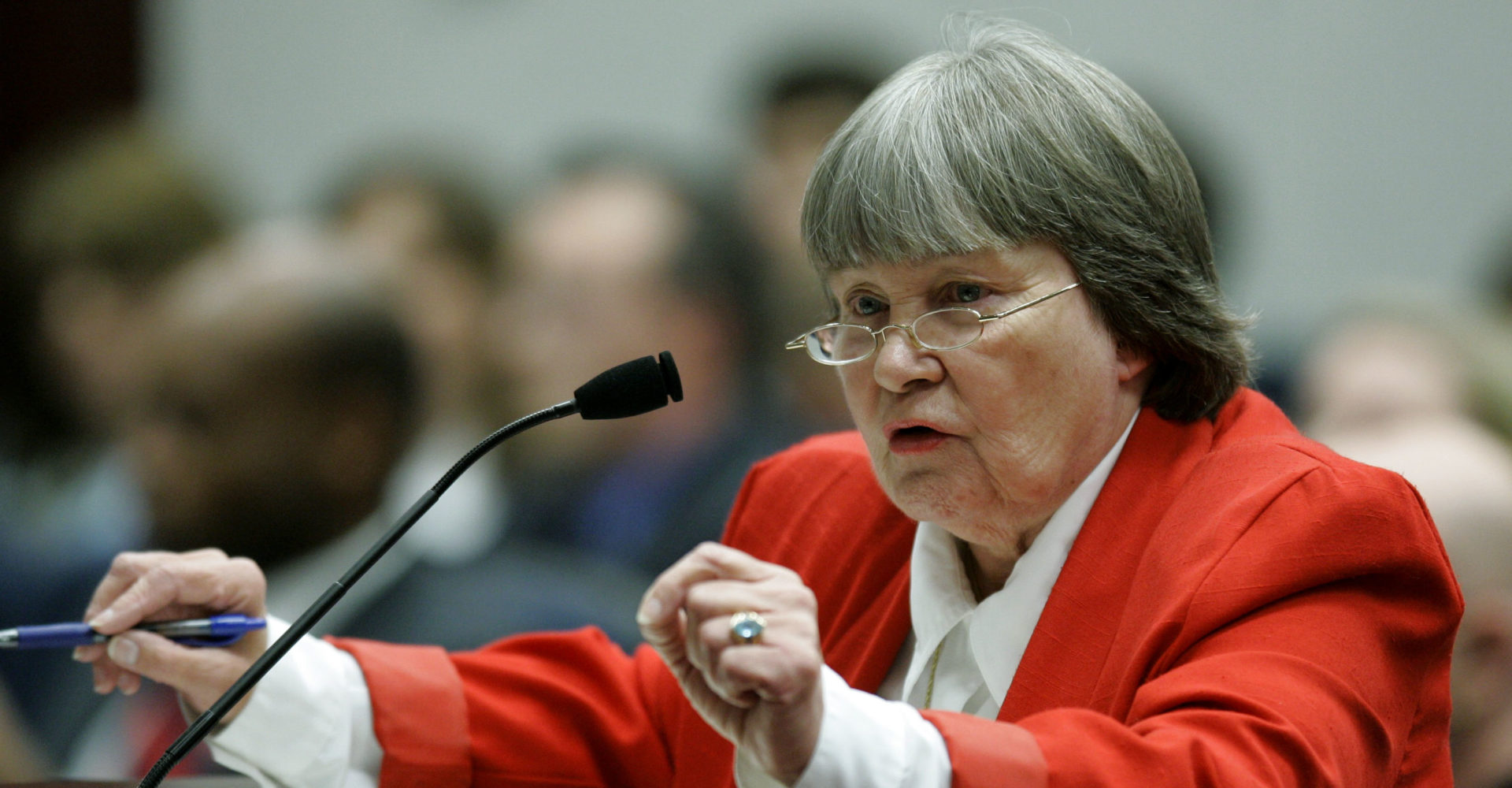 File this under womansplaining.
Florida's most influential gun advocate is countering reports that hundreds of people may have mistakenly received the state's concealed weapons permits without proper background checks.
"The media isn't getting it right, and anti-gun Democrats don't want to get it right," says Unified Sportsmen of Florida Executive Director Marion Hammer, a past president of the National Rifle Association and among the most powerful lobbyists in the state.
In an email Saturday to supporters, Hammer declares: "For some, it's all about attacking a candidate for political reasons."
The candidate in question: Agriculture Commissioner Adam Putnam, who is now running for Governor and proclaimed last year to be a "proud NRA sellout."
As reported Friday by the Tampa Bay Times, Florida's Department of Agriculture and Consumer Services (DOACS) — the agency led by Putnam — failed to conduct complete criminal background checks on concealed weapons permit applicants.
The Times' report also accuses the Bartow Republican of hiding the snafu for nearly a year.
In February 2016, an Office of Inspector General investigation found a "negligent" employee — later fired — admitted that because she wasn't able to log in to the FBI database, 291 permits were improperly licensed. The National Instant Criminal Background Check System (NICS) is required to screen potential applicants for any disqualifying history in other states.
After a subsequent review, the Division revoked the licenses in question.
On Saturday, Putnam contacted the Times, saying the story was "flat wrong and misleading." He noted that proper background checks were performed on all 349,923 permit applicants during the 12-month period.
The agency later identified 365 applications the employee oversaw as "problematic."
Nevertheless, several Democrats — including Putnam's opponents in the governor's race — have called for his resignation from both his job and the Governor's race. A few Republicans also criticized Putnam, including Gov. Rick Scott, whose office said it was "blindsided" by the news.
Enter Hammer, who is now attempting to set the record straight. The National Rifle Association has been a staunch supporter of Putnam in the past, and through his gubernatorial campaign.
"This issue is extremely important to all firearms owners and license holders," Hammer says in the email. "Truth and facts matter. So here is what really happened."
According to Hammer, the Division of Licensing under DOACS did perform background checks on applicants for licenses to carry concealed weapons or firearms.
"Background checks were done through FCIC (Florida Criminal Information Computer system) and NCIC (National Criminal Information Computer system — the national FBI fingerprint database) and they also did a NICS check, which is the name-based background check system," she says.
Retail firearms dealers use the NICS system for background checks anytime a person buys a firearm.
And, as emphasis, Hammer proclaims — ALL THREE BACKGROUND CHECKS WERE DONE.
"The employee should have uploaded those 365 [questionable applications] into the internal computer system to stop the processing of those applications," Hammer says. "She did not. So those 365 applicants got their licenses anyhow."
Although those applicants did indeed receive licenses to carry firearms, Hammer makes an important distinction: "They still would not have been allowed to purchase a firearm from a firearms dealer because the same NICS background check would have been performed by a dealer and would have stopped them from purchasing a firearm."
"A license to carry does not exempt a person from the background check required when you purchase a firearm," she says. "The license ONLY exempts a license holder from the three-day waiting period."
After the Division ran new background checks on those 365 applicants, Hammer says 74 were cleared and 291 still had disqualifiers. Their licenses to carry firearms were immediately suspended.
Hammer closes with something of a reaffirmation of her support: "The facts don't fit narrative being pushed by the anti-gun political opponents of the Commissioner of Agriculture, Adam Putnam, who is a candidate for Governor."