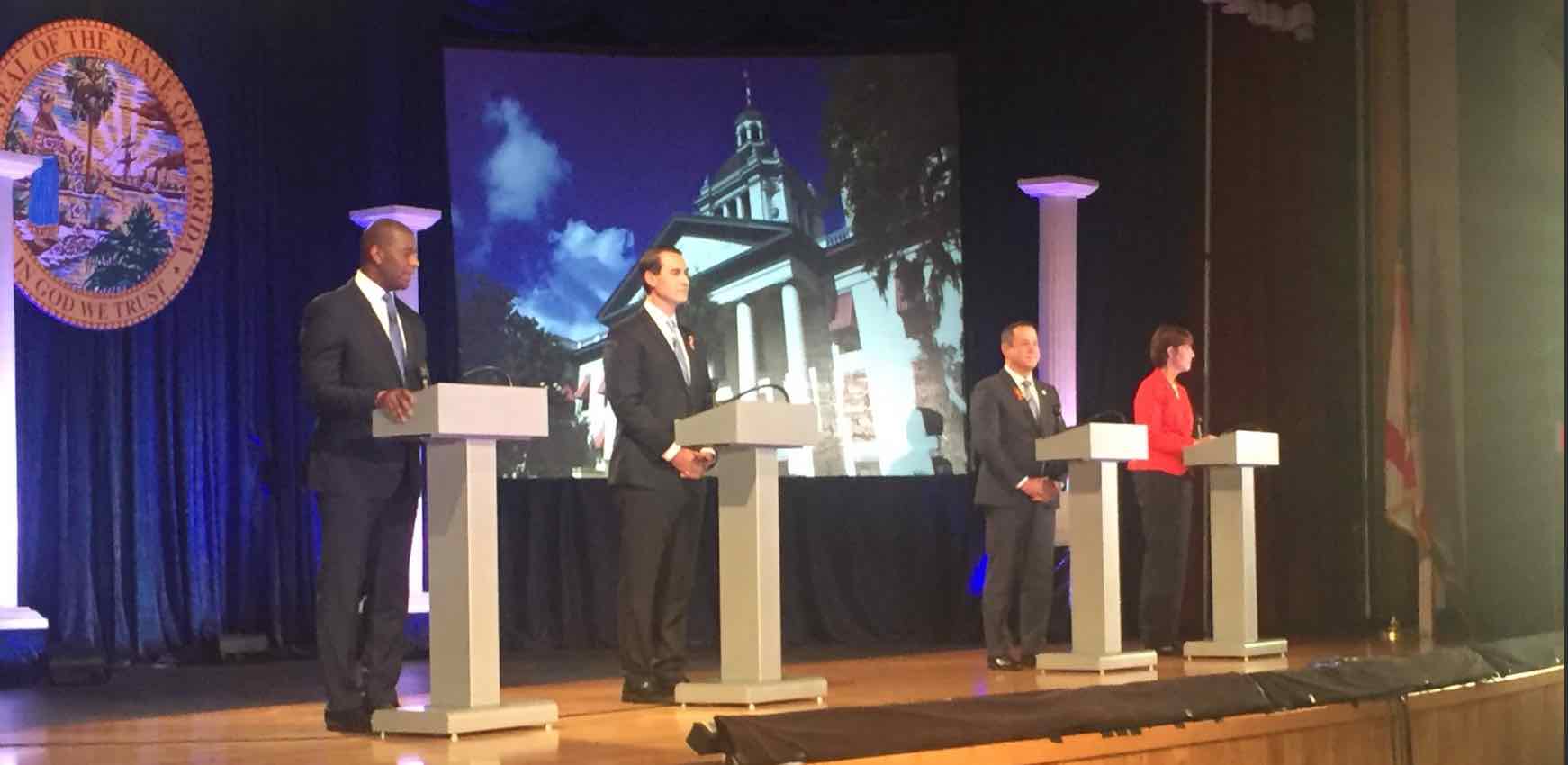 It was a debate that (once again) had Florida's four leading Democratic gubernatorial candidates spending much of their time trying to define personas and opponents.
But on Saturday night in St. Petersburg, former U.S. Rep. Gwen Graham broke through with a bold pledge — to ban assault weapons by executive order.
"My commitment to you is action, not words. I have found a public safety statute [Graham's staff later identified it as Florida Statute 14.022, which allows the Governor to take emergency action to quell violence] that allows the Governor, whoever she may be, to sign an executive order for public safety reasons banning the sale of military assault weapons," Graham said during the debate hosted by Spectrum and its Bay News 9 cable channel in Tampa Bay and News 13 channel in Orlando.
Graham's staff then fired-off a news release indicating she would sign such an order in her first week in office; it also would require universal background checks on gun purchases.
That moment was a rare one, breaking new ground in Saturday night's Democratic gubernatorial debate at Pinellas Park High School, for Graham or any of the other three participants, Tallahassee Mayor Andrew Gillum, former Miami Beach Mayor Philip Levine, and Winter Park entrepreneur Chris King. And it, at least momentarily, set Graham apart from the image of a nonprogressive Democrat that her opponents sought again to draw and she mostly accepts.
Levine also pressed an idea that has not gotten much attention, the creation of an "Education Security Administration" to focus on school safety the way the federal Transportation Security Administration focuses on air travel safety. He also made a sweeping announcement of his new position supporting legalization of marijuana.
Throughout most of the debate, candidates continued to press their differences mainly in their images: Gillum, as the bold, tough-talking, uncompromising progressive intend on giving "voters a reason to turn out and vote for something." Levine is the mayor who accomplished progressive actions in Miami Beach from raising the minimum wage to reforming the police department.
King painted himself as the progressive with bold and new ideas, such as ending the death penalty and initiating a 'bullet tax.'
As for Graham, she found moments to remind everyone she is the daughter of former Gov. Bob Graham, a mom, the only woman in the contest, and someone who can appeal to moderate voters.
[Florida's fifth major Democratic candidate, Jeff Greene, declined to participate in the debate. His campaign remains largely silent since filing June 1.]
King won the lion's share of big applause lines as the school auditorium crowd heavily peppered with students who seemed to relate to his youthfulness and his positions on such issues as legalizing marijuana, prison reform, dealing with racial injustice, a bullet tax, and removal of state money from profit-making charter schools.
In many cases, King was able to pre-empt Gillum, who holds similar progressive positions on many of those issues, often announcing them before King.
Forced to follow King in Saturday's debate at many key moments, Gillum tried to remind everyone he was first.
The question about marijuana first came to Levine, who declared he would support legalization, regulation and taxation of marijuana, allowing local cities to take the lead.
That drew in Gillum, who reminded everyone he was the first to call for legalization, regulation and taxation.
Graham held her position for support for medical marijuana but went no further Saturday night.
Attacks on each other came late in the one-hour discussion.
At first, the four seemed to be playing nice. When Gillum was asked about the FBI investigation into Tallahassee city government, King came to his defense, calling Gillum "a good an noble public servant."
But the cordiality didn't last. Before long, Gillum and King were going after Graham for her vote on a Syrian refugee bill in Congress that President Barack Obama opposed, charging that she did not have a good congressional voting record for Democrats.
Gillum then went after Levine for having once cut a campaign check to Republican U.S. Rep. Marco Rubio. King accused Levine of belittling those who don't agree with him, including journalists and scientists.
"Boy, it's sure fun to be the front-runner," Levine replied.
Graham announced she would take the high-road and disarm "the negative narrative of me."
But that too didn't last. When Gillum accused her of voting against Obama's agenda 52 percent of the time, Graham dove in — counter-accusing Gillum of voting for a coal-fired power plant in North Florida, despite the environmental impact of burning coal.
Gillum insisted he ultimately voted against the plant and had led for the installation of a huge solar-power farm, but by that time it was on.
By far, Gillum got the best laugh of the night, although it was an uncomfortable one, considering the irony and awkward direction of the question. Gillum, the only African-American in the race, responded quickly with a punch and cutting wit that exposed irony and awkwardness.
"Do you see institutionalized racism as a threat to our democracy, and why?" co-moderate Holly Gregory, a Bay News 9 anchor asked, forwarding the question from someone who offered it on Facebook: "This question goes to Mr. Gillum first."
"Why's that?" Gillum replied. When the laughter, cheering, and embarrassed jeering finished he added, "I had to. It was an opening. I'm sorry."