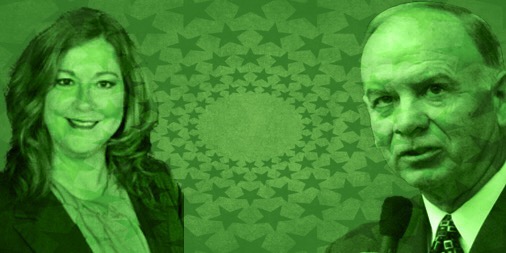 Clearwater Republican Ed Hooper narrowly outraised New Port Richey Democrat Amanda Murphy in her first month running for Senate District 16.
Hooper raised $43,575 in hard money and tacked on another $24,590 through his committee, Friends of Ed Hooper, for a total of $68,165 raised in May.
After about $12,000 in spending, Hooper's accounts ended the month with a combined $412,760 in the bank.
As previously reported, Murphy brought in $50,000 last month through a political committee established during her time in the Florida House. She has since reported $11,240 in campaign fundraising and another $5,000 raised through a newly formed political committee, Working Towards Florida's Future.
Those three reports combined show $66,240 raised in May. None of the accounts reported any spending, so that entire balance was in the bank on June 1.
Both candidates showed several recognizable donors on their reports, including some substantial contributions from current lawmakers.
The Friends of Ed Hooper ledger showed a $10,000 check from a committee tied to Wauchula Republican Rep. Ben Albritton, who is running for SD 26 in the fall. Anheuser-Busch distributor Great Bay Distributors chipped in $5,000, followed by a $2,000 check from red-light camera company American Traffic Solutions.
Hooper's campaign account received 30 checks for $1,000, the maximum donation for a state legislative race. Disney and its subsidiaries were the sources of four, while Florida East Coast Industries and Great Bay Distributors each gave twice via the main company and an affiliated group. The Sembler family showed up with three checks, one apiece from Brent Sembler, Debbie Sembler and Mel Sembler.
The report for Murphy's new committee only showed one contribution, a $5,000 check from auto dealer and philanthropist Frank Morsani. He also showed up on the campaign report with a $1,000 contribution, as did political committees tied to newly elected Sen. Lori Berman, Plantation Sen. Lauren Book, Miami Gardens Sen. Oscar Braynon and Ft. Lauderdale Sen. Gary Farmer.
Further down the list was a $250 check from Tampa Democrat Bob Buesing, the 2016 Democratic nominee in neighboring Senate District 18. He recently ended his 2018 bid in that battleground district to clear the way for House Minority Leader Janet Cruz in the primary.
Hooper, who was a member of the Florida House from 2006 through 2014, faces Palm Harbor restaurateur Leo Karruli in the primary. Karruli filed for the seat in February and had pulled in about $18,000 in campaign funds through May 31, including $14,025 in candidate loans. He has $2,660 in the bank.
Murphy, who served in the House from 2013 through 2016, doesn't have a primary challenger.
SD 16 covers northern Pinellas and southwestern Pasco counties. The seat has a Republican edge — it voted plus-12 for Trump in 2016 — but Florida Democrats are hoping Murphy, who has a history of outperforming expectations in red-leaning seats, can turn it into a "swing seat."
A recent poll of the November contest backs that up. It found Murphy with a slim lead over Hooper, partly due to nearly a fifth of Republicans saying they would cast a vote for her.