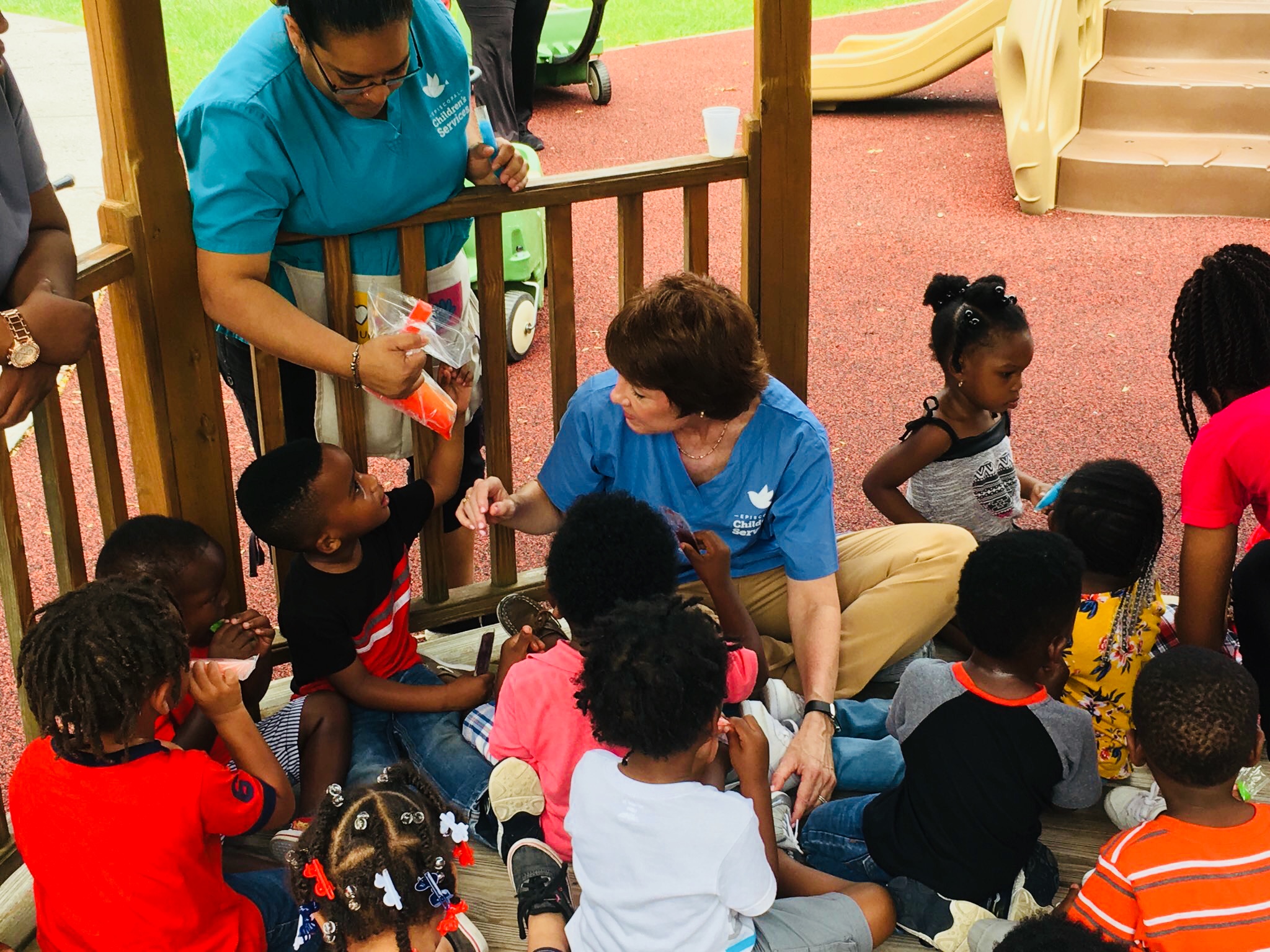 Former Rep. Gwen Graham continues her campaign for Florida Governor this week, and on the heels of her endorsement from the Florida Education Association, she is doing what's logical: workdays and appearances predicated on the theme of education (the "backbone of [her] campaign").
Jacksonville on Thursday morning was no exception; the candidate was doing one of her workdays at a local Early Head Start program.
In that capacity, Graham had a lot of playtime with toddlers (perhaps a prerequisite for the Legislative Session), and served them lunch (chicken nuggets, sweet potato fries, and fruit).
While Graham's approval rating with Northwest Jacksonville toddlers is sky-high, less certain is her stature with Florida voters.
A poll this month showed Graham fading against Miami Beach Mayor Philip Levine, down 32 to 16 percent, cratering in Miami and Tampa and running in a tie for third with Chris King in Orlando.
That didn't outwardly concern Graham. 
"I don't believe in polls. You can find a poll to tell you whatever you want a poll to tell you," Graham said. "I'm not at all concerned about any poll or any individual. I feel really positive about where our campaign is, and we're going to win this race."
We asked her if she was the "frontrunner," but she didn't like that term.
Graham is up on television, with major buys in Orlando and Tampa. However, she said poll numbers didn't drive the ad buy.
"We were ready to get up on TV when the timing was right. We're running the smartest campaign. It was just the right timing," Graham said, before observing that "campaigning is a different process than it was 40 years ago."
"What we do everyday is we wake up and hopefully have an opportunity to talk and learn from Floridians what their challenges are, because that's what this election is about. It's about having a governor who cares about Floridians again," Graham said.
While TV is "important," Graham cited the importance of social media and new media as other ways to reach voters.
Meanwhile, Graham has found herself outflanked to the left by three of her opponents on the issue of cannabis legalization.
Graham noted that she was the first candidate to come out in favor of a Special Session on medical marijuana.
"Anytime there's an opportunity to alleviate pain and suffering, we should not only take advantage of it, but should make sure it's available immediately," Graham said.
"We also have a real crisis in the state in opioid addiction," Graham added. "Let's get medical marijuana implemented."
"I think the conversation about legalization is one we ought to have. It's one that I want to have. But to take this in a incremental approach so we can get medical marijuana implemented," Graham said.
Graham does advocate decriminalization of "minor amounts of marijuana, 20 grams or less."
The Graham campaign has been predicated on bringing together traditional Democratic constituencies, and the candidate has the endorsement traction to prove it.
The question of whether that is a winning strategy with voters in 2018 will be answered before August ends.