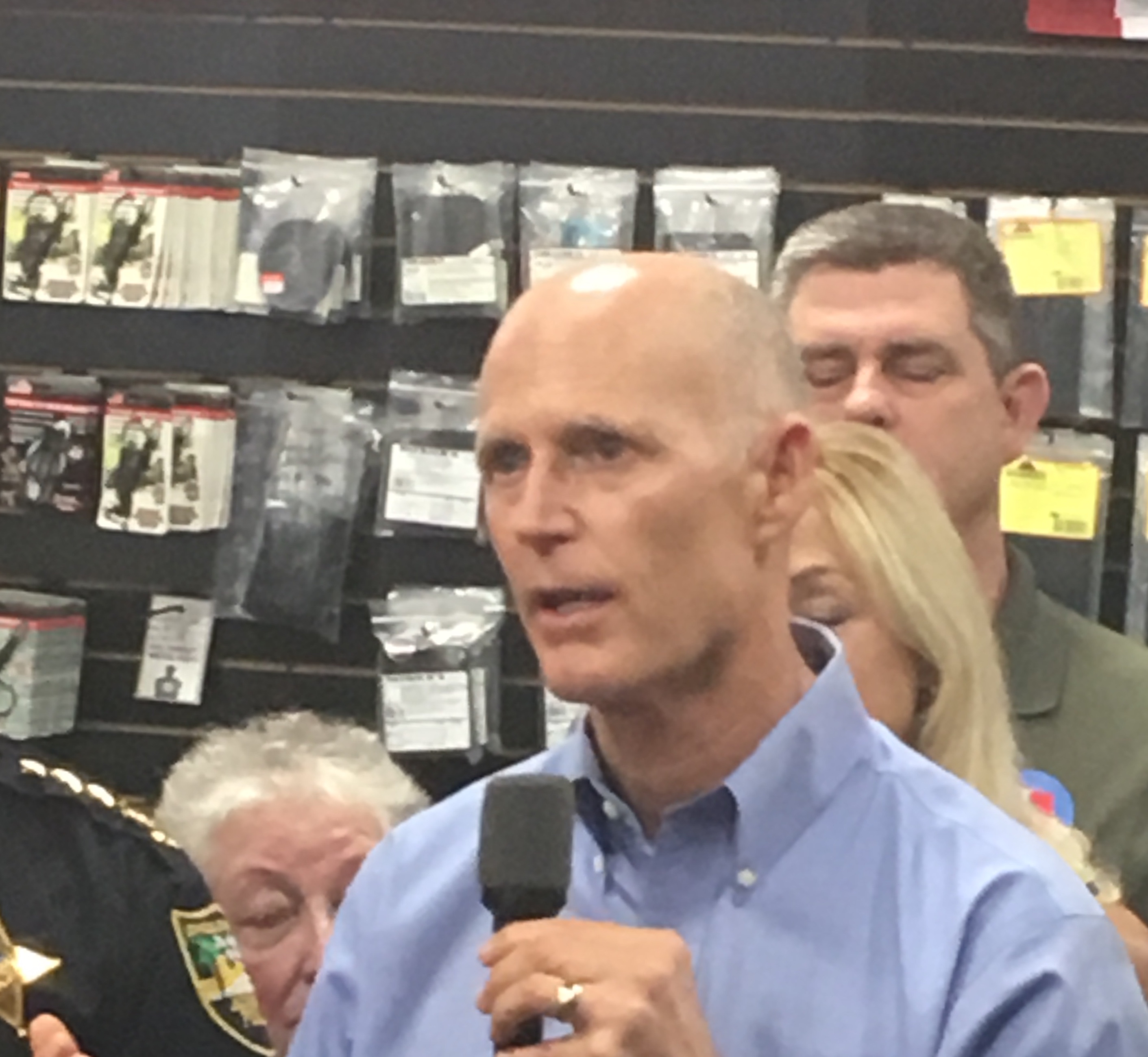 In Jacksonville Friday to locally promote his endorsements from 55 Florida Sheriffs, rolled out days before in media release form, U.S. Senate candidate Gov. Rick Scott was compelled to address other issues as well related to the ongoing quest by his "partner in the White House," Donald J. Trump, to "Make America Great Again."
Among this week's news items: the President's decision to warehouse immigrant children in a Walmart, even as he mulls building a Joe Arpaio-style tent city for overflow, just in time for the heart of Texas summer; and the President's decision to salute a North Korean soldier, a move made all the more ironic by his deeming the American free press "Our Country's biggest enemy."
https://twitter.com/realDonaldTrump/status/1006891643985854464
Since Trump's ascension, Scott (whose New Republican Super PAC was originally set up to support Trump before being repurposed to support the Governor's Senate run) has been peppered (often by this reporter) with questions about the President's latest moves.
Friday was no different.
When asked about migrant kids behind housed in tent cities, and whether he supported the policy, Scott noted the practice was "disturbing," but emblematic of larger issues.
"I want to make sure everybody who comes to this country is treated with respect, and treated well," Scott said.
"Your heart goes out to these families that are struggling with these issues. It shows you how messed up our immigration policy is, that these things are happening," Scott added.
"Congress has got to do their job. Got to come up with an immigration policy that works. We have to secure our borders. We have to [create] a visa program that works, we have to take care of the DACA kids. We have to come up with something that actually works," Scott said.
Critics of the warehousing of migrant children say the policy is alien to Democratic traditions. In that context, and in light of the Pyongyang pivot from the White House, we asked Scott if America was moving away from its traditional role.
"I clearly believe in democracy. I fought, as Governor, against what the Castro brothers have done. The problems they're creating in Nicaragua and Venezuela. We've got to fight for democracy all around the world … for human rights all around the world. So I'm going to continue to fight for democracy, for liberty, for peace, human rights worldwide," Scott said.
Florida Democratic Party spokesman Nate Evans, predictably, was not sold: "Scott's comments today further highlight his and his close ally Donald Trump's horrible and inhumane records on immigration. From calling DACA illegal, to advocating for mass deportations, Scott has built his political career advocating for extreme immigration policies. No matter what he says, Scott's actions speak for themselves."