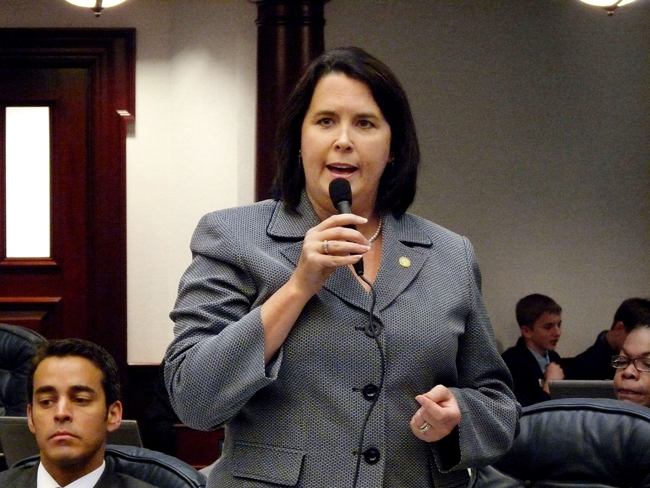 Florida retailers are endorsing Lakeland Republican Sen. Kelli Stargel's re-election for Senate District 22.
Florida Retail Federation President/CEO R. Scott Shalley said in an announcement Monday: "In her role as Senate Finance & Tax Chair this past year, Senator Stargel showed continued leadership in her support of Florida's retailers by including in the tax package a reduction in the business rent tax and multiple sales tax holidays. We're thankful for her partnership in ensuring the growth of the retail industry and look forward to finding new ways to support the industry when she returns to the Senate."
Reducing the commercial lease sales tax has been a top priority for FRF and other business groups for years. The tax package signed into law by Gov. Rick Scott this year reduced the tax rate from 5.8 percent to 5.7 percent.
In its endorsement, FRF also highlighted accolades Stargel has received from other interest groups, including the Foundation for Florida's Future A+ Award and the Florida Farm Bureau Champion for Agriculture Award.
Stargel is running for re-election against former circuit court judge Bob Doyel and former Rep. Ricardo Rangel, both Democrats.
SD 22 has a Republican lean, but Democrats are hoping the "blue wave" can put it and other Republican-held Senate seats in play come November. In the 2016 cycle, Stargel scored a 7-point win over Democrat Debra Wright after outspending her 20-to-1. President Donald Trump also carried the district by nearly the same margin.
Through May, Stargel had a firm lead in the money race. She is also expected to get some reinforcements from incoming Senate President Bill Galvano, who is hosting a fundraiser for her in Bradenton next month.