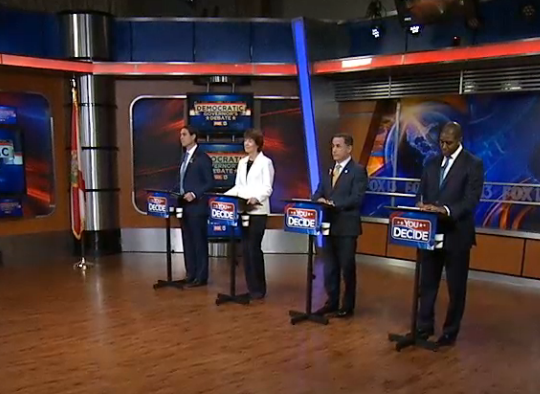 A new poll produced by the research organization Let's Preserve the American Dream finds the Democratic gubernatorial race tight between Philip Levine and Gwen Graham, with newcomer Jeff Greene having a lot of ground to make up.
The poll was privately circulated June 12 by Ryan Tyson, vice president of political operations for the Associated Industries of Florida. Tyson also led the polling for the Let's Preserve group, which has surveyed the race for two years.
This latest poll, taken June 6-9, shows Levine, the former Miami Beach mayor, with 24 percent of likely Democratic voters; former Congresswoman Graham with 21 percent; Tallahassee Mayor Andrew Gillum with 11 percent; and Orlando businessman Chris King with 4 percent.
Greene, who filed to run June 1, received 3 percent. Thirty-seven percent of Democrats were undecided.
In a cover memo, Tyson noted that while Levine has a much wider lead in other polls, a comparison of internals, demographic samples, convince him that "this race is as close as the top lines suggest."
In particular, the Let's Preserve poll heavily sampled women voters — 58 percent of the survey group — taking in account the high female turnouts of the past two Democratic primary elections.
The Democratic gubernatorial primary may be the most competitive Florida has seen in a very long time, Tyson said.
"This one has not been given the attention it deserves," he added. "It's historic."
The poll was conducted June 5-9 with 800 likely Democratic voters in Florida and high percentage [52 percent] over cellphones; it cites a margin of error of +/- 3.1 percent, meaning Levine and Graham were essentially tied.
At that time, Levine and King were the only ones heavily advertising on television. King had just begun airing TV ads only a couple of weeks earlier; Greene had been in the race only a few days and hadn't yet begun campaigning.
Graham launched her first TV commercial on June 6.
Polling also found that Graham and Levine were the only Democratic candidates to have cracked 50 percent in name identification, and are the only ones with significant favorability ratios.
Levine, who has been on TV since January, has a 69 percent name ID and a 43-5 percent ratio of favorable to unfavorable opinions among the Democrats surveyed.
Nevertheless, 21 percent have no opinion of the former mayor.
In contrast, Graham has a 38-6 percent ratio of favorable to unfavorable, with 17 percent having no opinion of her. Gillum's ratios were 24-8 percent, with 17 percent offering no opinion; King is at 16-5 percent, with 19 percent having no opinion. Greene is 8-6 percent, with 19 percent having no opinion.
This leaves much room for potential movement in those numbers before the August 28 primary, as the report points out.
"The fun has just begun in this primary," Tyson remarked. "Levine is up, but Graham has cash and is communicating. Now a supposed self-funder [Greene] is in and if he does begin to spend, who will he take from?
"Expect some changes in this one as spending really starts to ramp up."