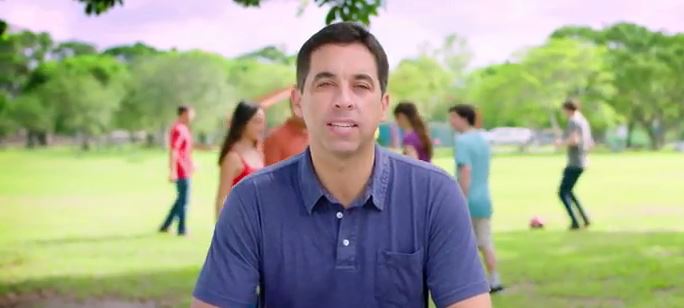 In the midst of increasing criticism directed at the Trump administration's decision to separate thousands of children from their parents at the border, congressional candidate Matt Haggman is out with a new six-figure ad campaign.
Once again, he's calling for the abolishment of Immigration and Customs Enforcement.
Haggman, running for the Democratic nomination in Florida's 27th Congressional District, first announced his support to abolish ICE earlier this month: "ICE was created in 2003. We're talking about a 15-year-old agency that has far overstepped its intended, national security function and is sucking up government resources to deport families and detain children."
Since then, backlash against Trump's policy has been gaining as media outlets have continued to report on the detention facilities. Even some Republicans have joined calls for Trump to end the policy.
Haggman is going even further, using his 15-second ad to say ICE should be disbanded: "ICE under Trump targets children. In Congress, I'll work to close ICE down. We can protect our borders without being cruel to kids."
Trump has repeatedly claimed Congress is responsible for the child separations, pointing a finger at Democrats especially. While Congress can pass a law to solve the issue, Trump also has complete authority to change enforcement methods.
Haggman condemned Trump in a statement released along with the ad.
"Trump's policy is absurd, cruel, and violates what our country stands for. We need to stop this policy of ripping families apart immediately, but we need to go further and disband ICE. It is an agency without proper oversight and one that is totally out of control."
Haggman also used the new ad to target Donna Shalala, one of his Democratic primary opponents in CD 27.
"Donna Shalala, she's had her chance," Haggman says in the ad. "It's time for a new day."
That's the second time a CD 27 Democrat has used airtime to go after Shalala, after current state Rep. David Richardson released a series of ads criticizing Shalala's past positions.
The pair may view Shalala as their main competition. A poll from February showed Shalala, now endorsed by Hillary Clinton, as the heavy favorite before she entered the race. It's not clear how much the race has shifted since then, as the field has narrowed significantly.
Democrats have set their sights on the CD 27 seat, as longtime Republican Rep. Ileana Ros-Lehtinen has decided not to run for re-election.