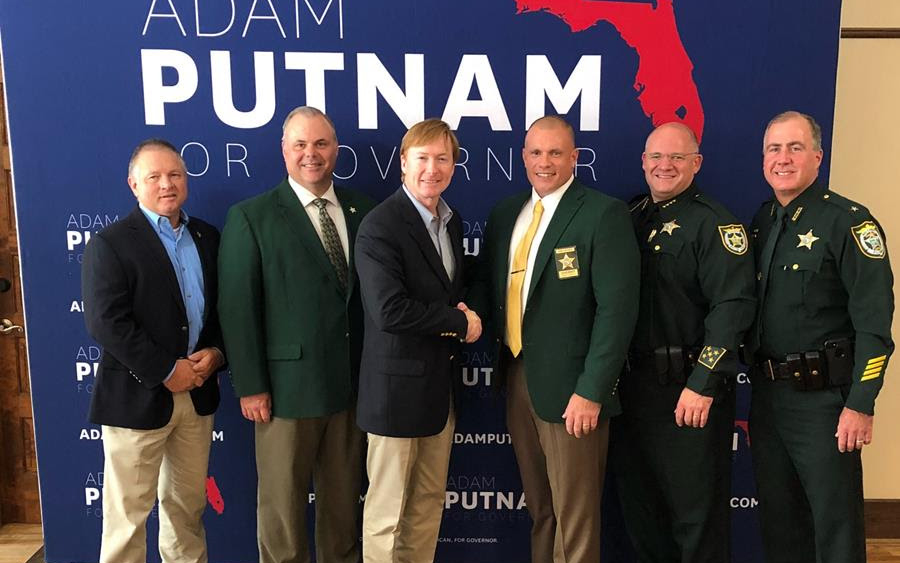 Adam Putnam's gubernatorial campaign announced Wednesday that it had locked down another eight endorsements from Republican county sheriffs.
Included in the new bloc of backers, all of whom hail from the Panhandle, were Walton County Sheriff Mike Adkinson, Okaloosa County Sheriff Larry Ashley, Washington County Sheriff Kevin Crews, Bay County Sheriff Tommy Ford, Gulf County Sheriff Mike Harrison, Santa Rosa County Sheriff Bob Johnson, Jackson County Sheriff Louis Roberts III and Liberty County Sheriff Eddie Joe White.
 "As a true native Floridian, Adam possesses an undeniable love for the citizens of our great state and has shown it countless times during his career. Adam has supported law enforcement officers even though the political climate has been turned against us in recent years. I support Adam Putnam because I know he will do what is right for the people of Florida," Johnson said.
All of the Panhandle sheriffs claimed Putnam, a Bartow Republican, was the best choice out of the seven major guv candidates when it comes to public safety, and many of them also stressed the core strengths the Putnam campaign has touted over the past year he's been in the guv race — that he is both the most experienced and the most "Floridian" candidate running to lead the Sunshine State.
"It is profoundly humbling to have the support of our sheriffs and law enforcement and to have them embrace my Secure Florida First Agenda," Putnam said in a news release. "To lead Florida, to protect Florida, to keep Florida safe, you must know Florida and you must put Florida first. Today, we recognize that to put Florida first, we have to put law enforcement first."
The sheriffs announced Wednesday make for 17 backers county lawmen so far, with the nine who announced their support last week hailing from the Tampa Bay region. He has also been endorsed by the Florida Fraternal Order of Police.
Last week's sheriff nods came with an equal number 30-second videos where each sheriff announced his support and ended with the same campaign catchphrase: "Adam Putnam stands with law enforcement and we stand with Adam Putnam."
Putnam faces Northeast Florida U.S. Rep. Ron DeSantis in the Republican primary. Through May, he was far in the lead, fundraising-wise with more than $30 million raised for his campaign and political committee compared to around $10.8 million for DeSantis, whose total includes $1.1 million he raised for his now-defunct re-election campaign in Florida's 6th Congressional District.
Running on the Democratic side are Tallahassee Mayor Andrew Gillum, former Congresswoman Gwen Graham, Winter Park businessman Chris King, former Miami Beach Mayor Philip Levine and Palm Beach billionaire Jeff Greene.
The primary election is Aug. 28. The general election is Nov. 6.